Zoharjev Dnevnik Št. 1222 – Težnja k ravnotežju telesa in uma
Zoharjev Dnevnik Št. 1222
Zoharjev Dnevnik Št. 1222 Zohar Pinhas, Knjiga Št. 20 (Ang)/Knjiga Št. 15 (Heb)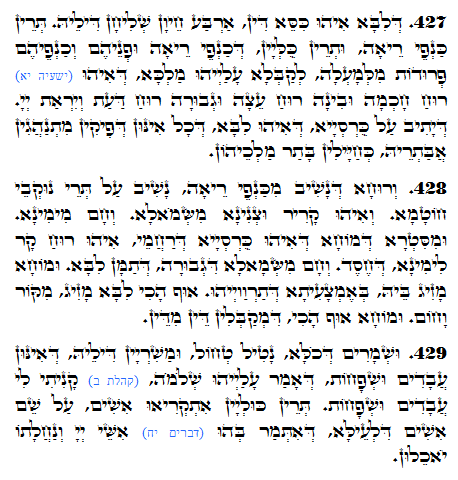 Hebrejski prevod:
427. הַלֵּב הוּא כִּסֵּא דִין, אַרְבַּע חַיּוֹת שְׁלוּחִים שֶׁלּוֹ. שְׁתֵּי כַּנְפֵי רֵאָה וּשְׁתֵּי כְלָיוֹת. שֶׁעַל כַּנְפֵי רֵאָה נֶאֱמַר וּפְנֵיהֶם וְכַנְפֵיהֶם פְּרֻדוֹת מִלְמָעְלָה, לְקַבֵּל עֲלֵיהֶם אֶת הַמֶּלֶךְ, שֶׁהוּא (ישעיה יא) רוּחַ חָכְמָה וּבִינָה רוּחַ עֵצָה וּגְבוּרָה רוּחַ דַּעַת וְיִרְאַת ה'. שֶׁיּוֹשֵׁב עַל כִּסֵּא, שֶׁהוּא הַלֵּב, שֶׁכָּל אוֹתָם דְּפָקִים מִתְנַהֲגִים אַחֲרָיו כְּחַיָּלִים אַחַר מַלְכָּם.
428. וְהָרוּחַ שֶׁנּוֹשֶׁבֶת מִכַּנְפֵי הָרֵאָה, נוֹשֶׁבֶת עַל שְׁנֵי נִקְבֵי הַחֹטֶם, וְהִיא קְרִירָה וְצוֹנֶנֶת מֵהַשְּׂמֹאל, וְחַמָּה מִיָּמִין. וּמִצַּד הַמֹּחַ, שֶׁהוּא כִּסֵּא שֶׁל רַחֲמִים, הִיא רוּחַ קָרָה לִימִין הַחֶסֶד, וְחַמָּה מִשְּׂמֹאל הַגְּבוּרָה, שֶׁשָּׁם הַלֵּב וְהַמֹּחַ מָזוּג בּוֹ, בָּאֶמְצַע שֶׁל שְׁנֵיהֶם. אַף כָּךְ הַלֵּב מְמֻזָּג מִקֹּר וָחֹם. וְהַמֹּחַ גַּם כָּךְ, שֶׁמְּקַבְּלִים זֶה מִזֶּה.
429. וְאֶת הַשְּׁמָרִים שֶׁל הַכֹּל נוֹטֵל הַטְּחוֹל וְהַמַּחֲנוֹת שֶׁלּוֹ, שֶׁהֵם עֲבָדִים וּשְׁפָחוֹת, שֶׁאָמַר עֲלֵיהֶם שְׁלֹמֹה, (קהלת ב) קָנִיתִי לִי עֲבָדִים וּשְׁפָחוֹת. שְׁתֵּי כְלָיוֹת נִקְרָאוֹת אִשִּׁים, עַל שֵׁם אִשִּׁים שֶׁל מַעְלָה, שֶׁנֶּאֱמַר בָּהֶם (דברים יח) אִשֵּׁי ה' וְנַחֲלָתוֹ יֹאכֵלוּן.
Pinhas 427-429
Srce predstavlja prestol sodbe v telesu. Njegove sle predstavlja dvoje kril pljuč in dvoje ledvic. Težiti moramo k ravnotežju, da lahko kralj sedi na svojem prestolu z milostjo.
Izaija 11:2
". וְנָחָה עָלָיו, רוּחַ יְהוָה–רוּחַ חָכְמָה וּבִינָה, רוּחַ עֵצָה וּגְבוּרָה, רוּחַ דַּעַת, וְיִרְאַת יְהוָה "
Transliteration
וְנָחָה venachah עָלָיו alav, רוּחַ ruach יְהוָה–רוּחַ Adonai–ruach חָכְמָה chachemah וּבִינָה uvinah, רוּחַ ruach עֵצָה etzah וּגְבוּרָה ugevurah, רוּחַ ruach דַּעַת da'at, וְיִרְאַת veyir'at יְהוָה Adonai.

"In duh YHVH bo počival nad njim. Duh modrosti ( Chokmah ) in razumevanje ( Binah ), duh namere in moči ( desno in levo deblo ), duh poznavanja/znanja ( Da'at ) in strahospoštovanja pred YHVH ( razkritje Svetlobe )."
Slednji verz iz prerokbe preroka Izaije opisuje temeljno ravnotežje, ki bo prišlo z Mesijo v naš svet. Ko se približata desno ( Chokmah/Modrost ) in levo deblo ( Binah/Razumevanje ) ustvarita navezavo imenovano "ZNANJE/Da'at" – dve možganski polobli. Svetloba se usmeri v navzdol v Zeir Anpin in s tem se odstre/razkrije Svetloba. To je možno samo zaradi združitve zgornjih dveh Sefirojev. Zgornje tri ravni Modrost/Chokmah, Razumevanje/Binah ter Znanje/Da'at zagotavljajo moč oz. silo srca. Energija treh ravni prihaja v nas z vsakim vdihom, ki ohladi srce in mu daje potrebno ojačitev signala oz. oscilacijo za potisk krvi in prežemanje telesa z energijo.
Za tiste, ki so brali predhodne dnevnike. Atom s svojimi tremi glavnimi elementi, ima podoben vidik, kot vdih življenja, ki ohranja atom pri življenju. Notranja sila je Modrost/Chokmah, Razumevanje/Binah ter Znanje/Da'at. Znanstveniki ne bodo zmogli dojeti dokler ne bodo dodali Hebrejskih črk k periodnem sistemu. To se bo zgodilo v času Mesije.
Zrak, ki sopiha v pljučna krila skozi nosnice predstavlja Svetlobo Zeir Anpin-a in zagotavlja ohlajevalni učinek. Daje pomembno ravnotežje, ki se deli med srcem in možgani. Obe ledvici prav tako morajo biti v ravnotežju. Sicer omagajo, kar sesuje celotno telo skupaj z njimi.
Pravilna meditacija in dihalne tehnike so pomemben element ravnotežja telesa tako na fizikalni kot duhovni ravni. V naslednjih dnevnikih bo diskutirano o tem ravnotežju. Vendar že sedaj lahko rečemo, da bi moralo biti celotno telo obravnavano kot celovito s celovitim ravnotežjem.
Vse vpliva na vse. Ne moremo se naužiti preveč dobre in kvalitetne prehrane. Kot tudi ne moremo pogoltniti normalnih delov jedi. Obstaja metoda ravnotežja in postopek za vsako dejanje. Ni bližnjic. Zato lahko omenimo, da je procesirana oz. rafinirana ne najboljša za našo presnovo. Če se v telesu presnavlja prehitro, kot to velja za jedi ali izdelke iz bele moke, sladkorja itd., potem je to v nasprotju z naravnimi biokemijskimi procesi pridobitve in zasluženja energije.
{||}