Zoharjev dnevnik Št. 1237 – Odgovornost
Zoharjev Dnevnik Št. 1237
Zoharjev Dnevnik Št. 1237 Zohar Pinhas, Knjiga Št. 20 (ANG)/Knjiga Št. 15 (HEB)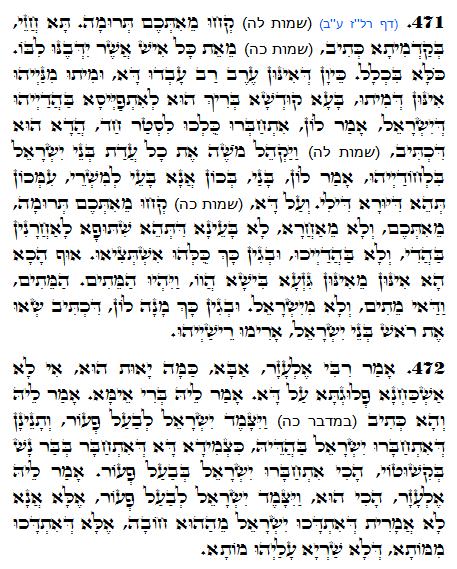 Hebrejski prevod:
471. קְחוּ מֵאִתְּכֶם תְּרוּמָה (שמות לה). בֹּא וּרְאֵה, בָּרִאשׁוֹנָה כָּתוּב (שמות כה) מֵאֵת כָּל אִישׁ אֲשֶׁר יִדְּבֶנּוּ לִבּוֹ. הַכֹּל בִּכְלָל. כֵּיוָן שֶׁאֵלּוּ הָעֵרֶב רַב עָשׂוּ זֹאת וּמֵתוּ מֵהֶם אוֹתָם שֶׁמֵּתוּ, רָצָה הַקָּדוֹשׁ בָּרוּךְ הוּא לְהִתְפַּיֵּס עִמָּהֶם עִם יִשְׂרָאֵל. אָמַר לָהֶם: הִתְחַבְּרוּ כֻלְּכֶם לְצַד אֶחָד. זֶהוּ שֶׁכָּתוּב (שמות לה) וַיַּקְהֵל מֹשֶׁה אֶת כָּל עֲדַת בְּנֵי יִשְׂרָאֵל – לְבַדָּם. אָמַר לָהֶם: בָּנַי, בָּכֶם אֲנִי רוֹצֶה לִשְׁכֹּן, עִמָּכֶם תִּהְיֶה הַדִּירָה שֶׁלִּי. וְעַל זֶה, (שם כה) קְחוּ מֵאִתְּכֶם תְּרוּמָה. מֵאִתְּכֶם, וְלֹא מֵאֲחֵרִים. לֹא רוֹצֶה שֶׁתִּהְיֶה שֻׁתָּפוּת לַאֲחֵרִים עִמִּי, וְלֹא עִמָּכֶם, וּמִשּׁוּם זֶה כֻּלָּם נִכְרְתוּ. אַף כָּאן הֲרֵי הֵם מֵאֵלּוּ שֹׁרֶשׁ הָרָע הָיוּ, וַיִּהְיוּ הַמֵּתִים. הַמֵּתִים – וַדַּאי מֵתִים, וְלֹא מִיִּשְׂרָאֵל. וּמִשּׁוּם זֶה מָנָה אוֹתָם, שֶׁנֶּאֱמַר שְׂאוּ אֶת רֹאשׁ בְּנֵי יִשְׂרָאֵל, הָרִימוּ רָאשֵׁיהֶם. 472. אָמַר רַבִּי אֶלְעָזָר, אַבָּא, כַּמָּה נָכוֹן הוּא, אִם לֹא מָצָאתִי חוֹלְקִים עַל זֶה. אָמַר לוֹ, בְּנִי אֱמֹר. אָמַר לוֹ, וַהֲרֵי כָּתוּב (במדבר כה) וַיִּצָּמֶד יִשְׂרָאֵל לְבַעַל פְּעוֹר, וְלָמַדְנוּ שֶׁהִתְחַבְּרוּ יִשְׂרָאֵל עִמּוֹ. כְּצָמִיד זֶה שֶׁמִּתְחַבֵּר בָּאָדָם בְּקִשּׁוּטָיו, כָּךְ הִתְחַבְּרוּ יִשְׂרָאֵל בְּבַעַל פְּעוֹר. אָמַר לוֹ, אֶלְעָזָר, כָּךְ הוּא – וַיִּצָּמֶד יִשְׂרָאֵל לְבַעַל פְּעוֹר. אֶלָּא אֲנִי לֹא אָמַרְתִּי שֶׁנִּטְהֲרוּ יִשְׂרָאֵל מֵאוֹתוֹ חוֹב, אֶלָּא שֶׁנִּטְהָרוּ מִמָּוֶת, שֶׁלֹּא שָׁרָה עֲלֵיהֶם מָוֶת.

Pinhas 471-472 Nadaljevanje predhodnega DZ
" .וַיִּצָּמֶד יִשְׂרָאֵל, לְבַעַל פְּעוֹר; וַיִּחַר-אַף יְהוָה, בְּיִשְׂרָאֵל "
Črkovano besedilo v ANG alfabet črkah

וַיִּצָּמֶד vayitzamed יִשְׂרָאֵל yisra'el, לְבַעַל leva'al פְּעוֹר pe'or; וַיִּחַר-אַף vayichar-af יְהוָה Adonai, בְּיִשְׂרָאֵל beyisra'el.
"In Izraeliti so se vdali Baal Peor-u; jeza Gospoda YHVH se je vnela nad Izraeliti."
Rabin Elazar je citiral ta verz iz Tore. Ob tem je poudaril, da ob potomcih Erev Rav-a so prav tako sami Izraeliti postali vir negativnosti in s tem sprožili sodbo nadloge. Rabin Šimon je ob tem nagovoril, da so Izraeliti s tem bili prihranjeni od Angela smrti in nadlog. Vendar ob tem niso bili očiščeni dejanske negativnosti.
Zohar nas poduči, da uporaba izraza "ljudje" ali "ljudstvo" v Tori, dejansko pomeni sklicevanje na potomce Erev Rav. Izraeliti so poimenovani kot otroci Izraela ali kot Izrael. V naslednjem spodnjem verzu so Izraeliti, ki so sodelovali v grehu poimenovani kot 'ראשי העם' 'Poglavarji ljudstva. Torej izraz, ki jih je ponižal na raven Erev Rav. Beseda ראשי , 'poglavarji/glave' ima 4 črke iz besede Izrael. Kar pomeni: črka ל Lamed, ki sega nad dano trenutno vrstico in se dotika višjih ravni. Številčna vrednost njenih sestavnih delov ( črki Kaf in Vav) je 26. Enako kot števična vrednost imena YHVH. Pinhas jih je rešil pred sicer samoumevno sodbo. Tako so lahko bili sojeni in ustrezno očiščeni. To jim je dalo boljši način za popravo svojih grehov v naslednji utelesitvi oz. inkarnaciji. Tisti izmed ljudstva, ki so grešili so bili obešeni pred vsem ljudstvom, da bi tako živa izkušnja pomagala očistiti ter popraviti ostali del ljudstva. O tem lahko več zvemo v
Četrti Mojzesovi knjigi in sicer v verzu 25:4:
וַיֹּאמֶר יְהוָה אֶל-מֹשֶׁה, קַח אֶת-כָּל-רָאשֵׁי הָעָם, וְהוֹקַע "
" . אוֹתָם לַיהוָה, נֶגֶד הַשָּׁמֶשׁ; וְיָשֹׁב חֲרוֹן אַף-יְהוָה, מִיִּשְׂרָאֵל
Črkovano besedilo
וַיֹּאמֶר vayo'mer יְהוָה Adonai אֶל-מֹשֶׁה el-mosheh, קַח kach אֶת-כָּל-רָאשֵׁי et-kal-ra'shei הָעָם ha'am, וְהוֹקַע vehoka אוֹתָם otam לַיהוָה laAdonai, נֶגֶד neged הַשָּׁמֶשׁ hashamesh; וְיָשֹׁב veyashov חֲרוֹן charon אַף-יְהוָה af-Adonai, מִיִּשְׂרָאֵל miisra'el.
"In YHVH poreče Mojzesu: Privedi vse poglavarje ljudstva in jih obesi proti YHVH z obrazom proti soncu. Da se bo tako jeza YHVH odvrnila od Izraelitov."
Po grehu Zlatega Teleta je Mojzes zbral Izraelite, da bi jim dal možnost izbire ločiti se od Erev Rav.
Druga Mojzesova knjiga 35:1
". וַיַּקְהֵל מֹשֶׁה, אֶת-כָּל-עֲדַת בְּנֵי יִשְׂרָאֵל–וַיֹּאמֶר אֲלֵהֶם: אֵלֶּה, הַדְּבָרִים, אֲשֶׁר-צִוָּה יְהוָה, לַעֲשֹׂת אֹתָם "
Črkovano besedilo:
וַיַּקְהֵל vayakhel מֹשֶׁה mosheh, אֶת-כָּל-עֲדַת et-kal-adat בְּנֵי benei יִשְׂרָאֵל–וַיֹּאמֶר yisra'el–vayo'mer אֲלֵהֶם alehem: אֵלֶּה elleh, הַדְּבָרִים hadevarim, אֲשֶׁר-צִוָּה asher-tzivah יְהוָה Adonai, לַעֲשֹׂת la'asot אֹתָם otam.
" In Mojzes je zbral celotno skupnost Izraelitov, da jim poreče:
To so besede, ki jih je Gospod zapovedal, da jim moramo slediti v dejanjih proti
poglavarjem ljudstva."
Njihova priložnost za popravo je bila dana iz njihove svobodne volje do dela na Svetem templju. Ko so se navezali na energijo Svetega templja, jim je to pomagalo pri očiščenju.
Druga Mojzesova knjiga 25:2
" .דַּבֵּר אֶל-בְּנֵי יִשְׂרָאֵל, וְיִקְחוּ-לִי תְּרוּמָה: מֵאֵת כָּל-אִישׁ אֲשֶׁר יִדְּבֶנּוּ לִבּוֹ, תִּקְחוּ אֶת-תְּרוּמָתִי "
Črkovano besedilo:
דַּבֵּר daber אֶל-בְּנֵי el-benei יִשְׂרָאֵל yisra'el, וְיִקְחוּ-לִי veyikchu-li תְּרוּמָה terumah: מֵאֵת me'et כָּל-אִישׁ kal-ish אֲשֶׁר asher יִדְּבֶנּוּ yidevennu לִבּוֹ libo, תִּקְחוּ tikchu אֶת-תְּרוּמָתִי et-terumati.
"'Spregovori otrokom Izraela, naj zberejo daritve Zame; In sicer od vsakega moža, katerega srce se je nagibalo k grehu boš vzel za daritev Meni."
Nauk odstrte skrivnosti iz Zoharja je, da tudi kadar pravična oseba pozitivno usmerja in vpliva na duhovno raven ljudi okoli sebe, so ti ljudje še vedno odgovorni za svoja dejanja. Drugi pomemben nauk te skrivnosti je, da vlaganje v napor za podporo širjenju svetlobe v svetu je dejansko pozitivna navezava, ki prispeva in pomaga duhovnemu očiščenju in dvigu na višjo raven.
{||}