Daily Zohar # 1376 – Pinchas – Opening gates
Zohar Pinchas, Vol. 20 (English)/Vol 15 (Hebrew)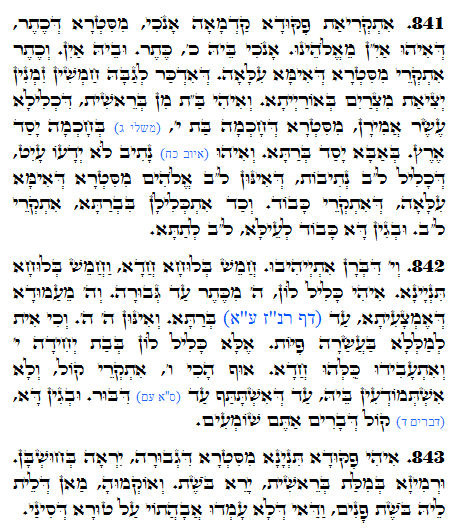 Hebrew translation:
841. נִקְרֵאת מִצְוָה רִאשׁוֹנָה אָנֹכִי, מִצַּד הַכֶּתֶר, שֶׁהוּא אַיִ"ן מֵאֱלֹהֵינוּ. אָנֹכִי – בּוֹ כ', כֶּתֶר. וּבוֹ אַיִן. וְכֶתֶר נִקְרָא מִצַּד הָאִמָּא הָעֶלְיוֹנָה, שֶׁהִזְכִּיר אֶצְלָהּ חֲמִשִּׁים פְּעָמִים יְצִיאַת מִצְרַיִם בַּתּוֹרָה. וְהִיא בַּ"ת מִבְּרֵאשִׁית, שֶׁכּוֹלֶלֶת עֶשֶׂר אֲמִירוֹת מִצַּד הַחָכְמָה, בַּת י', (משלי ג) בְּחָכְמָה יָסַד אֶרֶץ. בְּאַבָּא יָסַד הַבַּת. וְהוּא (איוב כח) נָתִיב לֹא יְדָעוֹ עָיִט, שֶׁכּוֹלֵל ל"ב נְתִיבוֹת, שֶׁהֵם ל"ב אֱלֹהִים מִצַּד הָאִמָּא הָעֶלְיוֹנָה, שֶׁנִּקְרֵאת כָּבוֹד. וְכַאֲשֶׁר נִכְלָלִים בַּבַּת, נִקְרָא ל"ב. וּמִפְּנֵי זֶה כָּבוֹד לְמַעְלָה, ל"ב לְמַטָּה.
842. וַעֲשָׂרָה דִּבְּרוֹת נִתְּנוּ. חֲמִשָּׁה בְּלוּחַ אֶחָד, וַחֲמִשָּׁה בְּלוּחַ שֵׁנִי. הִיא כּוֹלֶלֶת אוֹתוֹ, חֲמִשָּׁה מִכֶּתֶר עַד גְּבוּרָה, וַחֲמִשָּׁה מֵהָעַמּוּד הָאֶמְצָעִי עַד הַבַּת. וְהֵם חֲמִשָּׁה חֲמִשָּׁה. וְכִי יֵשׁ לְדַבֵּר בַּעֲשָׂרָה פִּיּוֹת? אֶלָּא כּוֹלֵל אוֹתָם בְּבַת יְחִידָה י', וְנַעֲשׂוּ כֻלָּם אֶחָד. אַף כָּךְ ו' נִקְרָא קוֹל, וְלֹא מַכִּירִים בּוֹ עַד שֶׁמִּשְׁתַּתֵּף עַד (עִם) דִּבּוּר. וּמִפְּנֵי זֶה, (דברים ד) קוֹל דְּבָרִים אַתֶּם שֹׁמְעִים.
843. הִיא מִצְוָה שְׁנִיָּה מִצַּד הַגְּבוּרָה, יִרְאָה בְּחֶשְׁבּוֹן. וּרְמוּזָה בְּמִלַּת בְּרֵאשִׁית, יָרֵא בֹשֶׁת. וּפֵרְשׁוּהָ, מִי שֶׁאֵין לוֹ בֹּשֶׁת פָּנִים, וַדַּאי שֶׁלֹּא עָמְדוּ אֲבוֹתָיו עַל הַר סִינַי.
In the following DZ studies the Zohar reveals 12 special precepts that elevate Malchut to receive Light.
Pinchas 841-843
First special precept
Exodus 20:2
"אָנֹכִי יְהוָה אֱלֹהֶיךָ, אֲשֶׁר הוֹצֵאתִיךָ מֵאֶרֶץ מִצְרַיִם מִבֵּית עֲבָדִים"
"I am YHVH your God, who brought you out of the land of Egypt, out of the house of slaves."
The first word of the Ten Commandments is אנכי, means "I am" and the Zohar explains that it's the beginning of the revelation of God and his government over the created worlds.
אנכי is אין and כ
אין means 'nothingness' and it comes from the word אלהינו, 'our God'.
כ is for כתר, 'crown', 'Keter', a point where we know nothing about what precedes it.
Keter is for supernal mother, Binah. The Torah makes special connection to Binah with the fifty times it mentioned the Exodus, 'יציאת מצרים'. These fifty places are gates to Binah and with the study of the Torah we open those gates to help us make the correction of the world. After leaving Egypt we had to count the 'Omer' for 7 weeks and on the fiftieth day we received the Torah on Mount Sinai. The task now is for the Israelites to bring the world into the Torah and open 49 gates to Binah. Then God will send Mashiach from Keter with the light of יחידה 'Yechida' of Keter to open the fiftieth gate to reveal the light of the Final Redemption.
The supernal mother, Binah, includes within it the ten sayings of "And God said let there be…". They came from Chokmah, the Father, and created the world. The paths for the Creation came through the 32 times the name of God, אלהים appears in the story of Creation.
The Ten Commandments were given as five on one tablet and five on the second one. First five are for Keter, Chokmah, Binah, Chessed and Gevurah that lead to the central column. The next five continued from central column, Tiferet, with Netzach, Hod, Yessod and Malchut.
{||}