Zoharjev dnevnik št. 1332 – Nadzor z glavo
Zoharjev dnevnik št. 1332
Zohar Pinhas, Knjiga št. 20 (ANG)/Knjiga št. 15 (HEB)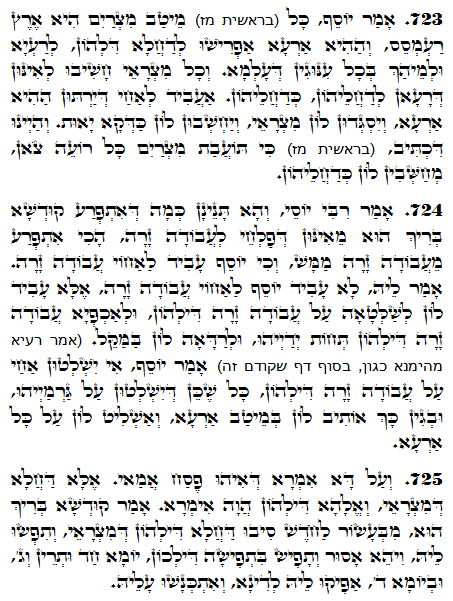 Pinhas 723-725
Prva Mojzesova knjiga 47:11
,וַיּוֹשֵׁב יוֹסֵף, אֶת-אָבִיו וְאֶת-אֶחָיו, וַיִּתֵּן לָהֶם אֲחֻזָּה בְּאֶרֶץ מִצְרַיִם "
" .בְּמֵיטַב הָאָרֶץ בְּאֶרֶץ רַעְמְסֵס–כַּאֲשֶׁר, צִוָּה פַרְעֹה
Heb črkovano besedilo:
vayoshev יוֹסֵף yosef, אֶת-אָבִיו et-aviv וְאֶת-אֶחָיו ve'et-echav, וַיִּתֵּן vayitten לָהֶם lahem אֲחֻזָּה achuzzah בְּאֶרֶץ be'eretz מִצְרַיִם mitzrayim, בְּמֵיטַב bemeitav הָאָרֶץ ha'aretz בְּאֶרֶץ be'eretz רַעְמְסֵס–כַּאֲשֶׁר ra'meses–ka'asher, צִוָּה tzivah פַרְעֹה far'oh.
In Jožef je nastanil svojega očeta in svoje brate. Dal jim je v posest najboljšo zemljo. In sicer od zemlje Ramzesa, po zapovedi Faraona.
Egipčani so častili ozvezdje Ovna. Faraon je omogočil Izraelitom nastanitev v najboljši deželi Egipta. Na ta način so kot pastirji skrbeli za ovce Ovna, ki so ga častili kot boga.
Jožef je dal svojim bratom nadzor nad maliki Egipčanov. In s tem tudi nadzor nad Egiptom.
Tik pred deseto nadlogo* je Bog podal zadnja navodila v :
Druga Mojzesova knjiga 12:2,3
. הַחֹדֶשׁ הַזֶּה לָכֶם, רֹאשׁ חֳדָשִׁים: רִאשׁוֹן הוּא לָכֶם, לְחָדְשֵׁי הַשָּׁנָה

, דַּבְּרוּ, אֶל-כָּל-עֲדַת יִשְׂרָאֵל לֵאמֹר, בֶּעָשֹׂר, לַחֹדֶשׁ הַזֶּה: וְיִקְחוּ לָהֶם
. אִישׁ שֶׂה לְבֵית-אָבֹת–שֶׂה לַבָּיִת
Heb črkovano besedilo:
הַחֹדֶשׁ hachodesh הַזֶּה hazzeh לָכֶם lachem, רֹאשׁ ro'sh חֳדָשִׁים chodashim: רִאשׁוֹן ri'shon הוּא hu לָכֶם lachem, לְחָדְשֵׁי lechadeshei הַשָּׁנָה hashanah.
דַּבְּרוּ daberu, אֶל-כָּל-עֲדַת el-kal-adat יִשְׂרָאֵל yisra'el לֵאמֹר le'mor, בֶּעָשֹׂר be'asor, לַחֹדֶשׁ lachodesh הַזֶּה hazzeh: וְיִקְחוּ veyikchu לָהֶם lahem, אִישׁ ish שֶׂה seh לְבֵית-אָבֹת–שֶׂה leveit-avot–seh לַבָּיִת labayit.

Ta mesec vam začetek vseh mesecev. To vam bo prvi mesec v letu.
Sporočita** vsej skupnosti Izraelitov rekoč: Deseti dan tega meseca*** naj vsak izmed mož priskrbe eno jagnje po hiši svojih očetov, jagnje po vsakem gospodinjstvu.
Na deseti dan ( aspekt celovitosti desetih Sefirojev ) prvega meseca ( glava in koren leta ), kar predstavlja mesec Ovna, je Bog podelil zadnji žvižg Egipčanom. Sledeč navodilu Boga je vsak Izraelit priskrbel jagnje ( simbolizira Egiptovske bogove ). Na 14. dan meseca v Ovnu so žrtvovali jagnje. Označili s krvjo jagnjega svoje vratne podboje. Nato so s peko pripravili meso ( ne surovo ali kuhano v vodi, da bi tako žrtev jagnjeta šla skozi preobrazbo ognja ) za zaužitje tisto noč. To noč je Bog odstranil prvorojence Egipčanom in jih tako prepustil nemoči.
Druga Mojzesova knjiga 12:12
, וְעָבַרְתִּי בְאֶרֶץ-מִצְרַיִם, בַּלַּיְלָה הַזֶּה, וְהִכֵּיתִי כָל-בְּכוֹר בְּאֶרֶץ מִצְרַיִם
. מֵאָדָם וְעַד-בְּהֵמָה; וּבְכָל-אֱלֹהֵי מִצְרַיִם אֶעֱשֶׂה שְׁפָטִים, אֲנִי יְהוָה
וְעָבַרְתִּי ve'avartti בְאֶרֶץ-מִצְרַיִם ve'eretz-mitzrayim, בַּלַּיְלָה ballaylah הַזֶּה hazzeh, וְהִכֵּיתִי vehikeiti כָל-בְּכוֹר chal-bechor בְּאֶרֶץ be'eretz מִצְרַיִם mitzrayim, מֵאָדָם me'adam וְעַד-בְּהֵמָה ve'ad-behemah; וּבְכָל-אֱלֹהֵי uvechal-elohei מִצְרַיִם mitzrayim אֶעֱשֶׂה e'eseh שְׁפָטִים shefatim, אֲנִי ani יְהוָה Adonai.
Kajti to noč bom šel skozi deželo Egipta in udaril po prvorojencih Egiptovske dežele in sicer tako od živine kot človeka. In nad vsemi Egiptovskimi bogovi izvršim sodbo. Kajti Jaz Sem YHVH.
Ta noč je padla na tisto noč, katero praznujemo kot praznik Pashe oz. Velikonočnega jagnjeta. Bog je na to noč preletel domove in pri tem izpustil družine Izraelitov iz sodbe. Tisti, ki so predstavljali nadzor nad maliki Egipčanov in žrtovali jagnje so bili izvzeti iz sodbe in tako rešeni. Njihova dejanja so odstranila sodbe. To jim je omogočilo svobodo od sebične želje zase, ki jih je zasužnjevala vsa ta leta njihove nastanitve v Egiptu.
Ko je Bog sklenil zavezo z Abrahamom, mu je pokazal prihodnost nasleddnikov Abrahama.
Prva Mojzesova Knjiga 15:14
. וְגַם אֶת-הַגּוֹי אֲשֶׁר יַעֲבֹדוּ, דָּן אָנֹכִי; וְאַחֲרֵי-כֵן יֵצְאוּ, בִּרְכֻשׁ גָּדוֹל
וְגַם vegam אֶת-הַגּוֹי et-hagoy אֲשֶׁר asher יַעֲבֹדוּ ya'avodu, דָּן dan אָנֹכִי anochi; וְאַחֲרֵי-כֵן ve'acharei-chen יֵצְאוּ yetze'u, בִּרְכֻשׁ birchush גָּדוֹל gadol.
A tudi narodu, ki jih zasužnji bom sodil. Na koncu bodo odšli z velikim blagostanjem.
Božji načrt je bil omogočiti Izraelitom priložnost polnega nadzora nad fizično realnostjo, zakodirano v imenu Egipt. Sebična želja zase je negativni vidik, ki obstaja v zemeljskem kraljestvu Malchut.
Nadaljevanje v naslednji dnevnik.
{||}