Zoharjev dnevnik Št. 1396 – Bodi srečen in se veseli
Zoharjev dnevnik Št. 1396
Zoharjev dnevnik Št. 1396
Zohar Pinhas, Knjiga št. 20 (ANG)/Knjiga št.15 (HEB)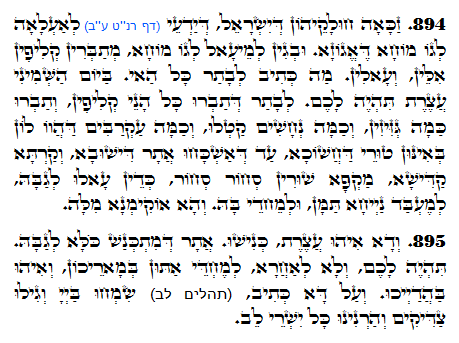 Pinhas 894-895 ( Zadnji končni odstavki razdelka Zohar Pinhas )
Zohar slavi darilo, ki nam ga podarjajo Izraeliti, ki sicer vedo kako vstopiti v
'מוח האגוז' / 'jedro trdega oreha'. Namreč moramo razbiti lupino / Klipah preden vstopimo ter zaužijemo hranilna jedrca.
Med ozaveščanjem razdelka Pinhas iz knjige Zohar smo šli skozi praznik Sukkot. Delili smo znanje s 70imi narodi in postopoma opdravljali njihove ovire za sprejem najpomembnejše nagrade, ki jo lahko pridobimo, Tore. Sedaj na osmi dan imamo poseben zbor. Slavimo združitev s Toro in njeno notranjo lučjo.

Četrta Mojzesova knjiga 29:35
". בַּיּוֹם, הַשְּׁמִינִי–עֲצֶרֶת, תִּהְיֶה לָכֶם: כָּל-מְלֶאכֶת עֲבֹדָה, לֹא תַעֲשׂוּ "
Črkovano besedilo:
בַּיּוֹם bayom, הַשְּׁמִינִי–עֲצֶרֶת hashemini–atzeret, תִּהְיֶה tihyeh לָכֶם lachem: כָּל-מְלֶאכֶת kal-mele'chet עֲבֹדָה avodah, לֹא lo תַעֲשׂוּ ta'asu.
Na osmi dan bomo imeli svečan zbor; Imeli ga boste ne glede na vaše delovne obveznosti služenja drugim.

Poseben zbor predstavlja zbiranje svetlobe iz šest sefirojev Zeir Anpin-a in Malchut
( materijalno kraljestvo ). Ta dogodek praznujemo s plesom s Toro. Plešemo sledeč sedmim krogom ter s tem pritegnemo svetlobo iz sefirojev Zeir Anpina
( Chessed/Blagost, Gevurah/Moč sodbe, Tiferet/Lepota, Netzach/Zmaga, Hod/Veličastje ter
Yessod/Osnova/Prehod ) k materijalnemu kraljestvu Malchut. To so namreč jedro oz.
'možgani' oreha.
Verz iz Četrte Mojzesove knjige v Bibliji govori, da bo ta zbor 'za vas'. Zohar poudarja ta 'za vas' in ne za ostale. 'Druga stran' ne bo imela svojega dela v tej svetlobi. In je rezervirana za Izraelite in njihove potomce, ki so sprejeli Toro pod Sinajsko goro.
Knjiga Psalmov 32:11
" . שִׂמְחוּ בַיהוָה וְגִילוּ, צַדִּיקִים; וְהַרְנִינוּ, כָּל-יִשְׁרֵי-לֵב "
Črkovano besedilo:
שִׂמְחוּ simchu בַיהוָה vaAdonai וְגִילוּ vegilu, צַדִּיקִים tzadikim; וְהַרְנִינוּ veharninu, כָּל-יִשְׁרֵי-לֵב kal-yishrei-lev.
Bodite srečni v Gospodu in veselite se, vi pravični. Zavpijte po radosti, vsi vi, ki ste pokončni v srcu.
Zohar zaokrožuje preučevanje Pinhasa z verzom, ki nas ozavesti zaslug pri Tori in navezavi na Gospoda.
Prva beseda s števcem črk predstavlja numerično vrednost besede Mesija. In zadnje tri črke z števcem črk in Kolel predstavlja numerično vrednost besede Tora. Zadnje dve črke sta enake prvi in zadnji črki Tore.
Tora je naša pot k pravičnosti in Mesiji. Zohar je svetloba, ki nas vodi po tej poti. Pinhas je oseba iz Tore, ki je nesmrten in ves čas preučevanja razdelka Pinhas Zohar nas naveže na nesmrtnost naših duš. Berimo iz razdelka Pinhas vsak dan leta naših molitev. Na praznik Rosh Chodesh ( vsak prvi dan začetka novega meseca po Heb. koledarju ) in vse praznike berimo dodatne razdelke Tore iz Pinhasa. Tako povzdignemo navezavo na praznik. Bog je sklenil z Abrahamom zavezo. Pinhas je tisti, ki se je je držal in obdržal za nas. Naveže se na vsako Izraelitsko dušo med ceremonijo obreza in je ta, ki prihaja kot Elija, da razglasi Mesijo.
Preučevanje Pinhas bi moralo biti dragoceno in se redno ponavljati. Tako tudi zaključku Zoharjevega Dnevnika za razdelek Pinhas se moramo vrniti k Pinhasu tako za branje kot zrenje oz. poslušanje.
Velika hvala tisočerim od vas, ki ste se pridružili preučevanju. Hvala Rabinu Šimonu, Mojzesu in Eliji, ki so nam podali preučevanje in hvala Bogu za vse.
Po branju zadnjega odstavka Pinhasa, si pripravite slasten obrok s polnim blagoslovom, da počastite in povzdignete to navezavo.
Zoharjev dnevnik nadaljuje z delitvijo Zoharjevih razdelkov v audio obliki. Nekaj tednov ne bo pisanega preučevanja. Vendar zagotovo boste prejeli Zoharjev dnevnik po pošti in na strani medmrežja.
Z ljubeznijo in hvala za vašo podporo.
{||}