Zohar Diário # 1348 – Cria em mim um coração puro, ó Adonay, e renova um espírito reto dentro de mim
Daily Zohar 1348
Zohar Pinchas, Vol. 20 (English)/Vol 15 (Hebrew)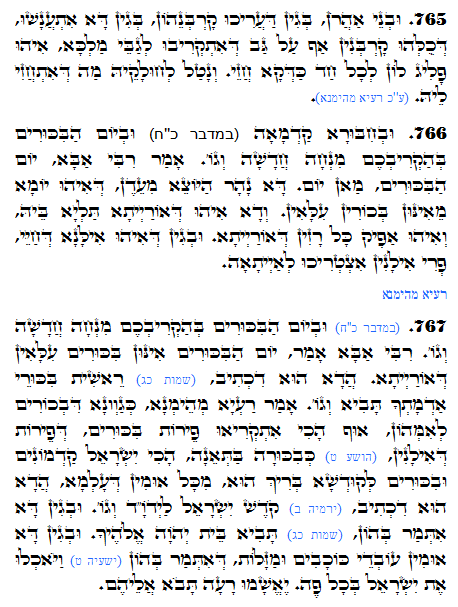 Hebrew translation:
765. וּבְנֵי אַהֲרֹן, מִשּׁוּם שֶׁעָרְכוּ קָרְבְּנוֹתֵיהֶם, בִּגְלַל זֶה נֶעֶנְשׁוּ. שֶׁכָּל הַקָּרְבָּנוֹת, אַף עַל גַּב שֶׁנִּקְרָבִים בִּשְׁבִיל הַמֶּלֶךְ, הוּא מְחַלֵּק לָהֶם לְכָל אֶחָד כְּמוֹ שֶׁרָאוּי, וְנוֹטֵל לְחֶלְקוֹ מַה שֶּׁרָאוּי לוֹ. (ע"כ
רעיא מהימנא
). 766. וּבַחִבּוּר הַקַּדְמוֹן, נֶאֱמַר (במדבר כח) וּבְיוֹם הַבִּכּוּרִים בְּהַקְרִיבְכֶם מִנְחָה חֲדָשָׁה וְגוֹ'. אָמַר רַבִּי אַבָּא, יוֹם הַבִּכּוּרִים, מִיהוּ הַיּוֹם? זֶה נָהָר הַיֹּצֵא מֵעֵדֶן, שֶׁהוּא יוֹם מֵאוֹתָם בִּכּוּרִים עֶלְיוֹנִים. וְזֶהוּ שֶׁהַתּוֹרָה תְּלוּיָה בּוֹ, וְהוּא מוֹצִיא כָּל סוֹדוֹת הַתּוֹרָה. וּמִשּׁוּם שֶׁהוּא עֵץ הַחַיִּים, צְרִיכִים לְהָבִיא פֵּרוֹת הָאִילָן.
רַעְיָא מְהֵימְנָא 767. וּבְיוֹם הַבִּכּוּרִים בְּהַקְרִיבְכֶם מִנְחָה חֲדָשָׁה וְגוֹ' (במדבר כח). רַבִּי אַבָּא אָמַר, יוֹם הַבִּכּוּרִים הֵם בִּכּוּרִים עֶלְיוֹנִים שֶׁל הַתּוֹרָה. זֶהוּ שֶׁכָּתוּב (שמות כג) רֵאשִׁית בִּכּוּרֵי אַדְמָתְךָ תָּבִיא וְגוֹ'. אָמַר הָרוֹעֶה הַנֶּאֱמָן, כְּמוֹ הַבְּכוֹרוֹת לְאִמּוֹתֵיהֶם, אַף כָּךְ נִקְרְאוּ הַפֵּרוֹת בִּכּוּרִים, שֶׁל פֵּרוֹת הָאִילָנוֹת. (הושע ט) כְּבִכּוּרָה בִתְאֵנָה, כָּךְ יִשְׂרָאֵל קַדְמוֹנִים וּבִכּוּרִים לְהַקָּדוֹשׁ בָּרוּךְ הוּא מִכָּל אֻמּוֹת הָעוֹלָם. זֶהוּ שֶׁכָּתוּב (ירמיה ב) קֹדֶשׁ יִשְׂרָאֵל לַיהֹוָה וְגוֹ'. וּמִשּׁוּם זֶה נֶאֱמַר בָּהֶם, (שמות כג) תָּבִיא בֵּית ה' אֱלֹהֶיךָ. וּמִשּׁוּם זֶה אֻמּוֹת עוֹבְדֵי כוֹכָבִים וּמַזָּלוֹת שֶׁנֶּאֱמַר בָּהֶם (ישעיה ט) וַיֹּאכְלוּ אֶת יִשְׂרָאֵל בְּכָל פֶּה – יֶאְשְׁמוּ רָעָה תָּבֹא אֲלֵיהֶם.
Pinchas 765-767 Continued from previous DZ
Nadav and Avihu, the sons of Aaron the first high priest brought 'gifts' in the initiation of the Holy Tabernacle but ended up 'punished'. The Zohar explains that they wanted the Light to come for a specific purpose, which was bringing the Final Redemption. They recognized the power of the newly create Tabernacle and wanted to maximize its use immediately. They had to pay with their lives because no one can control the path or the distribution of light drawn down by their offerings.
Our lesson is to bring our sacrifices and offerings, which are the Zohar studies and prayers without personal agenda. The light that is revealed will go first toward cleansing our negativity then for building and growing our vessels.
In Psalms 51 King David shows us how to prepare ourselves before praying or asking from YHVH.
Please read the entire Psalms 51 to get the most of it. Click here for the text: http://www.mechon-mamre.org/p/pt/pt2651.htm
In the last verse we read " אָז תַּחְפֹּץ זִבְחֵי-צֶדֶק, עוֹלָה וְכָלִיל; אָז יַעֲלוּ עַל-מִזְבַּחֲךָ פָרִים" "Then there will be righteous sacrifices, whole burnt offerings to delight you; then bulls will be offered on your altar."
Like King David we need to ask first to remove all the aspect of impurities that we brought on ourselves. They are curtains that separate us from the light and should be removed before being able to bring righteous offerings and receive the light.
א לַמְנַצֵּחַ, מִזְמוֹר לְדָוִד. ב בְּבוֹא-אֵלָיו, נָתָן הַנָּבִיא– כַּאֲשֶׁר-בָּא, אֶל-בַּת-שָׁבַע. ג חָנֵּנִי אֱלֹהִים כְּחַסְדֶּךָ; כְּרֹב רַחֲמֶיךָ, מְחֵה פְשָׁעָי. ד הרבה (הֶרֶב), כַּבְּסֵנִי מֵעֲו‍ֹנִי; וּמֵחַטָּאתִי טַהֲרֵנִי. ה כִּי-פְשָׁעַי, אֲנִי אֵדָע; וְחַטָּאתִי נֶגְדִּי תָמִיד. ו לְךָ לְבַדְּךָ, חָטָאתִי, וְהָרַע בְּעֵינֶיךָ, עָשִׂיתִי: לְמַעַן, תִּצְדַּק בְּדָבְרֶךָ– תִּזְכֶּה בְשָׁפְטֶךָ. ז הֵן-בְּעָווֹן חוֹלָלְתִּי; וּבְחֵטְא, יֶחֱמַתְנִי אִמִּי. ח הֵן-אֱמֶת, חָפַצְתָּ בַטֻּחוֹת; וּבְסָתֻם, חָכְמָה תוֹדִיעֵנִי. ט תְּחַטְּאֵנִי בְאֵזוֹב וְאֶטְהָר; תְּכַבְּסֵנִי, וּמִשֶּׁלֶג אַלְבִּין. י תַּשְׁמִיעֵנִי, שָׂשׂוֹן וְשִׂמְחָה; תָּגֵלְנָה, עֲצָמוֹת דִּכִּיתָ. יא הַסְתֵּר פָּנֶיךָ, מֵחֲטָאָי; וְכָל-עֲו‍ֹנֹתַי מְחֵה. יב לֵב טָהוֹר, בְּרָא-לִי אֱלֹהִים; וְרוּחַ נָכוֹן, חַדֵּשׁ ְּקִרְבִּי. יג אַל-תַּשְׁלִיכֵנִי מִלְּפָנֶיךָ; וְרוּחַ קָדְשְׁךָ, אַל-תִּקַּח מִמֶּנִּי. יד הָשִׁיבָה לִּי, שְׂשׂוֹן יִשְׁעֶךָ; וְרוּחַ נְדִיבָה תִסְמְכֵנִי. טו אֲלַמְּדָה פֹשְׁעִים דְּרָכֶיךָ; וְחַטָּאִים, אֵלֶיךָ יָשׁוּבוּ. טז הַצִּילֵנִי מִדָּמִים, אֱלֹהִים– אֱלֹהֵי תְּשׁוּעָתִי: תְּרַנֵּן לְשׁוֹנִי, צִדְקָתֶךָ. יז אֲדֹנָי, שְׂפָתַי תִּפְתָּח; וּפִי, יַגִּיד תְּהִלָּתֶךָ. יח כִּי, לֹא-תַחְפֹּץ זֶבַח וְאֶתֵּנָה; עוֹלָה, לֹא תִרְצֶה. יט זִבְחֵי אֱלֹהִים, רוּחַ נִשְׁבָּרָה: לֵב-נִשְׁבָּר וְנִדְכֶּה– אֱלֹהִים, לֹא תִבְזֶה. כ הֵיטִיבָה בִרְצוֹנְךָ, אֶת-צִיּוֹן; תִּבְנֶה, חוֹמוֹת יְרוּשָׁלִָם. כא אָז תַּחְפֹּץ זִבְחֵי-צֶדֶק, עוֹלָה וְכָלִיל; אָז יַעֲלוּ עַל-מִזְבַּחֲךָ פָרִים.
Pinchas 765-767
Continuação do ZD anterior
Nadav e Avihu, os filhos de Arão, o primeiro Sumo Sacerdote, trouxe "presentes" no início do Santo Tabernáculo, mas acabou 'punido'. O Zohar explica que eles queriam que a Luz viesse para um propósito específico, o qual era trazer a Redenção Final. Eles reconheceram o poder do Tabernáculo de criar de novo e quiseram maximizar o seu uso imediatamente.
Eles tiveram que pagar com suas vidas, porque ninguém pode controlar o caminho ou a distribuição de luz obtida por suas ofertas.
Nossa lição é levar aos nossos sacrifícios e ofertas, que são os estudos de Zohar e orações sem interesse pessoal. A luz que é revelada irá primeiro limpar a nossa negatividade, em seguida, para a construção e crescimento de nossos vasos.
No Salmo 51 o rei Davi nos mostra como nos preparar antes de rezar ou pedir a YHVH.
Por favor, leia todo o Salmo 51 para obter o máximo dele. Clique aqui para o texto: http://www.mechon-mamre.org/p/pt/pt2651.htm
No último versículo lemos: "אָז תַּחְפֹּץ זִבְחֵי – צֶדֶק , עוֹלָה וְכָלִיל ; אָז יַעֲלוּ עַל – מִזְבַּחֲךָ פָרִים"
"Então, haverá sacrifícios justos, ofertas inteiras queimadas para encantá-lo e, depois, os touros serão oferecidos em seu altar."
Como o rei David, precisamos pedir primeiro para remover todo o aspecto de impurezas que nós trazemos em nós mesmos. São cortinas que nos separam da luz e devem ser removidas antes de sermos capazes de levar ofertas justas e receber a luz.

{||}