Click here to listen to the Daily Zohar [audio:https://dailyzohar.com/wp-content/uploads/audio/dz1032.mp3|titles=Daily Zohar 1032]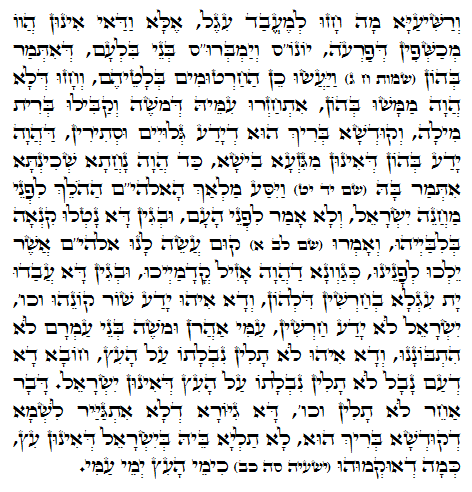 Tikkun 5 – 6
Êxodo 8:7 " וַיַּעֲשׂוּ-כֵן הַחַרְטֻמִּים, בְּלָטֵיהֶם " "Então os magos fizeram o mesmo com os seus encantamentos"
Os líderes dos Erev Rav que fizeram o Bezerro de Ouro eram aqueles 'Mágicos', Yonos e Yambrus que tentaram controlar os poderes de Moisés no Egito. Eles eram os filhos de Balaam que era o conselheiro do Faraó. Quando eles perceberam que Moisés era apoiado por um poderoso Deus, eles se converteram e aceitaram a circuncisão, assim eles puderam ir com os Israelitas.
Êxodo 14:19 " וַיִּסַּע מַלְאַךְ הָאֱלֹהִים, הַהֹלֵךְ לִפְנֵי מַחֲנֵה יִשְׂרָאֵל, וַיֵּלֶךְ, מֵאַחֲרֵיהֶם; וַיִּסַּע עַמּוּד הֶעָנָן, מִפְּנֵיהֶם, וַיַּעֲמֹד, מֵאַחֲרֵיהֶם " "E o anjo de Deus, que ia diante do exército de Israel, se retirou, e ia atrás deles; também a coluna de nuvem se retirou de diante deles, e se pôs atrás deles."
Este versículo, que é o primeiro dos três que formam os 72 nomes, nos conta que o anjo de Deus estava conduzindo o campo de Israelitas e não os Erev Rav. O Zohar nos revela que quando a Torah menciona os filhos de Israel, são excluídos os Erev Rav. Quando se diz 'a Nação', então se refere aos Erev Rav.
Os Erev Rav tinham ciúmes porque eles não tinham Deus os conduzindo e pediram a Aarão para fazer um Deus para seguirem.
Êxodo 32:1 " וַיַּרְא הָעָם, כִּי-בֹשֵׁשׁ מֹשֶׁה לָרֶדֶת מִן-הָהָר; וַיִּקָּהֵל הָעָם עַל-אַהֲרֹן, וַיֹּאמְרוּ אֵלָיו קוּם עֲשֵׂה-לָנוּ אֱלֹהִים אֲשֶׁר יֵלְכוּ לְפָנֵינוּ" "Mas vendo o povo que Moisés tardava em descer do monte, acercou-se de Arão, e disse-lhe: Levanta-te, faze-nos um deus, que vá adiante de nós;"
O Zohar ensina que os Erev Rav são o aspecto do cadáver que não deve ser conectado à Árvore da Vida. Deus sabia que a semente dos Erev Rav , corromperam sua conexão à Árvore da Vida, que foi a primeira Torah que Moisés trouxe e quebrou por causa do pecado do Bezerro de Ouro.
Moisés aceitou sua conversão porque seu papel no tikun principal de Adão era de retificar as sementes perdidas durante os 130 anos que ele esteve longe de Eva e teve relações com uma entidade negativa do outro lado.
Moisés pensou que com o poder da Torah eles seriam corrigidos e todos poderiam chegar à Terra Prometida para a Redenção Final.
O plano de Deus era diferente e os Israelitas tiveram que passar por um processo mais longo. Agora, depois de passarmos por um longo sofrimento e chegamos mais perto da Redenção Final, devemos ficar atentos de não deixar o lado negativo ou Erev Rav (aspecto do cadáver) pendurar em nós e nos derrubar no chão. Nós somos os aspectos da Árvore da Vida e devemos ser o mais puros possível.
Kabbalah que ensina o sistema espiritual ganhou grande popularidade nos anos recentes. Vimos muitas pessoas chegando para 'se pendurar' na Árvore da Vida e se conectar à energia do Zohar. Muitos deles vem com problemas pessoais, procurando por realização de seus desejos egoístas.
Os Erev Rav seguiram Moisés fora do Egito e agora logo antes da Redenção Final eles o encontram novamente no Zohar. Com seu dinheiro eles 'compram' professores de Kabbalah e as primeiras cadeiras em suas salas de aula e sinagogas. O resultado de se misturar com a 'multidão mista' (Erev Rav) é uma espiritualidade 'diluída' e conexões espirituais fracas. Nem todos os ricos adeptos de Kabbalah são dos Erev Rav, alguns deles são pessoas justas que canalizam sua energia dízimo para patrocinar a continuidade da luz do Zohar.
Para pegar carona à Árvore da Vida, temos que nos conectar com nossa vida, que significa uma completa transformação de nós mesmos. De ter um desejo para si próprio para ter unicamente desejo de compartilhar e continuar a Luz. Vir à Árvore da Vida com egoísmo é como pendurar um cadáver na Árvore. O resultado é o oposto e cedo ou tarde isso trará queda e morte em todos aspectos da vida.
Devemos ficar distantes de pessoas dos Erev Rav que querem drenar nossa energia. Eles são como cadáveres tentando sugar vida de nós. Devemos nos ligar no Zohar porque é nossa conexão à Árvore da Vida.
{||}
traduzido por Denis Schaefer