Click here to listen to the Daily Zohar [audio:https://dailyzohar.com/wp-content/uploads/audio/dz1035.mp3|titles=Daily Zohar 1035]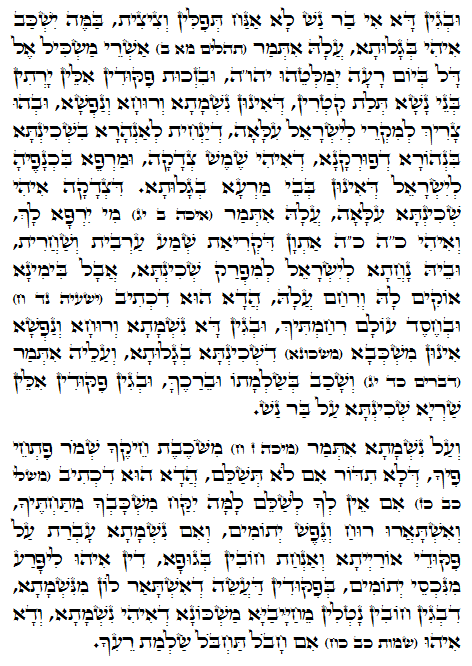 Tikkun 5 – 9
Salmos 41:1 "אַשְׁרֵי, מַשְׂכִּיל אֶל-דָּל; בְּיוֹם רָעָה, יְמַלְּטֵהוּ יְהוָה " "Bem-aventurado é aquele que atende ao pobre; o YHVH o livrará no dia do mal (ferimentos)."
Malchut é considerado como 'pobre' porque não tem luz própria. O Zohar traz este versículo para nos ensinar que nossas conexões espirituais que apoiam Malchut nos salvarão do 'dia do mal'. Este dia é o tempo do processo de limpeza que acontecerá antes de Deus revelar a luz da Redenção no mundo.
Lamentações 2:13 "מָה אַשְׁוֶה-לָּךְ וַאֲנַחֲמֵךְ, בְּתוּלַת בַּת-צִיּוֹן: כִּי-גָדוֹל כַּיָּם שִׁבְרֵךְ, מִי יִרְפָּא-לָךְ" "A quem te assemelharei, para te consolar, ó virgem filha (Malchut) de Sião (Yessod)? Porque grande como o mar (ים) é a tua quebradura; quem (מי esse é Binah) te sarará?"
מי, 'Quem' é uma forma de pergunta sobre oculta/ desconhecida entidade. O valor numérico é 50 e o Zohar nos ensina, isso implica em Binah. Quando o tempo vem e depois da dificuldade do processo de limpeza, a luz de Binah vai curar o mundo.
O Zohar ainda acrescenta que מי, 50 representa as 25 letras de Shema Israel que recitamos pela manhã e outras 25 quando a recitamos pela noite.
Com o Shema, nós conectamos de Malchut a Binah por Zeir Anpin e nos dá a passagem pelos 50 portões a Binah, onde podemos atrair energia de vida para nós.
Micha 7:5 "אַל תַּאֲמִינוּ בְרֵעַ, אַל תִּבְטְחוּ בְּאַלּוּף; מִשֹּׁכֶבֶת חֵיקֶךָ, שְׁמֹר פִּתְחֵי פִיךָ" "Não creiais no amigo, nem confieis no vosso guia; daquela que repousa no teu seio, guarda as portas da tua boca."
Mesmo que tenhamos o mais alto nível de alma, que é Neshama em nosso 'seio', temos a responsabilidade de mantê-la com amor e conexão com texto sagrado e palavras que conectam à energia de vida de Binah. Palavras de negatividade podem trazer o aspecto de morte e nos desconectar da 'mãe' que é Binah. Somos deixados com níveis de alma, como órfãos, que não tem apoio da mãe.
{||}
traduzido por Denis Schaefer