Click here to listen to the Daily Zohar [audio:https://dailyzohar.com/wp-content/uploads/audio/dz1052.mp3|titles=Daily Zohar 1052]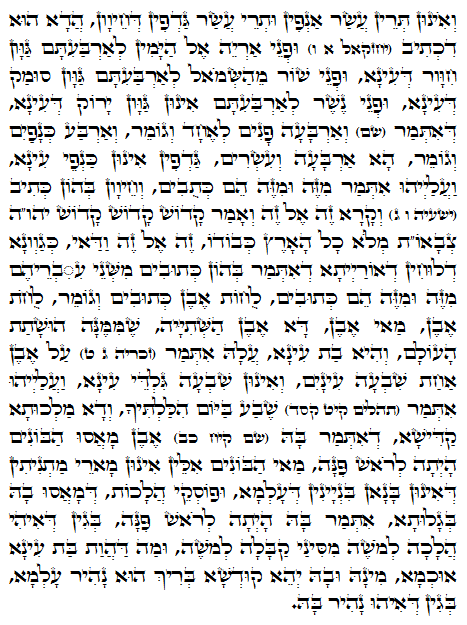 Hebrew translation:
Tikkun 6 – 11 Continuação do Daily Zohar 1051
O Zohar traz uma outra explicação para 12 + 12 aspectos revelados a partir das duas Tábuas. As Criaturas Sagradas do Trono Santo são Leão, Boi e Águia. Eles representam as três colunas, Chessed, Gevurah e Tiferet que equilibram a Árvore da Vida.
Cada criatura tem 4 faces e 4 asas como descritas em Ezequiel 1:6 "וְאַרְבָּעָה פָנִים, לְאֶחָת; וְאַרְבַּע כְּנָפַיִם, לְאַחַת לָהֶם "
"E cada um tinha quatro rostos, como também cada um deles quatro asas." (Eu aconselho a leitura do capítulo inteiro de Ezequiel 1).
As Tábuas eram feitas de pedra como dito em Êxodo 31:18 "לֻחֹת הָעֵדֻת–לֻחֹת אֶבֶן, כְּתֻבִים בְּאֶצְבַּע אֱלֹהִים " "as duas tábuas do testemunho, tábuas de pedra, escritas pelo dedo de Deus." O Zohar nos revela que a pedra das Tábuas é אבן השתיה , a 'pedra de beber' sobre a qual o mundo foi fundado. É o Ponto Médio da criação.
Leia mais sobre a Pedra de Beber aqui: http://rabbishimon.com/?p=448 https://dailyzohar.com/daily-zohar-731/ https://dailyzohar.com/daily-zohar-839/ https://dailyzohar.com/daily-zohar-898/ https://dailyzohar.com/daily-zohar-899/
A letra hebraica é chamado de "pedra", pois tem o poder de construir e edificar a energia espiritual que se manifesta no nível físico. A palavra é chamada תיבה, que significa uma caixa, recipiente, Arca. É um grande recipiente que pode reter uma luz maior. Moisés foi colocado em um recipiente desse tipo. A Arca de Noé era um תיבה para preservar a vida na terra. Ele foi levantado acima do nível físico corrompido. As duas Tábuas e a Torá são lugares na Arca Sagrada. O Zohar é o aspecto da Arca Sagrada, pois contém palavras sagradas que nos conectam com os níveis superiores e nos eleva acima da fisicalidade.
{||}
traduzido por Denis Schaefer