Daily Zohar # 1070 – Pinchas – Listen to your father.
Click here to listen to the Daily Zohar
Pinchas DZ 1070
For more Zohar reading visit http://ZoharVoice.com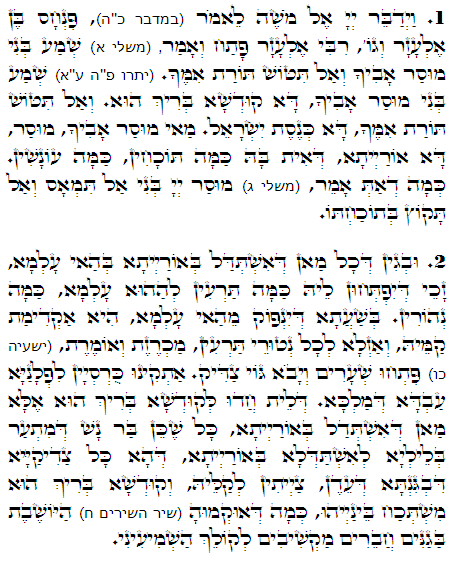 Hebrew translation:
וַיְדַבֵּר ה' אֶל מֹשֶׁה לֵּאמֹר. פִּינְחָס בֶּן אֶלְעָזָר וְגוֹ'. רַבִּי אֶלְעָזָר פָּתַח וְאָמַר, (משלי א) שְׁמַע בְּנִי מוּסַר אָבִיךָ וְאַל תִּטֹּשׁ תּוֹרַת אִמֶּךָ. שְׁמַע בְּנִי מוּסַר אָבִיךָ – זֶה הַקָּדוֹשׁ בָּרוּךְ הוּא. וְאַל תִּטֹּשׁ תּוֹרַת אִמֶּךָ – זוֹ כְּנֶסֶת יִשְׂרָאֵל. מַה זֶּה מוּסַר אָבִיךָ? מוּסָר זוֹ הַתּוֹרָה, שֶׁיֵּשׁ בָּהּ כַּמָּה תוֹכֵחוֹת, כַּמָּה עֳנָשִׁים, כְּמוֹ שֶׁנֶּאֱמַר (שם ג) מוּסַר ה' בְּנִי אַל תִּמְאָס וְאַל תָּקֹץ בְּתוֹכַחְתּוֹ.
וּמִשּׁוּם שֶׁכָּל מִי שֶׁמִּשְׁתַּדֵּל בַּתּוֹרָה בָּעוֹלָם הַזֶּה זוֹכֶה שֶׁיִּפָּתְחוּ לוֹ כַּמָּה שְׁעָרִים לָעוֹלָם הַהוּא, כַּמָּה אוֹרוֹת – בְּשָׁעָה שֶׁיֵּצֵא מֵהָעוֹלָם הַזֶּה הִיא מַקְדִּימָה לְפָנָיו, וְהוֹלֶכֶת לְכָל שׁוֹמְרֵי הַשְּׁעָרִים, מַכְרִיזָה וְאוֹמֶרֶת: (ישעיה כו) פִּתְחוּ שְׁעָרִים וְיָבֹא גוֹי צַדִּיק! הַתְקִינוּ כִסְאוֹת לִפְלוֹנִי עֶבֶד הַמֶּלֶךְ! שֶׁאֵין שִׂמְחָה לַקָּדוֹשׁ-בָּרוּךְ-הוּא אֶלָּא בְּמִי שֶׁמִּשְׁתַּדֵּל בַּתּוֹרָה, כָּל שֶׁכֵּן אָדָם שֶׁמִּתְעוֹרֵר בַּלַּיְלָה לְהִשְׁתַּדֵּל בַּתּוֹרָה, שֶׁהֲרֵי כָּל הַצַּדִּיקִים שֶׁבְּגַן עֵדֶן מַקְשִׁיבִים לְקוֹלוֹ, וְהַקָּדוֹשׁ בָּרוּךְ הוּא נִמְצָא בֵינֵיהֶם, כְּמוֹ שֶׁפֵּרְשׁוּהָ (שיר השירים ח) הַיּוֹשֶׁבֶת בַּגַּנִּים חֲבֵרִים מַקְשִׁיבִים לְקוֹלֵךְ הַשְׁמִיעִנִי.
Pinchas 1-2 (the numbers are the paragraph numbers as it was arranged in the Zohar by Rabbi Ashlag)
Zohar Pinchas begins by quoting the first two verses of the portion of Pinchas.
Numbers 25:10,11
"וַיְדַבֵּר יְהוָה, אֶל-מֹשֶׁה לֵּאמֹר "
"And YHVH spoke unto Moses, saying: "
" פִּינְחָס בֶּן-אֶלְעָזָר בֶּן-אַהֲרֹן הַכֹּהֵן, הֵשִׁיב אֶת-חֲמָתִי מֵעַל בְּנֵי-יִשְׂרָאֵל, בְּקַנְאוֹ אֶת-קִנְאָתִי, בְּתוֹכָם; וְלֹא-כִלִּיתִי אֶת-בְּנֵי-יִשְׂרָאֵל, בְּקִנְאָתִי "
"'Phinehas, the son of Eleazar, the son of Aaron the priest, hath turned My wrath away from the children of Israel, in that he was very jealous for My sake among them, so that I consumed not the children of Israel in My jealousy."
Then without a special explanation, jumps immediately to Proverb 1:8
" שְׁמַע בְּנִי, מוּסַר אָבִיךָ; וְאַל-תִּטֹּשׁ, תּוֹרַת אִמֶּךָ "
"Hear, my son, the instruction (discipline, ethics) of your father, and leave not the teaching (laws) of your mother;"
The Zohar answers that the instructions of the father, who is God, the Torah and the laws of the mother is the cause and effect in Malchut. We should not leave the Torah even if in Malchut we may suffer hardship of the Tikkun.
Another question is "What is the connection between Pinchas and following the instructions and teaching of our parents?"
The answer is related to the level of connection to the Light. The sin of the Israelites created a disconnection between the source of Light, that is Chokmah (Father) and Binah (Mother). Pinchas restored the severed connection when he killed the people that caused the death effect in the Israelites.
The verse from the first chapter of proverb teaches us that following the laws and ethics given to us by God maintain flow of light to the world.
The Zohar continues to say that those who study the Torah in this world earn the merit in the world to come. He brings joy to the Holy One Bless be He. The merit is greater for those who wake up at night to study the Torah because all the righteous souls in the Garden of Eden and God among them are listening to them.
The secret of this is in Song of Songs 8:13
" הַיּוֹשֶׁבֶת בַּגַּנִּים, חֲבֵרִים מַקְשִׁיבִים לְקוֹלֵךְ–הַשְׁמִיעִנִי"
"O you who dwell in the gardens (Garden of Eden), with companions (Righteous souls) listening for your voice; let me (God) hear it."
{||}