Daily Zohar # 1135 – Pinchas – A slave who is a son of the King
Click here to listen to the Daily Zohar [audio:https://dailyzohar.com/wp-content/uploads/pinchas/audio/dp-1135.mp3|titles=Daily Zohar 1135]
Mobile devices, please touch here
Following verses from Pinchas, Zohar Vol. 20 (English)/Vol 15 (Hebrew)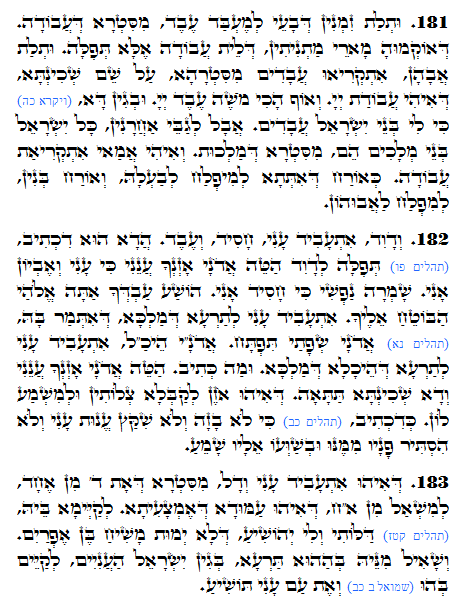 Hebrew translation:
181. וְשָׁלֹשׁ פְּעָמִים שֶׁעֶבֶד צָרִיךְ לַעֲשׂוֹת מִצַּד הָעֲבוֹדָה, שֶׁפֵּרְשׁוּהָ בַּעֲלֵי הַמִּשְׁנָה שֶׁאֵין עֲבוֹדָה אֶלָּא תְּפִלָּה, וּשְׁלֹשָׁה אָבוֹת נִקְרְאוּ עֲבָדִים מִצִּדָּהּ, עַל שֵׁם הַשְּׁכִינָה, שֶׁהִיא עֲבוֹדַת ה'. וְגַם כָּךְ מֹשֶׁה עֶבֶד ה'. וְלָכֵן (ויקרא כה) כִּי לִי בְנֵי יִשְׂרָאֵל עֲבָדִים. אֲבָל לְגַבֵּי אֲחֵרִים – כָּל יִשְׂרָאֵל בְּנֵי מְלָכִים הֵם, מִצַּד הַמַּלְכוּת. וְהִיא לָמָּה נִקְרֵאת עֲבוֹדָה? כְּדֶרֶךְ אִשָּׁה לַעֲבֹד לְבַעְלָהּ, וְדֶרֶךְ בָּנִים לַעֲבֹד אֶת אֲבִיהֶם.
182. וְדָוִד נַעֲשָׂה עָנִי, חָסִיד וְעֶבֶד. זֶהוּ שֶׁכָּתוּב, (תהלים פו) תְּפִלָּה לְדָוִד הַטֵּה אֲדֹנָי אָזְנְךָ עֲנֵנִי כִּי עָנִי וְאֶבְיוֹן אָנִי. שָׁמְרָה נַפְשִׁי כִּי חָסִיד אָנִי. הוֹשַׁע עַבְדְּךָ אַתָּה אֱלֹהַי הַבּוֹטֵחַ אֵלֶיךָ. נַעֲשָׂה עָנִי לְשַׁעַר הַמֶּלֶךְ, שֶׁנֶּאֱמַר בָּהּ (שם נא) אֲדֹנָי שְׂפָתַי תִּפְתָּח. אֲדֹנָ"י הֵיכָ"ל, נַעֲשָׂה עָנִי לְשַׁעַר הַמֶּלֶךְ. וּמַה כָּתוּב? הַטֵּה אֲדֹנָי אָזְנְךָ עֲנֵנִי, וְזוֹהִי שְׁכִינָה תַחְתּוֹנָה, שֶׁהִיא אֹזֶן לְקַבֵּל תְּפִלּוֹת וְלִשְׁמֹעַ אוֹתָן, כְּמוֹ שֶׁכָּתוּב (שם כב) כִּי לֹא בָזָה וְלֹא שִׁקַּץ עֱנוּת עָנִי וְלֹא הִסְתִּיר פָּנָיו מִמֶּנּוּ וּבְשַׁוְּעוֹ אֵלָיו שָׁמֵעַ.
183. שֶׁהוּא נַעֲשָׂה עָנִי וָדַל מִצַּד אוֹת ד' מִן אֶחָד, לִשְׁאֹל מִן א"ח, שֶׁהוּא עַמּוּד הָאֶמְצָעִי, לְקַיֵּם בּוֹ (שם קטז) דַּלּוֹתִי וְלִי יְהוֹשִׁיעַ, שֶׁלֹּא יָמוּת מָשִׁיחַ בֶּן אֶפְרַיִם. וְשָׁאַל מִמֶּנּוּ בְּאוֹתוֹ הַשַּׁעַר בִּשְׁבִיל יִשְׂרָאֵל הָעֲנִיִּים, לְקַיֵּם בָּהֶם (שמואל-ב כב) וְאֶת עַם עָנִי תּוֹשִׁיעַ.
Pinchas 181-183
Malchut is the tenth Sefira and this name literally means 'Kingdom'.
Exodus 19:6 "וְאַתֶּם תִּהְיוּ-לִי מַמְלֶכֶת כֹּהֲנִים, וְגוֹי קָדוֹשׁ "
"and ye shall be unto Me a kingdom of priests, and a holy nation "
Even though Malchut doesn't have light of its own we are considered sons of 'Kings' and a kingdom of priests.
Leviticus 25:55
"כִּי-לִי בְנֵי-יִשְׂרָאֵל, עֲבָדִים–עֲבָדַי הֵם, אֲשֶׁר-הוֹצֵאתִי אוֹתָם מֵאֶרֶץ מִצְרָיִם: אֲנִי, יְהוָה אֱלֹהֵיכֶם"
"For unto Me the children of Israel are slaves; they are My slaves whom I brought forth out of the land of Egypt: I am YHVH your God."
This verse seems to contradict with the previous one, but there are secrets concealed in both.
The word for slave עבד is also the root word for all aspects of work. The word for work in Hebrew is עבודה and we see the root, עבד, slave, and וה VH that represents Zeir Anpin and Malchut in the name of God, YHVH. Our work is to unify Zeir Anpin and Malchut in all of our actions.
When we do the 'slave' work we receive the light and in Malchut we become sons of the King. Our connections and actions allow us entry to the 'palace' of the King receiving from his treasures that are pure Light.
Psalms 86:1
" תְּפִלָּה, לְדָוִד: הַטֵּה-יְהוָה אָזְנְךָ עֲנֵנִי– כִּי-עָנִי וְאֶבְיוֹן אָנִי."
"A Prayer of David. Incline Thine ear, YHVH, and answer me; for I am poor and needy."
The Zohar brings again the verse from Psalms 86:2 that we studied before
"שָׁמְרָה נַפְשִׁי, כִּי-חָסִיד אָנִי:
הוֹשַׁע עַבְדְּךָ, אַתָּה אֱלֹהַי– הַבּוֹטֵחַ אֵלֶיךָ. "
"Keep my soul, for I am (אָנִי) godly (Chassid);O my God, save your slave (עבד) that his trust is in you. "
King David is the Aspect of Malchut and as a king, he knew how to lower himself as a slave and poor in order to receive the Light. In Malchut we have to come to the King as empty vessel and great desire to be able to receive his treasures.
Psalms 86:1
" תְּפִלָּה, לְדָוִד: הַטֵּה-יְהוָה אָזְנְךָ עֲנֵנִי– כִּי-עָנִי וְאֶבְיוֹן אָנִי."
"A Prayer of David. Incline Thine ear, YHVH, and answer me; for I am poor and needy."
Only then we can expect to be redeem.
2 Samuel 22:28
" וְאֶת-עַם עָנִי, תּוֹשִׁיעַ; וְעֵינֶיךָ עַל-רָמִים, תַּשְׁפִּיל"
"You will save the afflicted (poor) people, But your eyes are on the haughty, that you may bring them down"
{||}