Daily Zohar # 1134 – Pinchas – Two equals one
Click here to listen to the Daily Zohar
Following verses from Pinchas, Zohar Vol. 20 (English)/Vol 15 (Hebrew)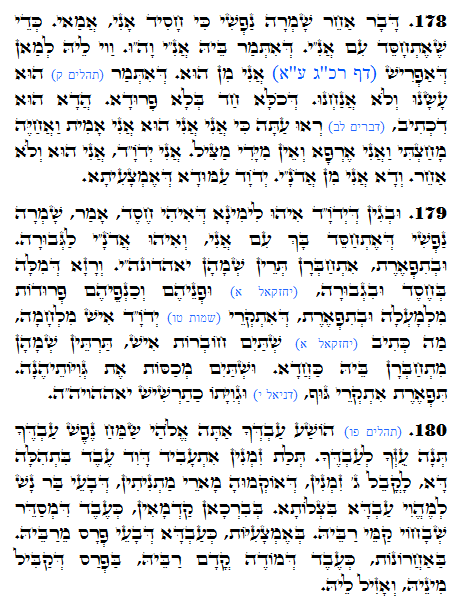 Hebrew translation:
178. דָּבָר אַחֵר, שָׁמְרָה נַפְשִׁי כִּי חָסִיד אָנִי – לָמָּה? כְּדֵי שֶׁאֶתְחַסֵּד עִם אֲנִ"י, שֶׁנֶּאֱמַר בּוֹ אֲנִ"י וָה"וּ. אוֹי לוֹ לְמִי שֶׁמַּפְרִיד אֲנִי מֵהוּא, שֶׁנֶּאֱמַר (תהלים ק) הוּא עָשָׂנוּ וְלֹא אֲנַחְנוּ. שֶׁהַכֹּל אֶחָד בְּלִי פֵרוּד. זֶהוּ שֶׁכָּתוּב (דברים לב) רְאוּ עַתָּה כִּי אֲנִי אֲנִי הוּא [וְגוֹ'], אֲנִי אָמִית וַאֲחַיֶּה מָחַצְתִּי וַאֲנִי אֶרְפָּא וְאֵין מִיָּדִי מַצִּיל. אֲנִי יְהֹוָ"ה, אֲנִי הוּא וְלֹא אַחֵר. וְזֶה אֲנִי מִן אֲדֹנָ"י. ה' – עַמּוּד הָאֶמְצָעִי.
179. וּמִשּׁוּם שֶׁיְהֹוָ"ה הוּא לְיָמִין, שֶׁהוּא חֶסֶד, אָמַר, שָׁמְרָה נַפְשִׁי שֶׁאֶתְחַסֵּד בְּךָ עִם אָנִ"י, וְהוּא אֲדֹנָ"י לִגְבוּרָה. וּבְתִפְאֶרֶת מִתְחַבְּרִים שְׁנֵי שֵׁמוֹת – יאהדונה"י. וְסוֹד הַדָּבָר בְּחֶסֶד וּבִגְבוּרָה (יחזקאל א) וּפְנֵיהֶם וְכַנְפֵיהֶם פְּרֻדוֹת מִלְמָעְלָה. וּבְתִפְאֶרֶת שֶׁנִּקְרָא (שמות טו) ה' אִישׁ מִלְחָמָה, מַה כָּתוּב? (יחזקאל א) שְׁתַּיִם חֹבְרוֹת אִישׁ, שְׁנֵי שֵׁמוֹת מִתְחַבְּרִים בּוֹ כְּאֶחָד. וּשְׁתַּיִם מְכַסּוֹת אֵת גְּוִיֹּתֵיהֶנָה. תִּפְאֶרֶת נִקְרָא גּוּף, (דניאל י) וּגְוִיָּתוֹ כְתַרְשִׁישׁ, יאההויה"ה.
180. הוֹשַׁע עַבְדְּךָ אַתָּה אֱלֹהַי. שַׂמֵּחַ נֶפֶשׁ עַבְדֶּךָ. תְּנָה עֻזְּךָ לְעַבְדֶּךָ (תהלים פו). שָׁלֹשׁ פְּעָמִים נַעֲשָׂה דָוִד עֶבֶד בַּתְּהִלָּה הַזּוֹ, כְּנֶגֶד שָׁלֹשׁ פְּעָמִים שֶׁהֶעֱמִידוּ בַּעֲלֵי הַמִּשְׁנָה שֶׁצָּרִיךְ אָדָם לִהְיוֹת עֶבֶד בַּתְּפִלָּה: בַּבְּרָכוֹת הָרִאשׁוֹנוֹת, כְּמוֹ עֶבֶד שֶׁמְּסַדֵּר שִׁבְחוֹ לִפְנֵי רַבּוֹ. בָּאֶמְצָעִיּוֹת, כְּמוֹ עֶבֶד שֶׁמְּבַקֵּשׁ פְּרָס מֵרַבּוֹ. וּבָאַחֲרוֹנוֹת, כְּמוֹ עֶבֶד שֶׁמּוֹדֶה לִפְנֵי רַבּוֹ בַּפְּרָס שֶׁקִּבֵּל מִמֶּנּוּ וְהוֹלֵךְ לוֹ.
Pinchas 178-180
Psalms 86:2
"שָׁמְרָה נַפְשִׁי, כִּי-חָסִיד אָנִי"
"Keep my soul, for I am (אָנִי) godly (Chassid);"
The Zohar refers to this verse again, to teach us the relation between the protection of the soul, Chessed and the word אָנִי (I am). The connection is with the name of God in the level of Malchut ADNY אדני . Normally the name reflects the judgment aspect of Malchut דינא . When the letter ד is taken out with the connection to YHVH, that is Chessed. We unite right (Chessed)and left (Gevurah) to form the central column and balance. When they come together we form the combined name of יאהדונהי.
This is the secret of saying the name ADNY (Adonay) when reading the name YHVH יהוה. Having the YHVH name in front of our eyes and in our consciousness when saying the name as ADNY, draws Chessed to our lives.
When we say Amen אמן we create the same effect of drawing light of Chessed to Gevurah and remove judgments.
The letters אני form one of the 72 names. It is placed in Position 37 that is the middle of the chart. The last letter of the name before it (position 36) is ד . Together they form the name אדני but the separated ד gives it balance.
אני represents the 'trunk' of the Tree of Life.
{||}