Daily Zohar # 1174 – Pinchas – Unmute yourself
Daily Zohar 1174
Daily Zohar 1174
Zohar Pinchas, Vol. 20 (English)/Vol 15 (Hebrew)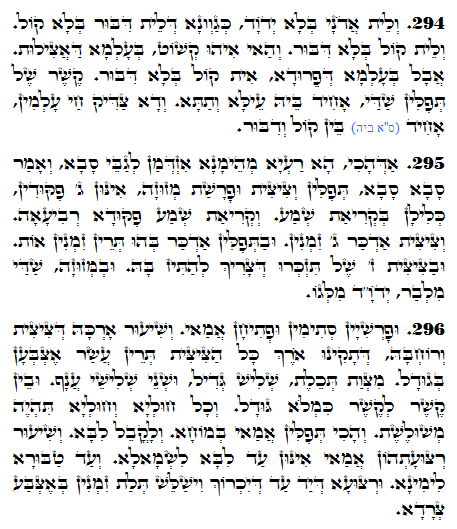 Hebrew translation:
294. וְאֵין אֲדֹנָי בְּלֹא יְהֹוָה, כְּמוֹ שֶׁאֵין דִּבּוּר בְּלֹא קוֹל. וְאֵין קוֹל בְּלֹא דִבּוּר. וְזֶהוּ אֱמֶת בְּעוֹלַם הָאֲצִילוּת. אֲבָל בְּעוֹלַם הַפֵּרוּד יֵשׁ קוֹל בְּלֹא דִבּוּר. קֶשֶׁר שֶׁל תְּפִלִּין שַׁדַּי, אָחוּז בּוֹ הָעֶלְיוֹן וְהַתַּחְתּוֹן. וְזֶה צַדִּיק חַי הָעוֹלָמִים, אָחוּז (בּוֹ) בֵּין קוֹל וְדִבּוּר.
295. בְּתוֹךְ כָּךְ הָרוֹעֶה הַנֶּאֱמָן נִזְדַּמֵּן אֵצֶל הַזָּקֵן וְאָמַר, זָקֵן זָקֵן, תְּפִלִּין וְצִיצִית וּפָרָשַׁת מְזוּזָה הֵן שָׁלֹשׁ מִצְווֹת כְּלוּלוֹת בַּקְּרִיאַת שְׁמַע, וּקְרִיאַת שְׁמַע הִיא מִצְוָה רְבִיעִית. וְצִיצִית מֻזְכֶּרֶת שָׁלֹשׁ פְּעָמִים. וּבַתְּפִלִּין נִזְכֶּרֶת בָּהֶן שְׁתֵּי פְעָמִים אוֹת. וּבַצִּיצִית, הָאוֹת ז' שֶׁל תִּזְכְּרוּ שֶׁצָּרִיךְ לְהַתִּיז בָּהּ. וּבַמְּזוּזָה, שַׁדַּ"י מִבַּחוּץ, יְהֹוָה מִבִּפְנִים.
296. וּפָרָשִׁיּוֹת סְתוּמוֹת וּפְתוּחוֹת מַדּוּעַ? וְשִׁעוּר אָרְכָּהּ שֶׁל צִיצִית וְרָחְבָּהּ, שֶׁתִּקְּנוּ אֹרֶךְ כָּל הַצִּיצִית שְׁתֵּים עֶשְׂרֵה אֶצְבָּעוֹת בְּגוּדָל. מִצְוַת תְּכֵלֶת שְׁלִישׁ גְּדִיל, וּשְׁנֵי שְׁלִישֵׁי עָנָף, וּבֵין קֶשֶׁר לְקֶשֶׁר כִּמְלֹא גוּדָל. וְכָל חֻלְיָה וְחֻלְיָה תִּהְיֶה מְשֻׁלֶּשֶׁת. וְכָךְ תְּפִלִּין מַדּוּעַ בַּמֹּחַ? וּכְנֶגֶד הַלֵּב, וְשִׁעוּר הָרְצוּעוֹת, מַדּוּעַ הֵן עַד הַלֵּב לִשְׂמֹאל וְעַד הַטַּבּוּר לְיָמִין? וּרְצוּעָה שֶׁל יָד עַד שֶׁיִּכְרֹךְ, וִישַׁלֵּשׁ שָׁלֹשׁ פְּעָמִים בָּאֶצְבַּע הָאֲרֻכָּה?
Pinchas 294-296
Continue from previous DZ
Deuteronomy 6:8
"וּקְשַׁרְתָּם לְאוֹת, עַל-יָדֶךָ; וְהָיוּ לְטֹטָפֹת, בֵּין עֵינֶיךָ. "
"And thou shalt bind them for a sign upon thy hand, and they shall be for frontlets (לְטֹטָפֹת) between your eyes. "
The Tefilin should be above the forehead, between the eyes. The Zohar reveals that the טט from לְטֹטָפֹת is the aspect of Metatron who extends the central column from the top three Sefirot.
The head Tefilin with the strap, creates a circle around the border line of the hair. The strap meets at the back of the neck and comes down to the front of the body to form a connection to the central column.
Metatron is numerically 314 as in Pi (3.14), that relates to the circle and holds secrets of the endless. (Pi has endless number of digits after the decimal point). Here, the Zohar reveals direct connection between Metatron, the circle and the Endless.
Metatron serves as a body for the light of the creator to continue the light to the lower levels. When the Light is not with Metatron then he is 'mute', meaning unable to transfer light.
The Zohar refers to the Light as sound and speech is the manifestation. The connection between the Light and the Shechina has the same aspect of sound and speech. God is the life force of everything, he carries the entire existence and without him there is no manifestation or any form of life/existence.
In the world of Atzilut (Emanation) there is no separation between Zeir Anpin and Malchut. (Each world has its own 10 Sefirot)
The name אדני ADNY can not have existence without the name יהוה YHVH. We see this relationship in our prayers and when we read the Torah. When we see the name יהוה YHV, we do not pronounce the letters but the name אדני ADONAI. This teaches us that the eye connection is very important but is muted until we make an action to manifest it.
{||}