Zoharjev dnevnik Št. 1173 – "in pred teboj bodo imeli strahospoštovanje"
Daily Zohar 1173
Daily Zohar 1173 Zohar Pinhas, Št. 20 (ANG)/Št. 15 (HEB)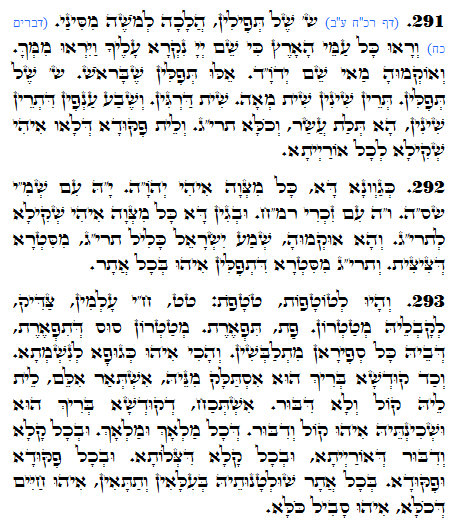 Hebrew translation:
291. ש' שֶׁל תְּפִלִּין, הֲלָכָה לְמֹשֶׁה מִסִּינַי. (דברים כח) וְרָאוּ כָל עַמֵּי הָאָרֶץ כִּי שֵׁם ה' נִקְרָא עָלֶיךָ וְיָרְאוּ מִמֶּךָּ. וּבֵאֲרוּהוּ – מַהוּ שֵׁם ה'? אֵלּוּ תְּפִלִּין שֶׁבָּרֹאשׁ. ש' שֶׁל תְּפִלִּין. שְׁתֵּי שִׁינִין – שֵׁשׁ מֵאוֹת. שֵׁשׁ מַדְרֵגוֹת וְשִׁבְעָה עֲנָפִים שֶׁל שְׁתֵּי שִׁינִים – הֲרֵי שְׁלֹשָׁה עָשָׂר, וְהַכֹּל תרי"ג. וְאֵין מִצְוָה שֶׁאֵינָהּ שְׁקוּלָה לְכָל הַתּוֹרָה.
292. כְּגוֹן זֶה, כָּל מִצְוָה הִיא יְהֹוָ"ה. י"ה עִם שְׁמִ"י – שס"ה. ו"ה עִם זִכְרִי – רמ"ח. וּמִשּׁוּם זֶה כָּל מִצְוָה הִיא שְׁקוּלָה לְתרי"ג. וַהֲרֵי פֵּרְשׁוּהוּ, שְׁמַע יִשְׂרָאֵל – כָּלוּל תרי"ג מִצַּד שֶׁל צִיצִית. וְתרי"ג מִצַּד שֶׁל תְּפִלִּין הוּא בְּכָל מָקוֹם.
293. וְהָיוּ לְטוֹטָפֹת. טֹטָפֹת – ט"ט, חַ"י עוֹלָמִים, צַדִּיק, כְּנֶגְדּוֹ שֶׁל מְטַטְרוֹן. פַּ"ת, תִּפְאֶרֶת. מְטַטְרוֹן סוּס שֶׁל תִּפְאֶרֶת, שֶׁבּוֹ כָּל הַסְּפִירוֹת מִתְלַבְּשׁוֹת. וְכָךְ הוּא כְּגוּף לַנְּשָׁמָה. וְכַאֲשֶׁר הַקָּדוֹשׁ בָּרוּךְ הוּא מִסְתַּלֵּק מִמֶּנּוּ, נִשְׁאָר אִלֵּם, אֵין לוֹ קוֹל וְלֹא דִבּוּר. נִמְצָא שֶׁהַקָּדוֹשׁ בָּרוּךְ הוּא וְהַשְּׁכִינָה הֵם קוֹל וְדִבּוּר שֶׁל כָּל מַלְאָךְ וּמַלְאָךְ, וּבְכָל קוֹל וְדִבּוּר שֶׁל תּוֹרָה, וּבְכָל קוֹל שֶׁל תְּפִלָּה וּבְכָל מִצְוָה וּמִצְוָה. בְּכָל מָקוֹם שְׁלִיטָתוֹ בָּעֶלְיוֹנִים וּבַתַּחְתּוֹנִים, הוּא חַיִּים שֶׁל הַכֹּל וְהוּא סוֹבֵל הַכֹּל.
Pinhas 291-293
Nadaljevanje predhodnega DZ
Peta Mojzesova knjiga 28:10
"וְרָאוּ כָּל-עַמֵּי הָאָרֶץ, כִּי שֵׁם יְהוָה נִקְרָא עָלֶיךָ; וְיָרְאוּ, מִמֶּךָּ."
"וְרָאוּ "vera'u כָּל-עַמֵּי kol -ammei הָאָרֶץ ha'aretz, כִּי ki שֵׁם shem יְהוָה Adonai נִקְרָא nikra עָלֶיךָ aleicha; וְיָרְאוּveyare'u, מִמֶּךָּ" mimmeka.

"In vsa ljudstva sveta bodo uvidela, da si poimenovan po YHVH; in tako bodo gojila strahospoštovanje do tebe."
Zohar nas poduči, da verz " poimenovan po YHVH" je pravzaprav Tefilin/naglavni molilni jermen. Škatlica vsebuje štiri predalčke za štiri razdelke Tore. Na zunanjih dveh straneh-ploskvah sta dve črki Shin ש. In sicer na eni strani je črka Shin s tremi glavami. Na drugi nasprotni strani pa črka Šin s štirimi glavami.


Dve črki Šin ש ש številčno 600, predstavljajo 6 ravni Zeir Anpina in sicer Chessed/Blagost, Gevurah/Moč,Sodba, Tiferent/Veličastnost, Netzach/Zmaga, Hod/Veličastnost, Yessod/Temelj oz. Prehod.
Črka Šin ש na desni ima tri glave, tista na levi pa štiri glave. Skupaj imata sedem glav in z zgoraj predstavljenimi šestimi Sefiroji Drevesa Življenja imamo 13. Skupaj z numerično vrednostjo dveh črk Šin dobimo vrednost 613. 613 predstavlja število zapovedi ( mitzva )v Tori. To je tudi eden od razlogov zakaj otrok pred trinajstim letom ne more nositi naglavnega molilnega jermena/Tefilin.
Zohar dodaja, da je vsaka zapoved obravnavana kakor celotna Tora. Sklicuje pa se na skrivnostni verz iz
Druge Mojzesove Knjige Exodus 3:15
" זֶה-שְּׁמִי לְעֹלָם, וְזֶה זִכְרִי לְדֹר דֹּר"
" זֶה-שְּׁמִי zeh-shemi לְעֹלָם le'olam, וְזֶה vezeh זִכְרִי zichri לְדֹר ledor דֹּר" dor

"to je Moje ime (שְּׁמִי) za vekomaj, in to je Moj spomin (זִכְרִי) vsem generacijam."
Vsaka zapoved je navezava na višje in nižje ravni. יה YH in וה VH. יה s שְּׁמִי = 365 je kot število zapovedi "to ne smeš početi…" . Ter וה z זִכְר je 248 kot število proaktivnih zapovedi "To moraš narediti…." . Skupaj torej 613.
Kot dodatek je beseda zapoved מצוה. VH וה predstavlja spodnjo raven in naše delo v tem svetu. Dotika se črk מצ številčno 130. Kar je 10 krat številčna vrednost besede אהבה 'ljubezen'. Ko je beseda מצ nadomeščena s črkami iz napsrotne strani (אתב"ש), se formirajo črke יה. Ko jih dodamo črkam וה, dobimo polno ime יהוה YHVH.
Kadar sledimo zapovedim Tore z ljubeznijo, opravimo resnično navezavo na YHVH. In rezultat je, kot pravi zgornji verz: in "pred teboj bodo imeli strahospoštovanje".
{||}