Daily Zohar # 1179 – Pinchas – On angels' wings
Daily Zohar 1179
Daily Zohar 1179
Zohar Pinchas, Vol. 20 (English)/Vol 15 (Hebrew)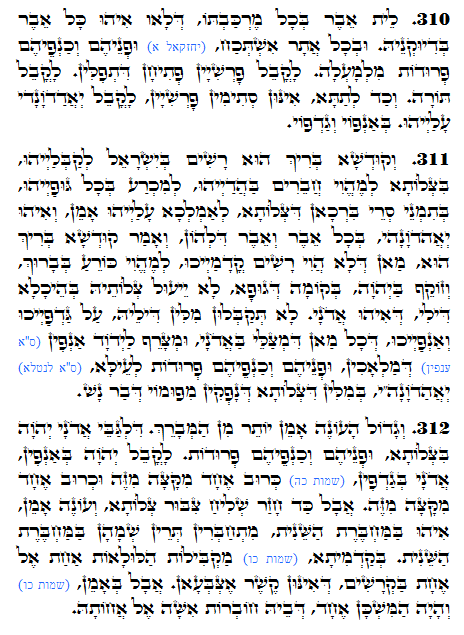 Hebrew translation:
310. אֵין אֵבֶר בְּכָל מֶרְכַּבְתּוֹ שֶׁאֵין הוּא כָּל אֵבֶר בְּצוּרָתוֹ. וּבְכָל מָקוֹם נִמְצָא. (יחזקאל א) וּפְנֵיהֶם וְכַנְפֵיהֶם פְּרֻדוֹת מִלְמָעְלָה. כְּנֶגֶד הַפָּרָשִׁיּוֹת הַפְּתוּחוֹת שֶׁל הַתְּפִלִּין. כְּנֶגֶד הַתּוֹרָה. וְכַאֲשֶׁר הֵן לְמַטָּה הֵן סְתוּמוֹת הַפָּרָשִׁיּוֹת, כְּנֶגֶד יְאֲהַדֹוָנָהי עֲלֵיהֶם, בְּפָנָיו וּבִכְנָפָיו.
311. וְהַקָּדוֹשׁ בָּרוּךְ הוּא רָשַׁם בְּיִשְׂרָאֵל כְּנֶגְדָּם בַּתְּפִלָּה לִהְיוֹת חֲבֵרִים עִמָּהֶם, לִכְרֹעַ בְּכָל גּוּפָם, בִּשְׁמוֹנֶה עֶשְׂרֵה בְּרָכוֹת שֶׁל הַתְּפִלָּה, לְהַמְלִיךְ עֲלֵיהֶם אָמֵן, וְהוּא יְאֲהַדֹוָנָהי, בְּכָל אֵבֶר וְאֵבֶר שֶׁלָּהֶם. וְאָמַר הַקָּדוֹשׁ בָּרוּךְ הוּא: מִי שֶׁלֹּא יִהְיֶה רָשׁוּם לִפְנֵיכֶם לִהְיוֹת כּוֹרֵעַ בְּבָרוּךְ וְזוֹקֵף בַּיהֹוָה בְּקוֹמַת הַגּוּף, לֹא תִכָּנֵס תְּפִלָּתוֹ בַּהֵיכָל שֶׁלִּי, שֶׁהוּא אֲדֹנָי. לֹא תְקַבְּלוּ דִבּוּרִים שֶׁלּוֹ עַל כַּנְפֵיכֶם וּפְנֵיכֶם. שֶׁכָּל מִי שֶׁמִּתְפַּלֵּל בַּאדֹנָי, וּמְצָרֵף לַיהֹוָה פָּנִים (עֲנָפִים) שֶׁל הַמַּלְאָכִים, וּפְנֵיהֶם וְכַנְפֵיהֶם פְּרֻדוֹת לְמַעְלָה, (לִטֹּל) יְאֲהַדֹוָנָהי, בְּדִבְרֵי הַתְּפִלָּה שֶׁיּוֹצְאִים מִפִּיו שֶׁל הָאָדָם.
312. וְגָדוֹל הָעוֹנֶה אָמֵן יוֹתֵר מִן הַמְבָרֵךְ. שֶׁלְּגַבֵּי אֲדֹנָי יְהֹוָה בַּתְּפִלָּה נֶאֱמַר וּפְנֵיהֶם וְכַנְפֵיהֶם פְּרֻדוֹת. כְּנֶגֶד יְהֹוָה בַּפָּנִים, אֲדֹנָי בַּכְּנָפַיִם, (שמות כה) כְּרוּב אֶחָד מִקָּצָה מִזֶּה וּכְרוּב אֶחָד מִקָּצָה מִזֶּה. אֲבָל כַּאֲשֶׁר חוֹזֵר שְׁלִיחַ צִבּוּר הַתְּפִלָּה וְעוֹנֶה אָמֵן, הוּא בַּמַּחְבֶּרֶת הַשֵּׁנִית, מִתְחַבְּרִים שְׁנֵי שֵׁמוֹת בַּמַּחְבֶּרֶת הַשֵּׁנִית. בַּתְּחִלָּה – (שמות לו) מַקְבִּילֹת הַלֻּלָאֹת אַחַת אֶל אֶחָת וְגוֹ' בַּקְּרָסִים, שֶׁהֵם קִשְׁרֵי הָאֶצְבָּעוֹת. אֲבָל בְּאָמֵן – (שם כו) וְהָיָה הַמִּשְׁכָּן אֶחָד, שֶׁבּוֹ חוֹבְרוֹת אִשָּׁה אֶל אֲחֹתָהּ.
Pinchas 310-312
Continue from previous DZ
Ezekiel 1:11
" וּפְנֵיהֶם, וְכַנְפֵיהֶם פְּרֻדוֹת מִלְמָעְלָה: לְאִישׁ, שְׁתַּיִם חֹבְרוֹת אִישׁ, וּשְׁתַּיִם מְכַסּוֹת, אֵת גְּוִיֹּתֵיהֶנָה."
"Thus were their faces; and their wings were stretched upward; two wings of every one were joined one to another, and two covered their bodies."
The Zohar teaches us that every spiritual aspect has a head and a body. Head is the upper three Sefirot of Keter, Chokmah and Binah (or Chokmah Binah and Da'at during the actual connection). Body is the lower seven Sefirot of Chessed, Gevurah, Tiferet, Netzach, Hod, Yessod and Malchut.
The Tefilin, with the concealed Torah sections inside, help us with the unification of upper and lower, specifically the two names יאהדונהי in unification. יאהדונהי sequence is known as the אמן Amen sequence and it has the same numerical value of the two names, 91.
The silent prayer has 18 blessings that bring 'life' to the unification of the names, יאהדונהי, each time we say Amen.
Only when we do the bowing and answer Amen to all blessings, our prayers can pass the upper gates. The Zohar tells us that the four Holy Creatures have instructions from the Holy one Bless be He (Endless Light) to open their 'wings' to carry the prayers only if the person made the proper unification of the names.
The Zohar reveals to us that a person that answers Amen to a blessing has greater merit than the one who actually says the blessing. The reason for that is, when the blessing is recited it has only the name YHVH in it. When answering Amen, 91 to a blessing we activate the aspect of the unification of two names, YHVH and ADNY, יאהדונהי. It is even more important when the Amen is said during the repetition of the Silent prayer.
Next time you are praying with your congregation, forget the chat and take the opportunity to use this important tool that will place your prayers on the 'wings' of angels. Encourage your friends to do the same to elevate the connection of the entire congregation.
Print the following images and attach it to your prayer books.