Daily Zohar # 1213 – Pinchas – Don't make the king upset
Daily Zohar 1213
Daily Zohar 1213
Zohar Pinchas, Vol. 20 (English)/Vol 15 (Hebrew)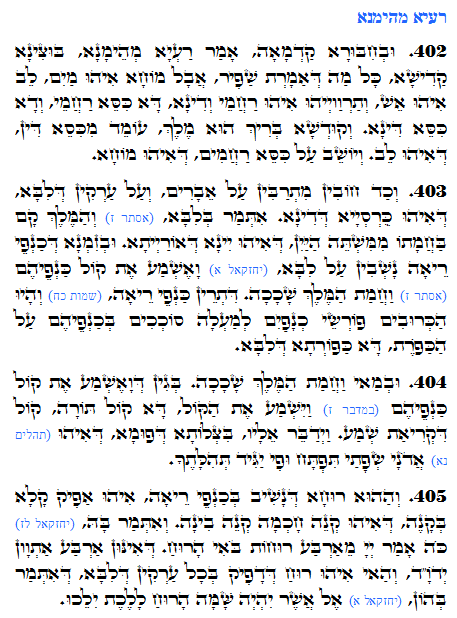 Hebrew translation:
402. אָמַר הָרוֹעֶה הַנֶּאֱמָן, הַמְּנוֹרָה הַקְּדוֹשָׁה, כָּל מַה שֶּׁאָמַרְתָּ – נָכוֹן, אֲבָל הַמֹּחַ הוּא מַיִם, וְהַלֵּב הוּא אֵשׁ, וּשְׁנֵיהֶם הֵם רַחֲמִים וְדִין. זֶה כִּסֵּא רַחֲמִים, וְזֶה כִּסֵּא דִין. וְהַקָּדוֹשׁ בָּרוּךְ הוּא מֶלֶךְ, עוֹמֵד מִכִּסֵּא דִין, שֶׁהוּא הַלֵּב, וְיוֹשֵׁב עַל כִּסֵּא רַחֲמִים, שֶׁהוּא הַמֹּחַ.
403. וְכַאֲשֶׁר הַחוֹבוֹת מִתְרַבִּים עַל הָאֵיבָרִים וְעַל הָעוֹרְקִים שֶׁל הַלֵּב, שֶׁהוּא כִּסֵּא שֶׁל דִּין, נֶאֱמַר בַּלֵּב, (אסתר ז) וְהַמֶּלֶךְ קָם בַּחֲמָתוֹ מִמִּשְׁתֵּה הַיַּיִן, שֶׁהוּא יֵינָהּ שֶׁל תּוֹרָה. וּבִזְמַן שֶׁכַּנְפֵי רֵאָה נוֹשְׁבוֹת עַל הַלֵּב, נֶאֱמַר (אסתר ז) וַחֲמַת הַמֶּלֶךְ שָׁכָכָה. שֶׁעַל שְׁתֵּי כַּנְפֵי רֵאָה נֶאֱמַר, (שמות כה) וְהָיוּ הַכְּרֻבִים פֹּרְשֵׂי כְנָפַיִם לְמַעְלָה סֹכֲכִים בְּכַנְפֵיהֶם עַל הַכַּפֹּרֶת, זוֹ הַכַּפֹּרֶת שֶׁל הַלֵּב.
404. וּבַמָּה חֲמַת הַמֶּלֶךְ שָׁכָכָה? בִּגְלַל (שֶׁוָאֶשְׁמַע אֶת קוֹל כַּנְפֵיהֶם) (במדבר ז) וַיִּשְׁמַע אֶת הַקּוֹל – זֶה קוֹל הַתּוֹרָה, קוֹל שֶׁל קְרִיאַת שְׁמַע. וַיְדַבֵּר אֵלָיו – בִּתְפִלּוֹת הַפֶּה, שֶׁעָלָיו נֶאֱמַר (תהלים נא) אֲדֹנָי שְׂפָתַי תִּפְתָּח וּפִי יַגִּיד תְּהִלָּתֶךָ.
405. וְאוֹתָהּ הָרוּחַ שֶׁנּוֹשֶׁבֶת בְּכַנְפֵי הָרֵאָה, הִיא מוֹצִיאָה קוֹל בְּקָנֶה, שֶׁהוּא קְנֵה חָכְמָה קְנֵה בִינָה. וְנֶאֱמַר בָּהּ, (יחזקאל לז) כֹּה אָמַר ה' מֵאַרְבַּע רוּחוֹת בֹּאִי הָרוּחַ. שֶׁהֵן אַרְבַּע אוֹתִיּוֹת יְהֹוָ"ה, וְזוֹהִי רוּחַ שֶׁדּוֹפֶקֶת בְּכָל עוֹרְקֵי הַלֵּב, שֶׁנֶּאֱמַר בָּהֶם (יחזקאל א) אֶל אֲשֶׁר יִהְיֶה שָּׁמָּה הָרוּחַ לָלֶכֶת יֵלֵכוּ.
Pinchas 402-405
The 'Faithful Shepherd', Moses, calls Rabbi Shimon 'Holy Light' and praises him for his previous teaching. He adds that the brain is water, that is Chassadim and the aspect of Chokmah of the right. The heart is fire that is judgment and the secret of Chokmah of the left column of Binah. Together they bring mercy and judgment. The brain is the throne of Mercy and the heart is a throne of judgment. The Holy one Bless be He, is a king that stands on a throne of judgment that is the heart and sits on the throne of Mercy, that is the brain.
Esther 7:7
"וְהַמֶּלֶךְ קָם בַּחֲמָתוֹ, מִמִּשְׁתֵּה הַיַּיִן"
"And the king arose in his wrath from the banquet of wine"
Our involvement with different kinds of negativity builds up impurities in the body and the King that usually sits in his throne in peace, raises with anger. It is an automatic effect that is caused by our negativity. The wine in the verse above, is the aspect of the Torah. When the wings of the lungs blow, the anger is calmed.
Esther 7:10 "וַחֲמַת הַמֶּלֶךְ, שָׁכָכָה"
"Then the king's anger subsided "
When the negativity is removed or sweetened with Chassadim, the aspect of judgment disappears and the King is back into peace. The words 'subsided' שָׁכָכָה has the numerical value of 345, same as the name מהש for healing. Kabbalistic gimatria brings the spelled name מהש as equal to the word חיים ,'Life'. (For those who understand it, Hebrew explanation below)
To remove illnesses and judgments from our soul and body , we need to draw light of Chassadim that will balance the blood and maintain healthy soul in a healthy body.
The deep study of the Torah that we do through the Zohar helps us in achieve the necessary balance in our lives. Some souls have stings of judgments connected to them from previous lives. The continuous prayers and meditations, especially of the Shema Yisrael prayer will transform the judgment to positivity sooner or later.
Deeper explanation on the מהש Mem he Shin letters.