Daily Zohar # 1214 – Pinchas – Do you have four creatures in your head?
Daily Zohar 1214
Daily Zohar 1214
Zohar Pinchas, Vol. 20 (English)/Vol 15 (Hebrew)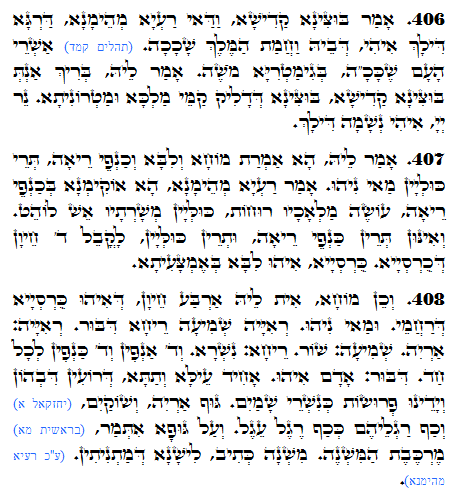 Hebrew translation:
406. אָמַר הַמְּנוֹרָה הַקְּדוֹשָׁה, וַדַּאי רוֹעֶה נֶאֱמָן, מַדְרֵגָה שֶׁלְּךָ הִיא, שֶׁבָּהּ נֶאֱמַר וַחֲמַת הַמֶּלֶךְ שָׁכָכָה. (תהלים קמד) אַשְׁרֵי הָעָם שֶׁכָּכָ"ה, בְּגִימַטְרִיָּא מֹשֶׁה. אָמַר לוֹ, בָּרוּךְ אַתָּה הַמָּאוֹר הַקָּדוֹשׁ, נֵר שֶׁדּוֹלֵק לִפְנֵי הַמֶּלֶךְ וְהַמַּלְכָּה. נֵר ה' – הִיא נְשָׁמָה שֶׁלְּךָ.
407. אָמַר לוֹ, הֲרֵי אָמַרְתָּ מֹחַ וְלֵב וְכַנְפֵי רֵאָה, שְׁתֵּי כְלָיוֹת מָהֵן? אָמַר הָרוֹעֶה הַנֶּאֱמָן, הֲרֵי בֵּאַרְנוּ בְּכַנְפֵי רֵאָה אֶת הַפָּסוּק עֹשֶׂה מַלְאָכָיו רוּחוֹת. וְהַכְּלָיוֹת – מְשָׁרְתָיו אֵשׁ לוֹהֵט. וְהֵן שְׁתֵּי כַנְפֵי רֵאָה וּשְׁתֵּי כְלָיוֹת, כְּנֶגֶד אַרְבַּע חַיּוֹת שֶׁל הַכִּסֵּא. הַכִּסֵּא הוּא הַלֵּב בָּאֶמְצַע.
408. וְכֵן הַמֹּחַ יֵשׁ לוֹ אַרְבַּע חַיּוֹת, שֶׁהוּא כִּסֵּא שֶׁל רַחֲמִים. וּמָהֵן? רְאִיָּה שְׁמִיעָה רֵיחַ דִּבּוּר. רְאִיָּה – אַרְיֵה. שְׁמִיעָה – שׁוֹר. רֵיחַ – נֶשֶׁר. וְאַרְבַּע פָּנִים וְאַרְבַּע כְּנָפַיִם לְכָל אֶחָד. דִּבּוּר – הוּא אָדָם. אָחוּז לְמַעְלָה וּלְמַטָּה, זְרוֹעוֹת, שֶׁבָּהֶן נֶאֱמַר וְיָדֵינוּ פְרוּשׂוֹת כְּנִשְׁרֵי שָׁמַיִם. גּוּף – אַרְיֵה, וְשׁוֹקַיִם, עֲלֵיהֶן נֶאֱמַר (יחזקאל א) וְכַף רַגְלֵיהֶם כְּכַף רֶגֶל עֵגֶל. וְעַל הַגּוּף נֶאֱמַר (בראשית א) מֶרְכֶּבֶת הַמִּשְׁנֶה. מִשְׁנָה כָּתוּב, לְשׁוֹן הַמִּשְׁנָה. וּבְחִבּוּר קַדְמוֹן. (ע"כ רעיא מהימנא).
Pinchas 406-408
Rabbi Shimon tells Moses that his level corrects all the worlds because it says in Psalms 144:15
" אַשְׁרֵי הָעָם, שֶׁכָּכָה לּוֹ: אַשְׁרֵי הָעָם, שֱׁיְהוָה אֱלֹהָיו"
" Happy is the people that is in such a case (Moses=שֶׁכָּכָה). Yea, happy is the people whose God is YHVH"
שֶׁכָּכָה is Numerical value 345 as Moses משה. King David concealed Moses's name because it is about the spiritual level of Da'at that Moses represents. We are the happy people that have the ability to connect to Da'at. It is the Sefirah that is formed when Chokmah and Binah are connected together. It allows the light to continue to the lower levels. That is the purpose of Moses from the beginning and through the end, which is the revelation of Mashiach.
Moses replied to Rabbi Shimon telling him that he is a holy candle that is lit in front of the King and Queen and his soul is the candle of YHVH.
This word exchange is not a flattery but a calculated spiritual connection. Rabbi Shimon connected to Moses that is Da'at and Moses validated that connection by positioning him in front of the King that is Zeir Anpin and the Queen that is the Shechina in the lower level.
Moses on the upper level connects Chokmah and Binah (Y and H of the name) and Rabbi Shimon on the lower level connects Zeir Anpin and Malchut (V and H of the name).
Both of them give us a complete connection to the Tree of Life that we can achieve through the Zohar study.
The Zohar adds that the brain is a throne of mercy and it has four 'creatures' like the Holy Creatures of the Holy Throne.
They are revealed in the head.
Y – Lion – Chokmah – Eyes – Seeing
H – Ox – Binah – Ears – Hearing
V – Eagle – Zeir Anpin – Nose – Smell
H – Man – Malchut – Mouth – Speech
These are the most important tools for making high spiritual connections. With proper consciousness in the brain, we activate the Light of Mercy as an envelope to carry the prayer to a place where it can be heard and answered.
{||}