Daily Zohar # 1259 – Pinchas – Get dressed for the future
Daily Zohar 1259
Daily Zohar 1259
Zohar Pinchas, Vol. 20 (English)/Vol 15 (Hebrew)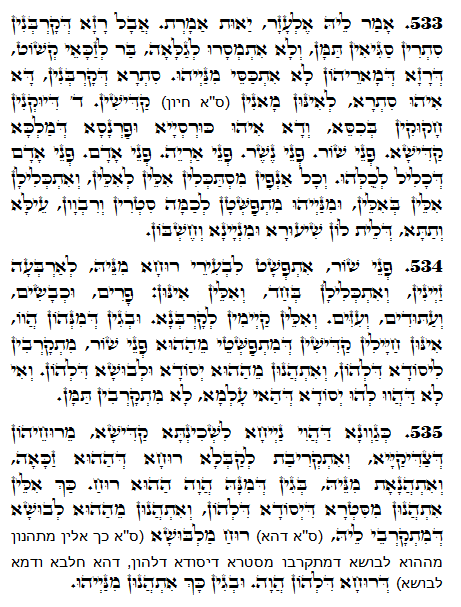 Hebrew translation:
533. אָמַר לוֹ, אֶלְעָזָר, יָפֶה אָמַרְתָּ. אֲבָל סוֹד הַקָּרְבָּנוֹת סְתָרִים רַבִּים שָׁם, וְלֹא נִמְסְרוּ לְגַלּוֹת חוּץ מִצַּדִּיקֵי אֱמֶת, שֶׁסּוֹד שֶׁל אֲדוֹנָם לֹא נִכְסָה מֵהֶם. סִתְרֵי הַקָּרְבָּנוֹת זֶהוּ סוֹד לְאוֹתָם כֵּלִים (חַיּוֹת) הַקְּדוֹשִׁים. אַרְבַּע דְּמֻיּוֹת חֲקוּקוֹת בַּכִּסֵּא, וְזֶהוּ כִּסֵּא וּפַרְנָס שֶׁל הַמֶּלֶךְ הַקָּדוֹשׁ: פְּנֵי שׁוֹר, פְּנֵי נֶשֶׁר, פְּנֵי אַרְיֵה, פְּנֵי אָדָם. פְּנֵי אָדָם שֶׁכּוֹלֵל לְכֻלָּם. וְכָל הַפָּנִים מִסְתַּכְּלִים אֵלּוּ בְּאֵלּוּ, וְנִכְלָלִים אֵלּוּ בְּאֵלּוּ, וּמֵהֶם מִתְפַּשְּׁטִים לְכַמָּה צְדָדִים וּרְבָבוֹת לְמַעְלָה וּלְמַטָּה, שֶׁאֵין לָהֶם שִׁעוּר וּמִנְיָן וְחֶשְׁבּוֹן.
534. מִפְּנֵי הַשּׁוֹר מִתְפַּשֶּׁטֶת לַבְּהֵמוֹת רוּחַ מִמֶּנּוּ לְאַרְבָּעָה מִינִים, וְנִכְלָלִים בְּאֶחָד. וְאֵלּוּ הֵם: פָּרִים, וּכְבָשִׂים, וְעַתּוּדִים, וְעִזִּים. וְהֵם עוֹמְדִים לְקָרְבָּן. וּמִשּׁוּם שֶׁמֵּהֶם הָיוּ, אֵלּוּ חֲיָלוֹת קְדוֹשִׁים שֶׁמִּתְפַּשְּׁטִים מֵאוֹתוֹ פְּנֵי שׁוֹר, מִתְקָרְבִים לַיְסוֹד שֶׁלָּהֶם, וְנֶהֱנִים מֵאוֹתוֹ יְסוֹד וּמַלְבּוּשׁ שֶׁלָּהֶם. וְאִם לֹא שֶׁהָיוּ לָהֶם יְסוֹדוֹת שֶׁל עוֹלָם הַזֶּה, לֹא הָיוּ נִקְרָבִים שָׁם.
535. כְּדֻגְמַת שֶׁיֵּשׁ נַחַת לַשְּׁכִינָה הַקְּדוֹשָׁה מֵרוּחוֹת הַצַּדִּיקִים, וּמִתְקָרֶבֶת לְקַבֵּל רוּחַ שֶׁל אוֹתוֹ צַדִּיק וְנֶהֱנֵית מִמֶּנּוּ, מִשּׁוּם שֶׁמִּמֶּנָּה הָיְתָה אוֹתָהּ רוּחַ – כָּךְ אֵלּוּ נֶהֱנִים מִצַּד הַיְסוֹד שֶׁלָּהֶם, וְנֶהֱנִים מֵאוֹתוֹ הַלְּבוּשׁ שֶׁמִּתְקָרְבִים אֵלָיו, (שֶׁהֲרֵי) רוּחַ הַמַּלְבּוּשׁ (כָּךְ אֵלּוּ נֶהֱנִים מֵאוֹתוֹ הַלְּבוּשׁ שֶׁמַּקְרִיבִים שֶׁמִּצַּד הַיְסוֹד שֶׁלָּהֶם, שֶׁהֲרֵי חֵלֶב וְדָם מַלְבּוּשׁ) שֶׁל רוּחַ שֶׁלָּהֶם הָיְתָה, וּמִשּׁוּם זֶה נֶהֱנִים מֵהֶם.
Pinchas 533-535
Continue from previous DZ
Rabbi Shimon praises his son for the beautiful revelation and adds that there are many more secrets related to the process of the sacrifices. They are revealed to true righteous people that have the ability to see the secrets of the Creator and his Creation.
The four Holy Creatures of the Holy Throne, Lion, Ox, Eagle and man, are used as 'connectors' to the different sacrifices. When the sacrifice is burnt on the Altar, the spirit of the animal is connected to its spiritual root and draws the specific light. The Zohar reveals that the angels that carry this light come closer to that root and get 'dressed' with it.
To understand this principal, think about clay material. It doesn't have any special 'identity' until you give it a shape. Then it could be a cup, a cat, a pitcher or anything else. In its foundation level it is still clay but now it is 'dressed' with some identity. The angels are pure light but when they are on a 'mission' they are dressed with a specific light to match the task.
When a righteous person passes away, his soul ascends to its root in heavens. The Shechina escorts him to his place because his spiritual work on the lower level has created light with affinity to the Shechina. The Shechina welcomes this soul like a son because of the closeness they developed on his righteous path.
Every action we do has a specific root in the spiritual system and our vessel is 'shaped' accordingly. With more connections to spiritual roots we can draw more light to the level of Malchut and a greater 'property' after death that will be carried on to the next life or with the Resurrection of the Final Redemption.
{||}