Zoharjev dnevnik št. 1256 – Razsvetlitvena žrtvena darovanja
Zoharjev dnevnik št. 1258
Zoharjev dnevnik št. 1258
Zohar Pinhas, Knjiga št. 20 (ANG)/Knjiga št. 15 (HEB)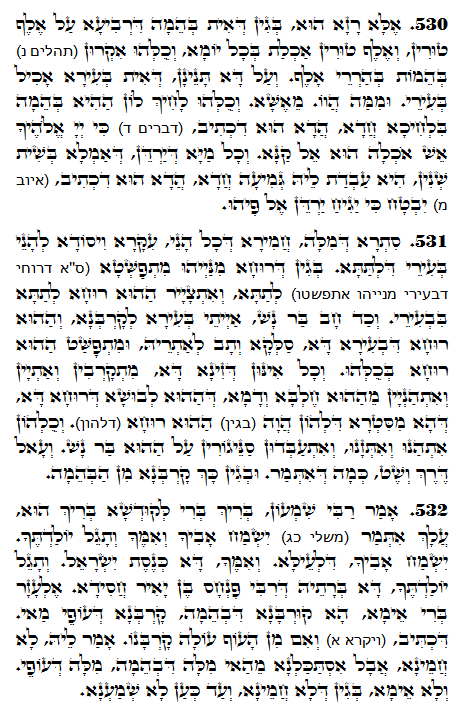 Pinchas 530-532
Nadaljevanje predhodnega DZ
Prevod besede ŽIVAL v Hebrejščini je בהמה / בְּהֵמָה / behemah. Njena številčna vrednost je 52 (manjše število = 7). Kar je enako kot ime YHVH, ki predstavlja
Zemeljsko kraljestvo/Malchut/יוד-הה-וו-הה.
Ime je poimenovano kot dvojno ime, ker se črkuje z dvojnimi črkami. Črka Yod י se črkuje kot יוד . Kar predstavlja številčno vrednost 20. Enako številčno vrednost 20 imata dve črki Yod יי.
Malchut/Zemeljsko kraljestvo odseva vse zgornje ravni in jih s tem odstira. To je kakor potovanje svetlobnega snopa v temnem prostoru. Nikdar ne bi vedel za njegov obstoj, dokler se ne odbije od nekega objekta ( odseva ).
Knjiga Psalmov 50:10
. כִּי-לִי כָל-חַיְתוֹ-יָעַר; בְּהֵמוֹת, בְּהַרְרֵי-אָלֶף
Črkovano HEB besedilo:
כִּי-לִי ki-li כָל-חַיְתוֹ-יָעַר chal-chayto-ya'ar; בְּהֵמוֹת behemot, בְּהַרְרֵי-אָלֶף beharerei-alef.
Zakaj vsaka neudomačena žival iz gozda pripada Meni. Kot je moja tudi živina na tisočerih okoliških gričih.
Zohar nam odstira, da 'tisočeri griči' predstavljajo vidik Modrosti/Chokmah/ חָכמָה, ki prihaja iz levega debla Drevesa življenja.
Peta Mojzesova knjiga 4:24
כִּי יְהוָה אֱלֹהֶיךָ, אֵשׁ אֹכְלָה הוּא: אֵל, קַנָּא
Črkovano HEB besedilo:
כִּי ki יְהוָה Adonai אֱלֹהֶיךָ eloheicha, אֵשׁ esh אֹכְלָה ochelah הוּא hu: אֵל el, קַנָּא kanna
"Kajti YHVH tvoj Bog je požrešen ogenj, ljubosumen* Bog."
Ogenj pretvarja snov v duha. Duh živali/בהמה / בְּהֵמָה / behemah se povzdigne v višje ravni. "Druga stran/Negativna" se naveže na maščobo in kri živali. To namreč pritegne svetlobo levega debla. Takšna nahranitev jih naredi srečne in s tem se odstrani sodba, ki je obstajala zoper osebo.
Da povzamemo: klanje in žganje živali na oltarju, odpre prehod oz. kanal svetlobe med zgornjjo in spodnjo ravnijo. Svetloba, ki se s tem odstre, očisti nečistoče od osebe v neki delovni skupini, ki je navezana na ozaveščenost.
Hebrejske črke ustvarjajo osnovo za izvedbo duhovne navezave. Zgoraj smo lahko preučili moč besede בהמה/žival. Beseda nas podpira v v premoščanju duhovnih ravni. Dodajmo k tej besedi dodamo besedo אש / ogenj. Tako dobimo preobrazbo in zavest s katero pripeljemo svetlobo k duhovni osnovi.
Knjiga psalmov 36:7
. צִדְקָתְךָ, כְּהַרְרֵי-אֵל–מִשְׁפָּטֶיךָ, תְּהוֹם רַבָּה; אָדָם וּבְהֵמָה תוֹשִׁיעַ יְהוָה
Črkovano Heb besedilo:
צִדְקָתְךָ tzidkatecha, כְּהַרְרֵי-אֵל–מִשְׁפָּטֶיךָ keharerei-el–mishpateicha, תְּהוֹם tehom רַבָּה rabah; אָדָם adam וּבְהֵמָהuvehemah תוֹשִׁיעַ toshia יְהוָה Adonai.
Tvoja pravičnost je kakor mogočne gore. Sodbe nad teboj so kakor temačne globočine. Ti YHVH, ki ohranjaš človeka in žival.
Človek אדם je vidik Zeir Anpin-a. Številčna predstavitev je 45 podobno kot poimenovanje יוד-הא-ואו-הא .
Divja žival בהמה je številčno predstavljena 52 kot je pojasnjeno zgoraj je to enako poimenovanju יוד-הה-וו-הה.
Ta verz nam govori, da bo ob končnem odrešenju, YHVH povezal dva neprekinjena toka svetlobe.
Svetišče je bilo uničeno. Tako ne obstaja več oltar h kateremu bi se nosilo žrtvena dejanja živali nećistosti. Vendar imamo pa Zohar. Vse skrivnosti Tore, ki jih preučujemo iz Zoharja so kot žrtve, ki jih prinašamo pred oltar. Odpirajo prehod svetlobe za nas in za celoten svet.
{||}