Daily Zohar # 1291 – Pinchas – 'This is the Table…'
Daily Zohar 1291
Daily Zohar 1291
Zohar Pinchas, Vol. 20 (English)/Vol 15 (Hebrew)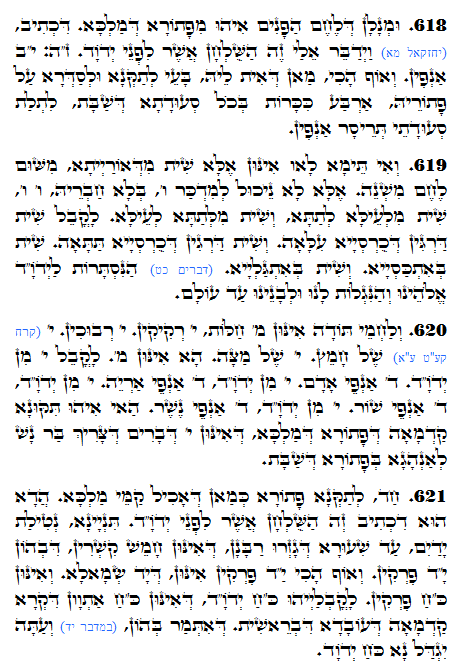 Hebrew translation:
618. וּמִנַּיִן לָנוּ שֶׁלֶּחֶם הַפָּנִים הוּא מִשֻּׁלְחַן הַמֶּלֶךְ? שֶׁכָּתוּב (יחזקאל מא) וַיְדַבֵּר אֵלַי זֶה הַשֻּׁלְחָן אֲשֶׁר לִפְנֵי יְהֹוָה. זֶ"ה – גִּימַטְרִיָּא שְׁתֵּים עֶשְׂרֵה פָּנִים. וְאַף כָּךְ, מִי שֶׁיֵּשׁ לוֹ, צָרִיךְ לְתַקֵּן וּלְסַדֵּר עַל שֻׁלְחָן אַרְבַּע כִּכָּרוֹת בְּכָל סְעוּדָה שֶׁל שַׁבָּת, לְשָׁלֹשׁ סְעוּדוֹת – שְׁתֵּים עֶשְׂרֵה פָּנִים.
619. וְאִם תֹּאמַר שֶׁאֵינָם אֶלָּא שֵׁשׁ מֵהַתּוֹרָה, מִשּׁוּם לֶחֶם מִשְׁנֶה – אֶלָּא לֹא נוּכַל לְהַזְכִּיר שֵׁשׁ בְּלִי חֲבֵרוֹ. ו' ו', שֵׁשׁ מִלְמַעְלָה לְמַטָּה, וְשֵׁשׁ מִלְּמַטָּה לְמַעְלָה, כְּנֶגֶד שֵׁשׁ מַדְרֵגוֹת שֶׁל הַכִּסֵּא הָעֶלְיוֹן וְשֵׁשׁ מַדְרֵגוֹת שֶׁל הַכִּסֵּא הַתַּחְתּוֹן. שֵׁשׁ בְּהֶסְתֵּר, וְשֵׁשׁ בְּגִלּוּי. (דברים כט) הַנִּסְתָּרֹת לַיהֹוָה אֱלֹהֵינוּ וְהַנִּגְלֹת לָנוּ וּלְבָנֵינוּ עַד עוֹלָם.
620. וְלַחְמֵי תוֹדָה הֵם אַרְבָּעִים חַלּוֹת. עֲשָׂרָה רְקִיקִין, עֲשָׂרָה רְבוּכִין, עֲשָׂרָה שֶׁל חָמֵץ, עֲשָׂרָה שֶׁל מַצָּה. הֲרֵי הֵם אַרְבָּעִים. כְּנֶגֶד אוֹת י' מִן יְהֹוָ"ה, ד' פְּנֵי אָדָם. י' מִן יְהֹוָ"ה, ד' פְּנֵי אַרְיֵה. י' מִן יְהֹוָ"ה, ד' פְּנֵי שׁוֹר. י' מִן יְהֹוָ"ה, ד' פְּנֵי נֶשֶׁר. זֶהוּ תִּקּוּן רִאשׁוֹן שֶׁל שֻׁלְחַן הַמֶּלֶךְ, שֶׁהֵם עֲשָׂרָה דְבָרִים שֶׁצָּרִיךְ אָדָם לְהַנְהִיג בְּשֻׁלְחַן הַשַּׁבָּת.
621. אֶחָד – לְתַקֵּן שֻׁלְחָן כְּמִי שֶׁאוֹכֵל לִפְנֵי הַמֶּלֶךְ. זֶהוּ שֶׁכָּתוּב זֶה הַשֻּׁלְחָן אֲשֶׁר לִפְנֵי יְהֹוָ"ה. שֵׁנִי – נְטִילַת יָדַיִם עַד שִׁעוּר שֶׁגָּזְרוּ חֲכָמִים, שֶׁהֵם חֲמִשָּׁה קְשָׁרִים שֶׁבָּהֶם אַרְבָּעָה עָשָׂר פְּרָקִים. וְאַף כָּךְ אַרְבָּעָה עָשָׂר פְּרָקִים הֵם שֶׁל יַד שְׂמֹאל. וְהֵם שְׁמוֹנָה וְעֶשְׂרִים פְּרָקִים. כְּנֶגְדָּם נֶאֱמַר כֹּ"חַ יְהֹוָ"ה, שֶׁהֵם שְׁמוֹנֶה וְעֶשְׂרִים אוֹתִיּוֹת שֶׁל פָּסוּק רִאשׁוֹן שֶׁל מַעֲשֵׂה בְרֵאשִׁית, שֶׁנֶּאֱמַר בָּהֶם (במדבר יד) וְעַתָּה יִגְדַּל נָא כֹּחַ יְהֹוָה.
Pinchas 618-621
In the Holy Temple there was a table where they placed 12 Challahs. It was called 'לחם הפנים', 'The inner bread' or 'the bread of the face'.
The 'face' or 'inner' is the aspect of Chokmah. The 12 represents the 12 letters of the three YHVH in the blessings of the priests
(יברכך יהוה, יאר יהוה, ישא יהוה). Also for the four faces of each of the Holy Creatures of the Holy Throne, Lion (4), Ox (4) and Eagle(4).
The Zohar asks the question 'How do we know the twelve Challah are from the table of the 'King'? and quotes Ezekiel 41:22
"זֶה הַשֻּׁלְחָן, אֲשֶׁר לִפְנֵי יְהוָה"
"'This (זֶה) is the table that is before the LORD"
The word 'this', 'זֶה' has numerical value of 12. The Zohar suggests that we will have four loafs of bread on the table of Shabbat so the three meals will offer 12 Challahs and make a better connection.
The Zohar raises the earlier discussion that we use two breads for the blessing and six for the three meals and now they mention 12. They explain that the six is the letter Vav that is spelled וו , numerically 12 and it represents the six Sefirot of direct light אור ישר and the six Sefirot of returning light (אור חוזר).
The Zohar here, begins to teach us about 10 things that we should do to make the Shabbat meals complete. (This subject will be discussed over the following few DZs).
1
Prepare a table that gives honor to the 'King'. It means that it should be special and better than the one we prepare during the week days.
2
Washing our hands before the meal. The two hands have ten fingers for the Ten Sefirot and the ten sayings of the action of Creation. "And God said let there be…"
The fingers have 14 joints each and together 28 as the number of letters in the first verse of the Torah and the numerical value of the for כח 'force'.
During the blessing of the hand washing, that is called "Netilat Yadayim", we raise our hands above the level of the eyes to connect to the upper realm and draw from that special 'force'.
{||}