Daily Zohar # 1305 – Pinchas – White flour for a great purpose
Daily Zohar 1305
Daily Zohar 1305
Zohar Pinchas, Vol. 20 (English)/Vol 15 (Hebrew)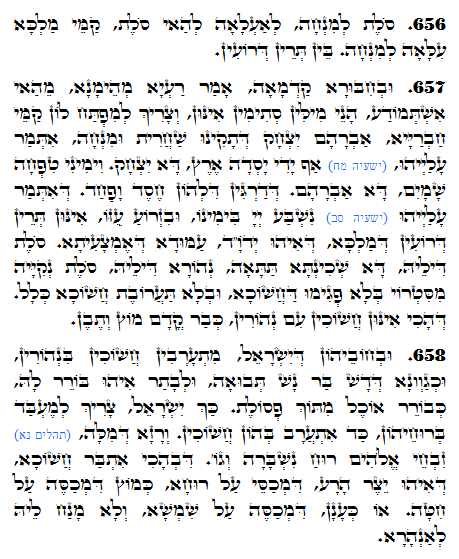 Hebrew translation:
656. סֹלֶת לְמִנְחָה, לְהַעֲלוֹת לְזֹאת הַסֹּלֶת לִפְנֵי הַמֶּלֶךְ הָעֶלְיוֹן לְמִנְחָה בֵּין שְׁתֵּי זְרוֹעוֹת.
רַעְיָא מְהֵימְנָא
657. בַּחִבּוּר הַקַּדְמוֹן, אָמַר הָרוֹעֶה הַנֶּאֱמָן, מִכָּאן נוֹדָע אֵלּוּ דְּבָרִים סְתוּמִים הֵם, וְצָרִיךְ לִפְתֹּחַ אוֹתָם לִפְנֵי הַחֲבֵרִים. אַבְרָהָם וְיִצְחָק שֶׁתִּקְּנוּ תְּפִלַּת שַׁחֲרִית וּמִנְחָה, נֶאֱמַר עֲלֵיהֶם, (ישעיה מח) אַף יָדִי יָסְדָה אֶרֶץ – זֶה יִצְחָק. וִימִינִי טִפְּחָה שָׁמָיִם – זֶה אַבְרָהָם. שֶׁהַדְּרָגוֹת שֶׁלָּהֶם חֶסֶד וָפַחַד, שֶׁנֶּאֱמַר עֲלֵיהֶם (שם סב) נִשְׁבַּע ה' בִּימִינוֹ וּבִזְרוֹעַ עֻזּוֹ. אֵלּוּ שְׁתֵּי זְרוֹעוֹת הַמֶּלֶךְ, שֶׁהוּא יְהֹוָ"ה, הָעַמּוּד הָאֶמְצָעִי. הַסֹּלֶת שֶׁלּוֹ זוֹ הַשְּׁכִינָה הַתַּחְתּוֹנָה, הָאוֹר שֶׁלּוֹ, סֹלֶת נְקִיָּה מִצִּדּוֹ בְּלִי פְגָם שֶׁל חֹשֶׁךְ וּבְלִי תַעֲרֹבֶת חֹשֶׁךְ כְּלָל. שֶׁכָּךְ הֵם חֹשֶׁךְ עִם אוֹר, כְּמוֹ דָּגָן בִּפְנֵי מוֹץ וְתֶבֶן.
658. וּבַחֲטָאֵיהֶם שֶׁל יִשְׂרָאֵל מִתְעָרְבִים חֹשֶׁךְ וְאוֹר, וּכְמוֹ שֶׁאָדָם דָּשׁ תְּבוּאָה וּלְבַסּוֹף הוּא בּוֹרֵר אוֹתָהּ כְּבוֹרֵר אֹכֶל מִתּוֹךְ פְּסֹלֶת – כָּךְ יִשְׂרָאֵל צָרִיךְ לַעֲשׂוֹת בְּרוּחָם כַּאֲשֶׁר מִתְעָרֵב בָּהֶם חֹשֶׁךְ. וְסוֹד הַדָּבָר – (תהלים נא) זִבְחֵי אֱלֹהִים רוּחַ נִשְׁבָּרָה וְגוֹ'. שֶׁבְּכָךְ נִשְׁבָּר הַחֹשֶׁךְ, שֶׁהוּא יֵצֶר הָרָע, שֶׁמְּכַסֶּה עַל הָרוּחַ כְּמוֹ מוֹץ שֶׁמְּכַסֶּה עַל הַחִטָּה, אוֹ כְּמוֹ עָנָן שֶׁמְּכַסֶּה עַל הַשֶּׁמֶשׁ וְלֹא מַנִּיחַ לוֹ לְהָאִיר.
Pinchas 656-658
Numbers 28:5
" וַעֲשִׂירִית הָאֵיפָה סֹלֶת, לְמִנְחָה, בְּלוּלָה בְּשֶׁמֶן כָּתִית, רְבִיעִת הַהִין "
" also a tenth of an ephah of fine flour (סֹלֶת) for a grain offering, mixed with a quarter of a hin of beaten oil."
Many of the offerings in the Holy Temples required bringing fine flour together with the sacrificed animals.
The Zohar reveals that the fine flour is the aspect of Malchut and when it was brought to the altar it was presented to the 'Supernal King'. As clean and white flour it represented the purity of the offering and the aspect of the central column that was used to draw down the light through Zeir Anpin without any negative aspect.
The fine flour represented the end result after removing the 7 layers of the bran that covers the endosperm (the main and inner white part of the wheat grain).
As we studied in DZ 1284, https://dailyzohar.com/daily-zohar-1284/ , God directly governs the growth of the wheat grains and not through other angels. Offering the fine flour creates a direct connection from Malchut to the Light that originally nourished the wheat.
White and 'purified' flour has great energy but it is not good for our body. Its purity affect the blood and the rest of the body negatively. Because it is processed and satisfies the body quickly, it increases the desire of the vessel and makes it grow bigger (=fat). When we eat products made from the whole grain (with the bran, endosperm and germ) it is better for the body. The seven layers of the bran represent the seven Sefirot from Chessed to Malchut and allow the body to process it in a natural and balanced energy as it is fit for the Malchut level.
{||}