Zoharjev dnevnik Št. 1354 – Kako se spoprijeti s pomanjkanjem vitaminov
Zohajev dnevnik št. 1354
Zohar Pinhas, Knjiga št. 20 (ANG)/Knjiga št. 15 (HEB)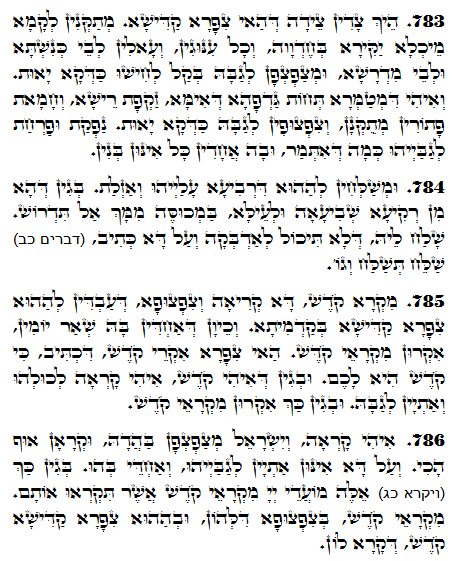 Pinhas 783-786
Nadaljevanje predhodnega dnevnika
Preučili smo na primeru najdenega gnezda na poti, da moramo odvrniti Mater Samico in ohraniti mladiče. Zohar prinaša še eden vidik prispodobe "odvrniti Mater samico". Namreč pojasnjuje, da je Mati/Binah/Razumevanje izven našega dosega. Vendar "mladiči", ki so Sefiroji vštevši Chessed/Blagost do Hod/Veličastje nekaj kar lahko pritegnemo k sebi.
Tretja Mojzesova Knjiga 23:4
"אֵלֶּה מוֹעֲדֵי יְהוָה, מִקְרָאֵי קֹדֶשׁ, אֲשֶׁר-תִּקְרְאוּ אֹתָם, בְּמוֹעֲדָם"
"To so določeni dnevi v katerih se za njih primernem času razglašajo sveta besedila."
Branja besedil in molitve, ki jih opravljamo ob različnih duhovnih dogodkih so imenovani sveta besedila. Predstavljajo vidik "in Mati samica je sedela na mladičih ali na jajcih", kot je navedeno v Peti Mojzesovi knjigi verz 22:6. Mati prinaša "mladiče" bližje k sebi. S tem povzdiguje Malchut/Materijalno Kraljestvo k sebi. Molitve oblikujejo 'ženske vode' (מ"ן, מים נוקבין), ki pritegnejo svetlobo iz Chokmah/Modrost v Binah/Razumevanje.
Neko besedilo je Sveto zato, ker z njim izvedemo navezavo na višje ravni. Proučujemo vse tako Biblijo kot Zohar ( ključ za razumevanje Biblije ), da pritegnemo svetlobo iz vsake črke, besede, verza. Čeprav je glavna tema preučevanja Zoharja celovito pritegniti svetlobo v naša življenja pa vseeno različni verzi pritegnejo različne vidike Svetlobe. Ne smemo izgubiti niti ene črke. Namreč vsaka ima svoje življensko energijo in posebno mesto na naši duši.
Kadar beremo različne dele molitev in Biblijo ob dogovorjenih trenutkih, takrat nahranimo naše duše z vsem kar ta potrebuje. To je kakor poskrbeti za pomanjkanje vitamniv na duši. Ob zadostni količini kalorij v naši prehrani bomo preživeli. Vendar to nas ne bo ohranilo ali izboljšalo v zdravju. Moramo celovito preučevati Biblijo, da imamo celovito in zdravo dušo.
Biblija nam podaja 613( 248+365 ) zapovedi. Večino od njih praktično ne moremo izpolniti v tem svetu. Vendar ko jih vse preučimo dosežemo celovitejše ozdravljenje duše. To je velika pridobitev pri preučevanju razdelkov Zoharja v urejenem redu. Namreč tako nas bolje izpolni. Ohrani svoj dnevni ritem preučevanja Zoharja. In če kakšen dan ali več zgrešiš, potem se vrni nazaj in nadoknadi. Namreč to je pomembno za tvojo dušo.
{||}