Daily Zohar # 1310 – Pinchas – Two kings
Daily Zohar 1310
Zohar Pinchas, Vol. 20 (English)/Vol 15 (Hebrew)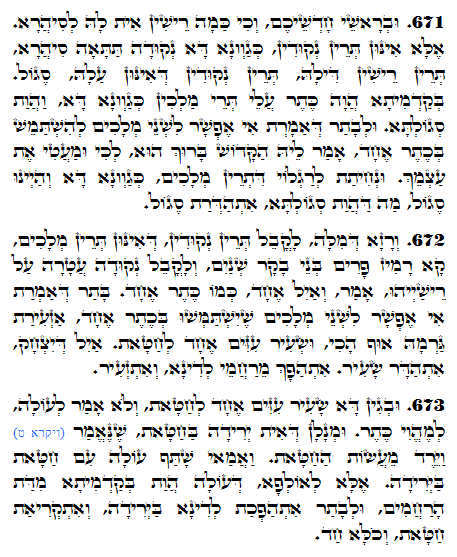 Hebrew translation:
671. וּבְרָאשֵׁי חָדְשֵׁיכֶם – וְכִי כַּמָּה רָאשִׁים יֵשׁ לָהּ לַלְּבָנָה? אֶלָּא הֵם שְׁתֵּי נְקֻדּוֹת כְּדֻגְמַת זֶה ֒ נְקֻדָּה תַּחְתּוֹנָה – הַלְּבָנָה, שְׁנֵי רָאשִׁים שֶׁלָּהּ אֵלּוּ שְׁתֵּי נְקֻדּוֹת שֶׁהֵן עָלֶיהָ סֶגּוֹל. בָּרִאשׁוֹנָה הָיָה כֶּתֶר עַל שְׁנֵי מְלָכִים כְּדֻגְמַת זֶה ֒, וְהָיְתָה סֶגוֹלְתָּא. וּלְבַסּוֹף שֶׁאָמְרָה אִי אֶפְשִׁי לִשְׁנֵי מְלָכִים לְהִשְׁתַּמֵּשׁ בְּכֶתֶר אֶחָד, אָמַר לָהּ הַקָּדוֹשׁ בָּרוּךְ הוּא: לְכִי וּמַעֲטִי אֶת עַצְמֵךְ. וְיָרְדָה לְרַגְלֵיהֶם שֶׁל שְׁנֵי מְלָכִים כְּמוֹ זֶה ֶ , וְזֶהוּ נִקּוּד סֶגּוֹל. מַה שֶּׁהָיְתָה סֶגוֹלְתָּא, חָזְרָה לִהְיוֹת סֶגּוֹל.
672. וְסוֹד הַדָּבָר – כְּנֶגֶד שְׁתֵּי נְקֻדּוֹת שֶׁהֵן שְׁנֵי מְלָכִים, רוֹמֵז בְּפָסוּק פָּרִים בְּנֵי בָקָר שְׁנַיִם. וּכְנֶגֶד נְקֻדָּה שֶׁהִיא עֲטָרָה עַל רָאשֵׁיהֶם, אָמַר וְאַיִל אֶחָד, כְּמוֹ כֶּתֶר אֶחָד. אַחַר שֶׁאָמְרָה אִי אֶפְשָׁר לִשְׁנֵי מְלָכִים שֶׁיִּשְׁתַּמְּשׁוּ בְּכֶתֶר אֶחָד, הִקְטִינָה עַצְמָהּ. אַף כָּךְ, וּשְׂעִיר עִזִּים אֶחָד לְחַטָּאת. אַיִל שֶׁל יִצְחָק חָזַר לִהְיוֹת שָׂעִיר. הִתְהַפֵּךְ מֵרַחֲמִים לְדִין, וְנִקְטַן.
673. וּמִשּׁוּם זֶה נֶאֱמַר שְׂעִיר עִזִּים אֶחָד לְחַטָּאת, וְלֹא אָמַר לְעוֹלָה, לִהְיוֹת כֶּתֶר. וּמִנַּיִן לָנוּ שֶׁיֵּשׁ יְרִידָה בְּחַטָּאת? שֶׁנֶּאֱמַר (ויקרא ט) וַיֵּרֶד מֵעֲשֹׂת הַחַטָּאת. וּמַדּוּעַ שִׁתֵּף עוֹלָה עִם חַטָּאת בַּיְרִידָה? אֶלָּא לְלַמֵּד, שֶׁעוֹלָה הָיְתָה בַּהַתְחָלָה מִדַּת הָרַחֲמִים, וּלְבַסּוֹף הִתְהַפְּכָה לְמִדַּת הַדִּין בַּיְרִידָה, וְנִקְרֵאת חַטָּאת, וְהַכֹּל אֶחָד.
Pinchas 671-673
In the beginning Malchut was on the left of Binah. Chessed, Gevurah and Tiferet of Zeir Anpin were or the Right of Binah. Malchut was above Netzach and Hod and formed the shape of the Segolta.
Rabbi Ashlag explains that Malchut was like a Keter (Crown) for Netzach and Hod. She was at the same level of Zeir Anpin but without Chassadim. In this situation Malchut cannot receive Light and told the Creator that it is impossible for two kings (the aspect of Netzach and Hod), to have one Crown, meaning herself as their Keter. The Creator told her to go down a level and she went to her final place below Netzach and Hod and form the Shape of the Segol.

Malchut had to go up to receive the Light of Binah to keep a memory of it. That is why Binah and Malchut use the letter ה H (YHVH,יהוה).
The Creator made this situation to form a 'Reshimu' , Meaning 'impression'. It created the vessel and the desire in Malchut for the Light of Binah.
In life we don't have desire for something that we didn't experience or enjoyed. A mother pushes the food into the baby's mouth so he can have a 'taste' for it. That 'taste' builds a desire (=vessel) for it. Next time he will cry, asking for it. The only desire a new born baby have and seeks automatically is his mother's milk. It is 'manufactured' by the Light and that is a built-in desire in his soul.
{||}