Daily Zohar # 1323 – Pinchas – The path to redemption – Part 4
Zohar Pinchas, Vol. 20 (English)/Vol 15 (Hebrew)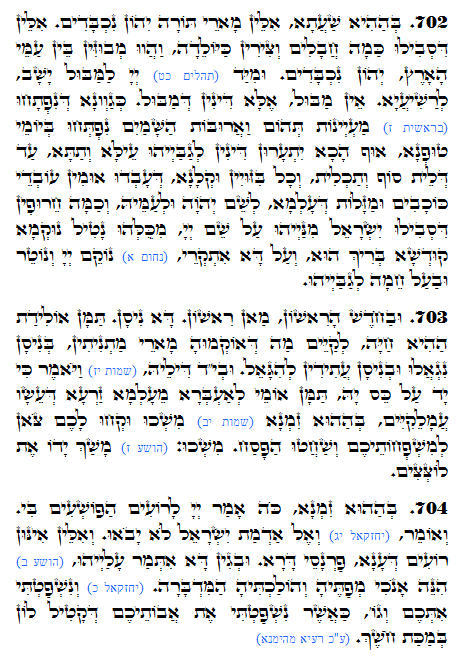 Hebrew translation:
702. בְּאוֹתָהּ שָׁעָה אֵלּוּ בַּעֲלֵי הַתּוֹרָה יִהְיוּ נִכְבָּדִים. אֵלּוּ שֶׁסָּבְלוּ כַּמָּה חֲבָלִים וְצִירִים כְּמוֹ הַיּוֹלֶדֶת, וְהָיוּ מְבֻזִּים בֵּין עַמֵּי הָאָרֶץ – יִהְיוּ נִכְבָּדִים. וּמִיָּד – (תהלים כט) ה' לַמַּבּוּל יָשָׁב – לָרְשָׁעִים. אֵין מַבּוּל, אֶלָּא דִּינִים שֶׁל מַבּוּל. כְּמוֹ שֶׁנִּפְתְּחוּ מַעְיְנוֹת תְּהוֹם וַאֲרֻבֹּת הַשָּׁמַיִם נִפְתָּחוּ בִּימֵי הַמַּבּוּל, אַף כָּאן יִתְעוֹרְרוּ דִּינִים עֲלֵיהֶם לְמַעְלָה וּלְמַטָּה, עַד שֶׁאֵין סוֹף וְתַכְלִית. וְכָל הַבִּזּוּיִים וְהַבּוּשָׁה שֶׁעָשׂוּ אֻמּוֹת עוֹבְדֵי כוֹכָבִים וּמַזָּלוֹת שֶׁל הָעוֹלָם לְשֵׁם ה' וּלְעַמּוֹ, וְכַמָּה חֲרָפוֹת שֶׁסָּבְלוּ יִשְׂרָאֵל מֵהֶם עַל שֵׁם ה' – מִכֻּלָּם יִקַּח הַקָּדוֹשׁ בָּרוּךְ הוּא נְקָמָה, וְעַל זֶה נִקְרָא אֶצְלָם, (נחום א) נֹקֵם ה' וְנוֹטֵר וּבַעַל חֵמָה.
703. וּבַחֹדֶשׁ הָרִאשׁוֹן, מִי הוּא רִאשׁוֹן? זֶה נִיסָן. שָׁם הוֹלִידָה אוֹתָהּ חַיָּה, לְקַיֵּם מַה שֶּׁפֵּרְשׁוּ בַּעֲלֵי הַמִּשְׁנָה, בְּנִיסָן נִגְאָלוּ וּבְנִיסָן עֲתִידִים לְהִגָּאֵל. וּבְי"ד שֶׁלּוֹ, (שמות יז) וַיֹּאמֶר כִּי יָד עַל כֵּס יָהּ. שָׁם נִשְׁבַּע לְהַעֲבִיר מֵהָעוֹלָם זַרְעוֹ שֶׁל עֵשָׂו עֲמָלֵקִיִּים. בְּאוֹתוֹ זְמַן נֶאֱמַר, (שם יב) מִשְׁכוּ וּקְחוּ לָכֶם צֹאן לְמִשְׁפְּחֹתֵיכֶם וְשַׁחֲטוּ הַפָּסַח. מִשְׁכוּ – (הושע ז) מָשַׁךְ יָדוֹ אֶת לֹצְצִים.
704. בְּאוֹתוֹ זְמַן, כֹּה אָמַר ה' לָרוֹעִים הַפּוֹשְׁעִים בִּי. וְאוֹמֵר, (יחזקאל יג) וְאֶל אַדְמַת יִשְׂרָאֵל לֹא יָבֹאוּ. וְאֵלּוּ הֵם רוֹעֵי הַצֹּאן, פַּרְנְסֵי הַדּוֹר. וּמִשּׁוּם זֶה נֶאֱמַר עֲלֵיהֶם, (הושע ב) הִנֵּה אָנֹכִי מְפַתֶּיהָ וְהֹלַכְתִּיהָ הַמִּדְבָּר. (יחזקאל כ) וְנִשְׁפַּטְתִּי אִתְּכֶם וְגוֹ', כַּאֲשֶׁר נִשְׁפַּטְתִי אֶת אֲבוֹתֵיכֶם. שֶׁהָרַג אוֹתָם בְּמַכַּת חֹשֶׁךְ. (ע"כ רעיא מהימנא).
Pinchas 702-704
Continued form previous DZ
At the end of the 'seventy' the 'owners' of the Torah, meaning those who study its 70 inner dimensions through the Zohar will be honored. Those who suffered in 'delivering' the light to the world like a woman in labor will rise above the rest.
Psalms 29:10
" יְהוָה, לַמַּבּוּל יָשָׁב; וַיֵּשֶׁב יְהוָה, מֶלֶךְ לְעוֹלָם"
"YHVH sits enthroned over the flood; YHVH is enthroned as King forever."
God will bring the state before the Flood, where the entire world is judged and cleansed. Only those who entered the 'Ark', that is the protection of the Zohar will escape that time of judgment.
Nachum 1:2
"אֵל קַנּוֹא וְנֹקֵם יְהוָה, נֹקֵם יְהוָה וּבַעַל חֵמָה; נֹקֵם יְהוָה לְצָרָיו, וְנוֹטֵר הוּא לְאֹיְבָיו"
"YHVH is a jealous God and avengeth; YHVH avengeth and is full of wrath; YHVH taketh vengeance on his adversaries, and he reserveth wrath for his enemies"
As we studied in previous lessons, 'jealousy' and 'vengeance' are types of cleansing that God will enact on all of us to remove all negativity from the world. The enemies are those who have no affinity with him. We were created in the 'Image' of God, meaning the Tree of Life and the 13 attributes of mercy. If these attributes are not part of our souls then we will have to go through the painful process of cleansing.
Ezekiel 13:10
"וְהָיְתָה יָדִי, אֶל-הַנְּבִיאִים הַחֹזִים שָׁוְא וְהַקֹּסְמִים כָּזָב, בְּסוֹד עַמִּי לֹא-יִהְיוּ וּבִכְתָב בֵּית-יִשְׂרָאֵל לֹא יִכָּתֵבוּ, וְאֶל-אַדְמַת יִשְׂרָאֵל לֹא יָבֹאוּ; וִידַעְתֶּם, כִּי אֲנִי אֲדֹנָי יְהוִה"
"My hand will be against the prophets who see false visions and who give lying divinations. They shall not be in the council of my people, nor be enrolled in the register of the house of Israel, nor shall they enter the land of Israel. And you shall know that I am YHVH GOD"
Leaders have greater responsibility and those who draw people with false vision will not be part of the 'house of Israel', which is the shelter of the Light for those who have affinity with him.
Ezekiel 20:36
"כַּאֲשֶׁר נִשְׁפַּטְתִּי אֶת-אֲבוֹתֵיכֶם, בְּמִדְבַּר אֶרֶץ מִצְרָיִם–כֵּן אִשָּׁפֵט אִתְּכֶם, נְאֻם אֲדֹנָי יְהוִה"
""As I entered into judgment with your fathers in the wilderness of the land of Egypt, so I will enter into judgment with you," declares YHVH GOD"
Moses redeemed the Israelites from Egypt but those who have sinned died in the wilderness. There is no escape from the judgment except for walking the just path as the Zohar teaches us.
{||}