Daily Zohar # 1349 – Pinchas – The first fruits of life
Zohar Pinchas, Vol. 20 (English)/Vol 15 (Hebrew)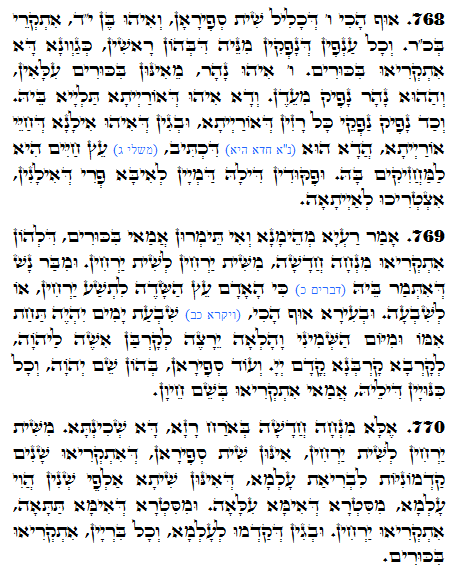 Hebrew translation:
768. אַף כָּךְ ו' שֶׁכְּלוּלָה מִשֵּׁשׁ סְפִירוֹת, וְהוּא בֶּן יָ"הּ, שֶׁנִּקְרָא בְּכֹ"ר. וְכָל עֲנָפִים שֶׁיּוֹצְאִים מִמֶּנּוּ שֶׁבָּהֶם רָאשִׁים, כְּמוֹ זֶה (ציור למעלה) נִקְרָאִים בִּכּוּרִים. אוֹת ו' הִיא נָהָר מֵאֵלּוּ בִּכּוּרִים עֶלְיוֹנִים, וְאוֹתוֹ נָהָר יוֹצֵא מֵעֵדֶן, וְזֶהוּ שֶׁהַתּוֹרָה תְּלוּיָה בּוֹ. וְכַאֲשֶׁר יוֹצֵא, יוֹצְאִים כָּל סוֹדוֹת הַתּוֹרָה, וּמִשּׁוּם שֶׁהוּא עֵץ הַחַיִּים שֶׁל הַתּוֹרָה, זֶהוּ (אַחַת הִיא) שֶׁכָּתוּב (משלי ג) עֵץ חַיִּים הִיא לַמַּחֲזִיקִים בָּהּ. וְהַמִּצְווֹת שֶׁלָּהּ דּוֹמוֹת לַפְּרִי שֶׁל הָאִילָנוֹת, צְרִיכִים לַהֲבִיאָן.
769. אָמַר הָרוֹעֶה הַנֶּאֱמָן, וְאִם תֹּאמְרוּ מַדּוּעַ הַבִּכּוּרִים שֶׁלָּהֶם נִקְרָאִים מִנְחָה חֲדָשָׁה, מִשִּׁשָּׁה חֳדָשִׁים לְשִׁשָּׁה חֳדָשִׁים, וּמֵאָדָם שֶׁנֶּאֱמַר בּוֹ (דברים כ) כִּי הָאָדָם עֵץ הַשָּׂדֶה – לְתִשְׁעָה חֳדָשִׁים אוֹ לְשִׁבְעָה. וּבְהֵמוֹת אַף כָּךְ – שִׁבְעַת יָמִים יִהְיֶה (ויקרא כב) תַּחַת אִמּוֹ וּמִיּוֹם הַשְּׁמִינִי וָהָלְאָה יֵרָצֶה לְקָרְבַּן אִשֶּׁה לַה', לְהַקְרִיב קָרְבָּן לִפְנֵי ה'. וְעוֹד, הַסְּפִירוֹת, בָּהֶן שֵׁם יְהֹוָה, וְכָל הַכִּנּוּיִים שֶׁלּוֹ, מַדּוּעַ נִקְרָאוֹת בְּשֵׁם חַיּוֹת?
770. אֶלָּא מִנְחָה חֲדָשָׁה בְּדֶרֶךְ סוֹד זוֹ הַשְּׁכִינָה. מִשִּׁשָּׁה חֳדָשִׁים לְשִׁשָּׁה חֳדָשִׁים אֵלּוּ שֵׁשׁ סְפִירוֹת, שֶׁנִּקְרָאוֹת שָׁנִים קַדְמוֹנִיּוֹת לִבְרִיאַת הָעוֹלָם, שֶׁהֵן שֵׁשׁ אֶלֶף שָׁנִים שֶׁקַּיָּם הָעוֹלָם, מִצַּד שֶׁל אִמָּא עֶלְיוֹנָה. וּמִצַּד שֶׁל אִמָּא תַּחְתּוֹנָה נִקְרָאִים חֳדָשִׁים. וּמִשּׁוּם שֶׁקָּדְמוּ לָעוֹלָם וּלְכָל הַבְּרִיּוֹת, נִקְרָאִים בִּכּוּרִים.
Pinchas 768-770
Numbers 28:26
"וּבְיוֹם הַבִּכּוּרִים, בְּהַקְרִיבְכֶם מִנְחָה חֲדָשָׁה לַיהוָה–בְּשָׁבֻעֹתֵיכֶם: מִקְרָא-קֹדֶשׁ יִהְיֶה לָכֶם, כָּל-מְלֶאכֶת עֲבֹדָה לֹא תַעֲשׂוּ"
" Also on the day of the first (יוֹם הַבִּכּוּרִים) fruits, when you present a new grain offering to YHVH in your Feast of Weeks, you shall have a holy convocation; you shall do no laborious work."
The holiday of Shavuot is the one that comes on the fiftieth day after Passover, at the end of the seven weeks of counting of the Omer. This holiday is called יוֹם הַבִּכּוּרִים (Pronounced 'Yom Habikurim') 'the day of first fruits'. The word בִּכּוּרִים has the root 'בכר' meaning 'the first born' and the Zohar reveals to us that the reference is to the origin and source of light that is Chokmah and Binah. They 'feed' the fruits of the Tree, which are Zeir Anpin and Malchut.
This holiday is when we celebrate the giving of the Torah on Mount Sinai. We clearly understand the connection to the head and the 'fruits' of the Tree. The Torah itself comes from the upper 'river' (Genesis 2:10) " וְנָהָר יֹצֵא מֵעֵדֶן, לְהַשְׁקוֹת אֶת-הַגָּן " " And a river comes out of Eden to water the garden". The river is the aspect of YH יה that are Chokmah and Binah. When it comes out, meaning flows down to Zeir Anpin, the Torah is revealed. It is our connection to the tree of Life. When we connect to the secrets of the Torah through the study of the Zohar, it is the aspect of eating the fruits that sustain us with energy of Life.
The Torah instructs us to bring from the first fruits to the Holy temple in order to make connection to the upper three Sefirot. It is the source of light and on such a high level day we do not work to keep the flow of light to our lives.
We don't have the Holy Temple to bring from our first fruits but we can make a similar connection to the upper levels. When we make or receive benefits from something new, it is a great opportunity for us to make meditation and connection to the higher level. We share from the actual benefit or replace the value with money to open our vessel to receive from Chokmah and Binah.
{||}