Daily Zohar # 1353 – Pinchas – Hold on to the 'sons'
Zohar Pinchas, Vol. 20 (English)/Vol 15 (Hebrew)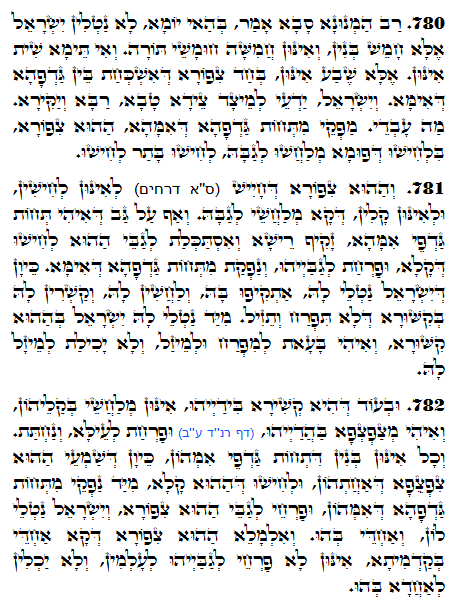 Hebrew translation:
780. רַב הַמְנוּנָא סָבָא אָמַר, בְּיוֹם זֶה לֹא לוֹקְחִים יִשְׂרָאֵל אֶלָּא חֲמִשָּׁה בָנִים, וְאֵלּוּ הֵם חֲמִשָּׁה חֻמְשֵׁי תוֹרָה. וְאִם תֹּאמַר שִׁשָּׁה הֵם – אֶלָּא שִׁבְעָה הֵם בְּצִפּוֹר אַחַת שֶׁנִּמְצֵאת בֵּין כְּנָפֶיהָ שֶׁל אִמָּא. וְיִשְׂרָאֵל יוֹדְעִים לָצוּד צַיִד טוֹב, גָּדוֹל וְחָשׁוּב. מָה עוֹשִׂים? מוֹצִיאִים מִתַּחַת כְּנָפֶיהָ שֶׁל אִמָּא אוֹתָהּ הַצִּפּוֹר, בִּלְחִישַׁת הַפֶּה מְלַחֲשִׁים לָהּ, לְחִישָׁה אַחַר לְחִישָׁה.781. וְאוֹתָהּ צִפּוֹר שֶׁחוֹשֶׁשֶׁת (שֶׁאוֹהֶבֶת) לְאוֹתָן הַלְּחִישׁוֹת וּלְאוֹתָם קוֹלוֹת שֶׁמְּלַחֲשִׁים לָהּ, וְאַף עַל גַּב שֶׁהִיא תַּחַת כַּנְפֵי אִמָּהּ, זוֹקֶפֶת רֹאשָׁהּ וּמִסְתַּכֶּלֶת אֵצֶל אוֹתָהּ לְחִישַׁת הַקּוֹל, וּפוֹרַחַת אֲלֵיהֶם, וְיוֹצֵאת מִתַּחַת כְּנָפֶיהָ שֶׁל אִמָּא. וְכֵיוָן שֶׁיִּשְׂרָאֵל לוֹקְחִים אוֹתָהּ, מַחֲזִיקִים בָּהּ וְלוֹחֲשִׁים אֶצְלָהּ, וְקוֹשְׁרִים אוֹתָהּ בְּקֶשֶׁר שֶׁלֹּא תָעוּף וְתֵלֵךְ. מִיָּד לוֹקְחִים אוֹתָהּ יִשְׂרָאֵל בְּאוֹתוֹ קֶשֶׁר, וְהִיא מְבַקֶּשֶׁת לָעוּף וְלָלֶכֶת, וְאינָהּ יְכוֹלָה לָלֶכֶת לָהּ.782. וּבְעוֹד שֶׁהִיא קְשׁוּרָה בִּידֵיהֶם, הֵם לוֹחֲשִׁים בְּקוֹלָם, וְהִיא מְצַפְצֶפֶת עִמָּהֶם, וּמְעוֹפֶפֶת לְמַעְלָה וְיוֹרֶדֶת. וְכָל אוֹתָם בָּנִים שֶׁתַּחַת כַּנְפֵי אִמּוֹתֵיהֶם, כֵּיוָן שֶׁשּׁוֹמְעִים אוֹתוֹ הַצִּפְצוּף שֶׁל אֲחוֹתָם וּלְחִישַׁת אוֹתוֹ הַקּוֹל, מִיָּד יוֹצְאִים תַּחַת כַּנְפֵי אִמּוֹתֵיהֶם וּמְעוֹפְפִים אֵצֶל אוֹתָהּ הַצִּפּוֹר. וְיִשְׂרָאֵל לוֹקְחִים אוֹתָם וְאוֹחֲזִים בָּהֶם. וְאִם לֹא אוֹתָהּ צִפּוֹר שֶׁאוֹחֲזִים בָּהּ בַּתְּחִלָּה, לֹא הָיוּ אֵלּוּ מְעוֹפְפִים אֶצְלָם לְעוֹלָמִים, וְלֹא יְכוֹלִים לֶאֱחֹז בָּהֶם.
Pinchas 780-782
Deuteronomy 22:6
"כִּי יִקָּרֵא קַן-צִפּוֹר לְפָנֶיךָ בַּדֶּרֶךְ בְּכָל-עֵץ אוֹ עַל-הָאָרֶץ, אֶפְרֹחִים אוֹ בֵיצִים, וְהָאֵם רֹבֶצֶת עַל-הָאֶפְרֹחִים, אוֹ עַל-הַבֵּיצִים–לֹא-תִקַּח הָאֵם, עַל-הַבָּנִים"
"If you come across a bird's nest beside the road, either in a tree or on the ground, and the mother is sitting on the young or on the eggs, do not take the mother with the young."
"שַׁלֵּחַ תְּשַׁלַּח אֶת-הָאֵם, וְאֶת-הַבָּנִים תִּקַּח-לָךְ, לְמַעַן יִיטַב לָךְ, וְהַאֲרַכְתָּ יָמִים"
"You may take the sons, but be sure to let the mother go, so that it may go well with you and you may have a long life"
This strange precept has so many deep meanings that the Zohar refers to it in many places, including the beginning of the Tikunei Zohar.
The secret of the mother is revealed in Isaiah 50:1
"הֵן בַּעֲו‍ֹנֹתֵיכֶם נִמְכַּרְתֶּם, וּבְפִשְׁעֵיכֶם שֻׁלְּחָה אִמְּכֶם"
"for your iniquities were you sold, and for your transgressions was your mother sent away."
The Mother is Binah, which is the upper Shechina. She went into exile from the Holy Temple because we didn't follow the spiritual guidance of the Torah. The 'sons' as this Zohar section explains, is the five books of the Torah. Rabbi Ashlag adds that they are the aspects of the Sefirot, Chessed, Gevurah, Tiferet, Netzach and Hod. The five are the main Sefirot that forms the vessel and Yessod connects all of them to Malchut.
Malchut and Yessod together make connection to the five above them in order to connect to the mother. We hold to the 'sons' that are the five books of the Torah to connect to 'Mother', Binah.
Yessod is called כל 'all' because as we said above he holds the five Sefirot above his 'head'. The numerical value of כל is 50 and it reveals the relation to the five Sefirot above him.
We learned here that what looks like a separation and 'cruelty' is actually a concealed secret of how to make a connection to Binah and be rewarded with 'long life'. The literal and correct translation to 'long life' is 'long days'. 'Long' is for the height of the Tree of Life and Days is reference to the Sefirot. Our connection to the Torah merits us unification with Binah and its light.
{||}