Daily Zohar # 1387 – Pinchas – Wear the name on your head
Zohar Pinchas, Vol. 20 (English)/Vol 15 (Hebrew)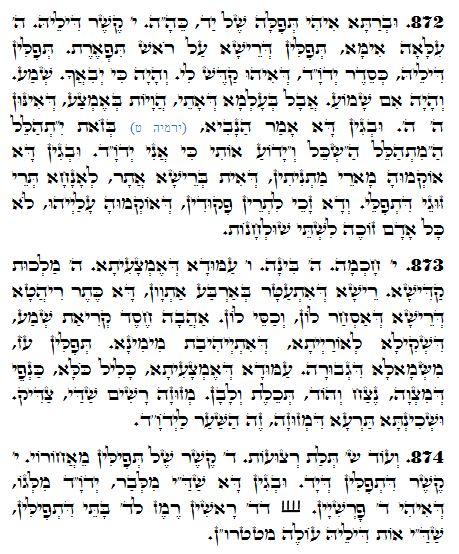 Hebrew translation:
872. וּבַת הִיא תְּפִלָּה שֶׁל יָד כֵּהָ"ה. י' קֶשֶׁר שֶׁלָּהּ. ה' עֶלְיוֹנָה אִמָּא, תְּפִלִּין שֶׁל רֹאשׁ עַל רֹאשׁ תִּפְאֶרֶת. תְּפִלִּין שֶׁלּוֹ כְּסֵדֶר יְהֹוָ"ה, שֶׁהוּא: קַדֶּשׁ לִי. וְהָיָה כִּי יְבִאֲךָ. שְׁמַע. וְהָיָה אִם שָׁמֹעַ. אֲבָל בָּעוֹלָם הַבָּא הֲוָיוֹ"ת בָּאֶמְצַע, שֶׁהֵם ה' ה'. וּמִפְּנֵי זֶה אָמַר הַנָּבִיא, (ירמיה ט) בְּזֹאת יִ"תְהַלֵּל הַ"מִּתְהַלֵּל הַ"שְׂכֵּל וְ"יָדֹעַ אוֹתִי כִּי אֲנִי יְהֹוָ"ה. וּמִפְּנֵי זֶה פֵּרְשׁוּהוּ בַּעֲלֵי הַמִּשְׁנָה, שֶׁיֵּשׁ בָּרֹאשׁ מָקוֹם לְהָנִיחַ שְׁנֵי זוּגוֹת תְּפִלִּין. וְזֶה זוֹכֶה לִשְׁתֵּי מִצְווֹת שֶׁפֵּרְשׁוּ עֲלֵיהֶן, לֹא כָּל אָדָם זוֹכֶה לִשְׁנֵי שֻׁלְחָנוֹת.
873. י' -חָכְמָה, ה' -בִּינָה. ו' -הָעַמּוּד הָאֶמְצָעִי. ה' – מַלְכוּת קְדוֹשָׁה. הָרֹאשׁ שֶׁמִּתְעַטֵּר בְּאַרְבַּע אוֹתִיּוֹת זֶה כֶּתֶר הֶקֵּף הָרֹאשׁ שֶׁמְּסוֹבֵב אוֹתָם וּמְכַסֶּה אוֹתָם. אַהֲבָה חֶסֶד קְרִיאַת שְׁמַע, שֶׁשְּׁקוּלָה לַתּוֹרָה שֶׁנִּתְּנָה מִיָּמִין. תְּפִלִּין עֹז, מִשְּׂמֹאל שֶׁל גְּבוּרָה. הָעַמּוּד הָאֶמְצָעִי כּוֹלֵל הַכֹּל, כַּנְפֵי הַמִּצְוָה, נֵצַח וְהוֹד, תְּכֵלֶת וְלָבָן. בַּמְּזוּזָה רָשׁוּם שַׁדַּי, צַדִּיק. וְהַשְּׁכִינָה שַׁעַר הַמְּזוּזָה, זֶה הַשַּׁעַר לַה'.
874. וְעוֹד, ש' – שָׁלֹשׁ רְצוּעוֹת. ד' – קֶשֶׁר שֶׁל תְּפִלִּין מֵאֲחוֹרָיו. י' – קֶשֶׁר שֶׁל תְּפִלִּין שֶׁל יָד. וּמִפְּנֵי זֶה שַׁדַּ"י מִבַּחוּץ, יְהֹוָ"ה מִבִּפְנִים, שֶׁהִיא אַרְבַּע פָּרָשִׁיּוֹת . שֶׁל אַרְבָּעָה רָאשִׁים רֶמֶז לְאַרְבָּעָה בָּתֵּי הַתְּפִלִּין. שַׁדַּ"י, אוֹת שֶׁלּוֹ עוֹלָה מְטַטְרוֹ"ן.
Pinchas 872-874
Jeremiah 9:23



"but let him who boasts boast in this, that he understands and knows me, that I am YHVH"
The Tefilin of the head has four chambers with scrolls arranged in the order of YHVH to represent Central Column, Tiferet, Zeir Anpin. In the world to come the H ה of Malchut is elevated to Binah and the name for that state is YHHV יההו as in the verse above. For that reason men wear two sets of Tefilin during the Morning Prayer. One set uses the order of יהוה YHVH and the second is worn after the prayer with the order of יההו YHHV. It is okay to wear Tefilin throughout daylight time while praying and studying. It is also okay to wear both Tefilin on the head at the same time.
The unification of the upper Light through the Tefilin is achieved using the prayer of the Shema Israel.
The Holy name שדי, is connected to the Tefilin. The letter ש , numerically 300, represents the three straps of the Tefilin. The letter ד represents the knot of the head Tefilin at the back of the head. It has the shape of the letter ד. The letter י is for the knot of the hand Tefilin.
The mark on the head Tefilin is a letter ש but with four lines
to represent the connection of the world below with the concealed light of YHVH that is inside the Tefilin. The name שדי (314) protects the 'gate' between the lower and upper levels. The archangel Metatron מטטרון (314) carries the prayers from the gate to the higher levels. The number 314 is related to Pi, 3.14 that we can associate with the Endless Light because of its uniqueness.
Deuteronomy 28:10
"וְרָאוּ כָּל-עַמֵּי הָאָרֶץ, כִּי שֵׁם יְהוָה נִקְרָא עָלֶיךָ; וְיָרְאוּ, מִמֶּךָּ"
"and all the peoples of the land see that the name of YHVH is called upon you, and they have been afraid (also awed) of you."
The Tefilins we wear put the name YHVH on top of our heads. They push away negativity and bring those who lack the light to have awe and desire it.
{||}