Daily Zohar # 1454 – Vayikra – Sparkling letters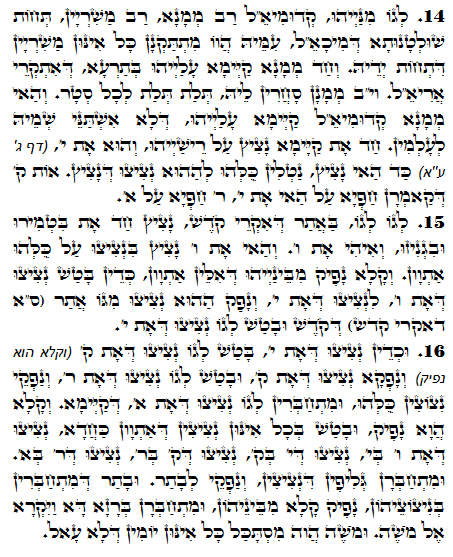 Hebrew translation:
14. לִפְנִים מֵהֶם קְדוּמִיאֵ"ל הַמְמֻנֶּה הַגָּדוֹל, גְּדוֹל הַמַּחֲנוֹת, תַּחַת שִׁלְטוֹנוֹ שֶׁל מִיכָאֵ"ל, עִמּוֹ הָיוּ מִתְתַּקְּנִים כָּל אוֹתָם הַמַּחֲנוֹת שֶׁתַּחַת יָדוֹ. וּמְמֻנֶּה אֶחָד עוֹמֵד עֲלֵיהֶם בַּשַּׁעַר, שֶׁנִּקְרָא אֲרִיאֵ"ל. וְי"ב מְמֻנִּים סוֹבְבִים אוֹתוֹ שָׁלֹשׁ שָׁלֹשׁ לְכָל צַד, וְהַמְמֻנֶּה הַזֶּה קְדוּמִיאֵ"ל עוֹמֵד עֲלֵיהֶם, שֶׁלֹּא מִשְׁתַּנֶּה שְׁמוֹ לְעוֹלָמִים. אוֹת אַחַת עוֹמֶדֶת וְנוֹצֶצֶת עַל רָאשֵׁיהֶם, וְהִיא הָאוֹת י'. כְּשֶׁזּוֹ נוֹצֶצֶת, כֻּלָּם נוֹסְעִים לְאוֹתָהּ הִתְנוֹצְצוּת שֶׁנּוֹצֶצֶת. הָאוֹת ק' כְּפִי שֶׁאָמַרְנוּ, מְכַסָּה עַל הָאוֹת הַזּוֹ י', ר' מְכַסָּה עַל א'.
15. לִפְנַי וְלִפְנִים, בַּמָּקוֹם שֶׁנִּקְרָא קֹדֶשׁ, נוֹצֶצֶת אוֹת אַחַת בַּסֵּתֶר וּבִגְנִיזָה, וְהִיא הָאוֹת ו'. וְהָאוֹת ו' הַזּוֹ נוֹצֶצֶת בְּהִתְנוֹצְצוּת עַל כָּל הָאוֹתִיּוֹת, וְקוֹל יוֹצֵא מִבֵּינֵיהֶן שֶׁל הָאוֹתִיּוֹת הַלָּלוּ, וְאָז מַכָּה הַהִתְנוֹצְצוּת שֶׁל הָאוֹת ו' לַהִתְנוֹצְצוּת שֶׁל הָאוֹת י', וְיוֹצֵאת אוֹתָהּ הִתְנוֹצְצוּת מִתּוֹךְ מְקוֹם(שֶׁנִּקְרָא קֹדֶשׁ)הַקֹּדֶשׁ, וּמַכָּה לְתוֹךְ הַהִתְנוֹצְצוּת שֶׁל הָאוֹת י'.
16. וְאָז הִתְנוֹצְצוּת הָאוֹת י' מַכָּה לִפְנִים הִתְנוֹצְצוּת הָאוֹת ק', וְיוֹצֵאת הִתְנוֹצְצוּת הָאוֹת ק' וּמַכָּה לְתוֹךְ הִתְנוֹצְצוּת הָאוֹת ר', וְיוֹצְאִים כָּל הַנִּיצוֹצוֹת וּמִתְחַבְּרִים לְתוֹךְ הִתְנוֹצְצוּת הָאוֹת א' שֶׁעוֹמֶדֶת. וְהַקּוֹל הָיָה יוֹצֵא וּמַכֶּה בְּכָל אוֹתָם הַנִּיצוֹצוֹת שֶׁל הָאוֹתִיּוֹת כְּאֶחָד, הִתְנוֹצְצוּת הָאוֹת ו' בְּיוֹ"ד, הִתְנוֹצְצוּת שֶׁל יוֹ"ד בְּק', הִתְנוֹצְצוּת שֶׁל ק' בְּר', וְהַהִתְנוֹצְצוּת שֶׁל ר' בְּא'. וּמִתְחַבְּרִים חִקּוּקֵי הַנִּיצוֹצוֹת וְיוֹצְאִים אַחַר כָּךְ. וְאַחַר שֶׁמִּתְחַבְּרִים בְּנִיצוֹצוֹתֵיהֶם, יוֹצֵא קוֹל מִבֵּינֵיהֶם, וּמִתְחַבְּרִים בְּסוֹד זֶה וַיִּקְרָא אֶל מֹשֶׁה. וּמֹשֶׁה הָיָה מִסְתַּכֵּל כָּל אוֹתָם הַיָּמִים שֶׁלֹּא נִכְנַס.
.
Zohar Vayikra
In this Zohar we learn about powerful angels and their connection to different letters. Each letter that 'hits' another letter joins to the other while releasing sparks of light. To understand this, imagine two poser cable joined together. When they hit each other, sparks are generated and then it goes back to normal.
The connection of letters double their power and a new light is revealed. The word,'hit' in Hebrew מכה also means double or multiply (הכאה, מכים מספר אחד במספר שני). This is an important spiritual aspect and it is related to the original process of the Creation of the world when lights were 'hitting' each other, creating new vessels. Example: When the letter Alef א 'hits' the letter ב Bet it creates a new vessel of אב and a new light appears in this vessel. In this case a light of 'Father'.
When you scan the letters and words you connect to their individual and combined vessels and light.
In the next DZ I will explain more
{||}