Daily Zohar # 1468 – Tazria – A child in one day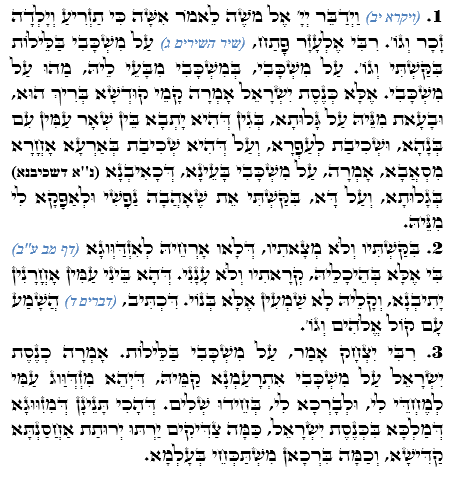 Hebrew translation:
1. וַיְדַבֵּר ה' אֶל מֹשֶׁה לֵאמֹר אִשָּׁה כִי תַזְרִיעַ וְיָלְדָה זָכָר וְגוֹ'. רַבִּי אֶלְעָזָר פָּתַח, (שיר ג) עַל מִשְׁכָּבִי בַּלֵּילוֹת בִּקַּשְׁתִּי וְגוֹ'. עַל מִשְׁכָּבִי?! בְּמִשְׁכָּבִי הָיָה צָרִיךְ לִהְיוֹת! מַה זֶּה עַל מִשְׁכָּבִי? אֶלָּא כְּנֶסֶת יִשְׂרָאֵל אָמְרָה לִפְנֵי הַקָּדוֹשׁ בָּרוּךְ הוּא, וּמְבַקֶּשֶׁת מִמֶּנּוּ עַל הַגָּלוּת, מִשּׁוּם שֶׁהִיא יוֹשֶׁבֶת בֵּין שְׁאָר הָעַמִּים עִם בָּנֶיהָ וְשׁוֹכֶבֶת לֶעָפָר. וְעַל שֶׁהִיא שׁוֹכֶבֶת בְּאֶרֶץ טְמֵאָה אַחֶרֶת, אוֹמֶרֶת: עַל מִשְׁכָּבִי אֲנִי מְבַקֶּשֶׁת, שֶׁאֲנִי כּוֹאֶבֶת (שׁוֹכֶבֶת) בַּגָּלוּת, וְעַל זֶה – בִּקַּשְׁתִּי אֵת שֶׁאָהֲבָה נַפְשִׁי, וּלְהוֹצִיא אוֹתִי מִמֶּנּוּ.
2. בִּקַּשְׁתִּיו וְלֹא מְצָאתִיו, שֶׁאֵין דַּרְכּוֹ לְהִזְדַּוֵּג עִמִּי אֶלָא בְּהֵיכָלוֹ, קְרָאתִיו וְלֹא עָנָנִי. שֶׁהִנֵּה בֵּין עַמִּים אֲחֵרִים אֲנִי יוֹשֶׁבֶת, וְאֵין שׁוֹמְעִים אֶת קוֹלוֹ אֶלָּא בָּנָיו, שֶׁכָּתוּב (דברים ד) הֲשָׁמַע עָם קוֹל אֱלֹהִים וְגוֹ'.
3. רַבִּי יִצְחָק אָמַר, עַל מִשְׁכָּבִי בַּלֵּילוֹת – אָמְרָה כְּנֶסֶת יִשְׂרָאֵל, עַל מִשְׁכָּבִי הִתְרַעַמְתִּי לְפָנָיו, שֶׁהָיָה מִזְדַּוֵּג עִמִּי לְשַׂמֵּחַ אוֹתִי וּלְבָרֵךְ אוֹתִי בְּשִׂמְחָה שְׁלֵמָה. שֶׁכָּךְ שָׁנִינוּ, שֶׁמִּזִּוּוּג שֶׁל הַמֶּלֶךְ עִם כְּנֶסֶת יִשְׂרָאֵל כַּמָּה צַדִּיקִים יָרְשׁוּ יְרֻשַּׁת נַחֲלָה הַקְּדוֹשָׁה, וְכַמָּה בְרָכוֹת נִמְצָאוֹת בָּעוֹלָם.
.
Zohar Tazria
" אִשָּׁה כִּי תַזְרִיעַ, וְיָלְדָה זָכָר " ( Leviticus 12:2)
"If a woman be delivered, and bear a man-child"
The Zohar for this parasha discusses the different aspects of the connection between male and female, and the light that flows as a result of it.
When Adam was created he had two faces (sides) Genesis (1:27)
" וַיִּבְרָא אֱלֹקים אֶת-הָאָדָם בְּצַלְמוֹ, בְּצֶלֶם אֱלֹקים בָּרָא אֹתוֹ: זָכָר וּנְקֵבָה, בָּרָא אֹתָם ",
"And God created man in His own image, in the image of God created He him; male and female created He them."
The Zohar explains "זָכָר וּנְקֵבָה, בָּרָא אֹתָם" ("Male and Female he created them") means that both were connected back to back. They were one but couldn't see each other. God said (Genesis 2:18)
"וַיֹּאמֶר יְקוָק אֱלֹק ים, לֹא-טוֹב הֱיוֹת הָאָדָם לְבַדּוֹ; אֶעֱשֶׂה-לּוֹ עֵזֶר, כְּנֶגְדּוֹ "
"And God said: It's not good that the man should be alone; I will make him a help for him"
" כְּנֶגְדּוֹ ", "for him" means in front of him.
" וַיִּקַּח, אַחַת מִצַּלְעתָיו " (and he took one of his ribs). The word for rib in Hebrew is " צלע " which also means side, like the side of a building. The word one "אַחַת", "one" appears in a female form, meaning one female.
The Zohar continues to explain that God brought Eve to Adam as a bride to a groom and blessed them (1:28). The blessing was like the seven blessings in a wedding ceremony called the "Kidushin", 'the sanctification'. Those blessings build and create the unification of the Seven Sefirot of the man and woman (Chessed, Gevurah, Tiferet, Netzach, Hod, Yessod and Malchut). Their vessel is united and sanctified giving them ability to draw light and create life. On the wedding night, the groom transfers the soul level of Ruach that he received during the ceremony to his bride creating greater affinity between them.
Initially, God created Adam and Eve as one, and then separated them in order to establish a desire for each other. Like us, we crave something which taste we already have enjoyed. A person that never tasted a good chocolate (or similar), will not have the desire for it. Adam and Eve were the aspect of Zeir Anpin and Malchut on the spiritual level. They felt the light that was flowing through them and after the separation they were seeking a unification and light. Unfortunately the Snake took advantage of their desire for the Light, seduced Eve and corrupted the system.
After God removed Eve from the side of Adam it said (Genesis 2:21,22,23,24)
"וַיִּקַּח, אַחַת מִצַּלְעֹתָיו, וַיִּסְגֹּר בָּשָׂר, תַּחְתֶּנָּה" , "God took one of his ribs, and closed up the place with flesh instead ". This is the separation of Eve from Adam or Malchut from Zeir Anpin. Then in Genesis 2:23
"וַיֹּאמֶר, הָאָדָם, זֹאת הַפַּעַם עֶצֶם מֵעֲצָמַי, וּבָשָׂר מִבְּשָׂרִי; לְזֹאת יִקָּרֵא אִשָּׁה, כִּי מֵאִישׁ לֻקְחָה-זֹּאת '
"And Adam said: 'This is now bone of my bones, and flesh of my flesh; she shall be called Woman, because she was taken out of Man.'"
Adam recognized the separation and called her "זֹּאת'"'This' (pronounced 'Zot') . This word it a code name for Malchut.
The final advice in 2:24
"עַל-כֵּן, יַעֲזָב-אִישׁ, אֶת-אָבִיו, וְאֶת-אִמּוֹ; וְדָבַק בְּאִשְׁתּוֹ, וְהָיוּ לְבָשָׂר אֶחָד"
"Therefore a man shall leave his father and his mother, and shall cleave unto his wife, and they shall be one flesh"
Father and Mother, as explained in previous commentaries, refer to Chokmah and Binah. They give birth to Zeir Anpin (Male energy, "זכר") and Malchut. Their purpose is to connect and be one "אֶחָד ", numerical value is 13, same as love "אהבה ".
The continuation of life that had to happen after the sin and the loss of immortality is in the foundation of the world of Tikkun. Everything we do must have the aspect of continuation in order to draw Light and life into it.
Father and mother bring children that grow up and become new father and mother. The cycle goes on until the time of Mashiach and the Final Redemption. Then a woman will be able to choose and deliver a child in one day without the current painful process.
The reference to the above statement from the Holy Ari's teaching.
ספר ליקוטי הש"ס – מסכת שבת אמר רבי עתידה אשה שתלד בכל יום שנ' הרה ויולדת יחדיו וגו' דע כי בימות המשיח יאבדו הקליפות ולא יהיו הנשמות צריכים אל הבירור כמו בזמן הזה באורך המשך ימי העיבור ולכן א"צ זמן רק הרה ויולדת יחדיו בו ביום כמו שהי' בתחלת הבריאה באדה"ר שעלו למטה שנים וירדו וכו'. ג"ז מהרב זל"ה:
{||}