Daily Zohar # 1703 – Vayigash – Holy and whole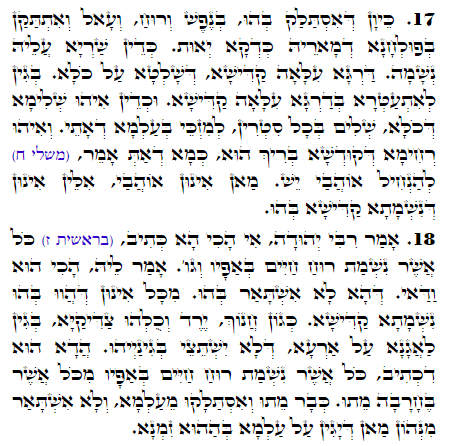 .
Hebrew translation:
17. כֵּיוָן שֶׁהִתְעַלָּה בָהֶם, בַּנֶּפֶשׁ וְהָרוּחַ, וְנִכְנַס וְנִתְקַן בַּעֲבוֹדַת רִבּוֹנוֹ כָּרָאוּי, אָז שׁוֹרָה עָלָיו נְשָׁמָה, דַּרְגָּה עֶלְיוֹנָה קְדוֹשָׁה, שֶׁשּׁוֹלֶטֶת עַל הַכֹּל, כְּדֵי לְהִתְעַטֵּר בְּדַרְגָּה עֶלְיוֹנָה קְדוֹשָׁה. וְאָז הוּא הַשָּׁלֵם שֶׁל הַכֹּל, שָׁלֵם בְּכָל הַצְּדָדִים, לִזְכּוֹת בָּעוֹלָם הַבָּא, וְהוּא אוֹהֲבוֹ שֶׁל הַקָּדוֹשׁ בָּרוּךְ הוּא, כְּמוֹ שֶׁנֶּאֱמַר לְהַנְחִיל אֹהֲבַי יֵשׁ. מִי הֵם אוֹהֲבַי? אֵלּוּ הֵם שֶׁבָּהֶם נְשָׁמָה קְדוֹשָׁה.
18. אָמַר רַבִּי יְהוּדָה, אִם כָּךְ, הֲרֵי כָּתוּב כֹּל אֲשֶׁר נִשְׁמַת רוּחַ חַיִּים בְּאַפָּיו וְגוֹ'. אָמַר לוֹ, כָּךְ הוּא וַדַּאי, שֶׁהֲרֵי לֹא נִשְׁאַר בָּהֶם מִכָּל אוֹתָם שֶׁהָיְתָה בָהֶם נְשָׁמָה קְדוֹשָׁה כְּמוֹ חֲנוֹךְ, יֶרֶד, וְכָל הַצַּדִּיקִים, כְּדֵי לְהָגֵן עַל הָאָרֶץ שֶׁלֹּא תֻשְׁמַד בִּגְלָלָם. זֶהוּ שֶׁכָּתוּב כֹּל אֲשֶׁר נִשְׁמַת רוּחַ חַיִּים בְּאַפָּיו מִכֹּל אֲשֶׁר בֶּחָרָבָה מֵתוּ, כְּבָר מֵתוּ וְהִסְתַּלְּקוּ מִן הָעוֹלָם, וְלֹא נִשְׁאַר מֵהֶם מִי שֶׁיָּגֵן עַל הָעוֹלָם בַּזְּמַן הַהוּא.
.
Zohar Vayigash
DZ 1703
Continued from previous DZ
A person that elevates his soul to the level of Neshama is loved by God and is considered as holy and whole from all sides (See previous DZ).
Proverbs 8:21
"לְהַנְחִיל אֹהֲבַי יֵשׁ; וְאֹצְרֹתֵיהֶם אֲמַלֵּא."
"Those who love me inherit wealth. I will fill their treasuries."
The Zohar asks than why the flood killed all souls while there were high souls like Chanoch, Yered and others. The following verse explains that those righteous who existed when the land was dry died before the flood and therefore couldn't protect the people at that time.
Genesis 7:22
"כֹּל אֲשֶׁר נִשְׁמַת-רוּחַ חַיִּים בְּאַפָּיו, מִכֹּל אֲשֶׁר בֶּחָרָבָה–מֵתוּ"
"Everything on the dry land in whose nostrils was the breath of life died."
The Zohar explains in the paragraphs that follow these that Judah as the aspect of Malchut and soul level of Nefesh approached Joseph, who is higher and the aspect of Yessod and soul level of Ruach.
Immediately after this Joseph revealed himself to his brothers because their spiritual levels united.
Genesis 45:1 " …Joseph made himself known to his brothers."
Lesson: When we elevate our soul to a higher level we create opening to new and higher light in our lives.
{||}