Daily Zohar # 1805 – Emor – Joy to the heart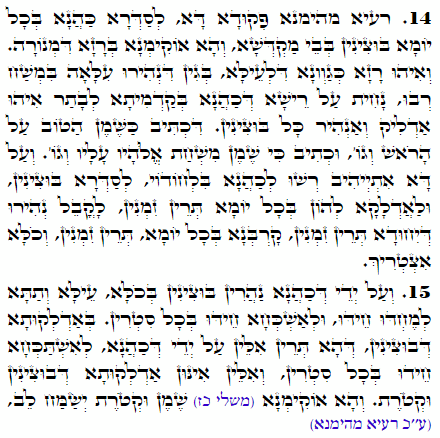 .
Zohar Emor
Hebrew translation:
מִצְוָה זוֹ, שֶׁיְּסַדֵּר הַכֹּהֵן בְּכָל יוֹם נֵרוֹת בְּבֵית הַמִּקְדָּשׁ, וַהֲרֵי בֵּאַרְנוּ בְּסוֹד הַמְּנוֹרָה. וְהוּא סוֹד כְּמוֹ שֶׁלְּמַעְלָה, מִשּׁוּם שֶׁהָאוֹר הָעֶלְיוֹן בְּשֶׁמֶן מִשְׁחָה יוֹרֵד עַל רֹאשׁ הַכֹּהֵן בָּרִאשׁוֹנָה, וְאַחַר כָּךְ הוּא מַדְלִיק וּמֵאִיר אֶת כָּל הַנֵּרוֹת, שֶׁכָּתוּב כַּשֶּׁמֶן הַטּוֹב עַל הָרֹאשׁ וְגוֹ', וְכָתוּב כִּי שֶׁמֶן מִשְׁחַת אֱלֹהָיו עָלָיו וְגוֹ'. וְעַל כֵּן נִתְּנָה רְשׁוּת לַכֹּהֵן לְבַדּוֹ לְסַדֵּר אֶת הַנֵּרוֹת וּלְהַדְלִיק אוֹתָם בְּכָל יוֹם פַּעֲמַיִם, כְּנֶגֶד אוֹר הַיִּחוּד פַּעֲמַיִם, קָרְבָּן בְּכָל יוֹם פַּעֲמַיִם, וְהַכֹּל צָרִיךְ.
15. וְעַל יְדֵי הַכֹּהֵן מְאִירִים הַנֵּרוֹת בַּכֹּל, לְמַעְלָה וּלְמַטָּה, לִשְׂמֹחַ בְּשִׂמְחָה וּלְהִמָּצֵא שִׂמְחָה בְּכָל הַצְּדָדִים בְּהַדְלָקַת הַנֵּרוֹת, שֶׁהֲרֵי שְׁנֵי אֵלֶּה עַל יְדֵי הַכֹּהֵן, לְהַמְצִיא שִׂמְחָה בְּכָל הַצְּדָדִים, וְאֵלּוּ הֵם הַדְלָקַת הַנֵּרוֹת וְהַקְּטֹרֶת, וַהֲרֵי בֵּאַרְנוּ שֶׁמֶן וּקְטֹרֶת יְשַׂמַּח לֵב. (עד כאן
רעיא מהימנא
).
.
The priest in the temple used to prepare the candles in the Holy Temple. The Zohar reveals that the light comes down first on the head of the priest, that represents the upper three sefirot of Zeir Anpin, then he lights up all the candles that represent the sefirah of Malchut.
The process of preparing the candles was done twice a day, once in the morning and once in the afternoon, before sundown.
The candles in the Holy Temple were the vessels for oil, and the process of preparing them for the light was so high that no one was allowed to do that but the priests.
The Zohar quotes the Torah verses below to connect us to the energy that was revealed by the priests during their work in the Holy Temple.
Psalms 133:2
"כַּשֶּׁמֶן הַטּוֹב, עַל-הָרֹאשׁ יֹרֵד, עַל-הַזָּקָן זְקַן-אַהֲרֹן: שֶׁיֹּרֵד, עַל-פִּי מִדּוֹתָיו."
"It is like the precious oil upon the head, Coming down upon the beard, Aaron's beard, Coming down upon the edge of his robes."
Leviticus 21:10
"וְהַכֹּהֵן הַגָּדוֹל מֵאֶחָיו אֲשֶׁר-יוּצַק עַל-רֹאשׁוֹ שֶׁמֶן הַמִּשְׁחָה, וּמִלֵּא אֶת-יָדוֹ, לִלְבֹּשׁ, אֶת-הַבְּגָדִים–אֶת-רֹאשׁוֹ לֹא יִפְרָע, וּבְגָדָיו לֹא יִפְרֹם"
"'The priest who is the highest among his brothers, on whose head the anointing oil has been poured and who has been consecrated to wear the garments, shall not uncover his head nor tear his clothes"
Leviticus 21:12
"וּמִן-הַמִּקְדָּשׁ, לֹא יֵצֵא, וְלֹא יְחַלֵּל, אֵת מִקְדַּשׁ אֱלֹהָיו: כִּי נֵזֶר שֶׁמֶן מִשְׁחַת אֱלֹהָיו, עָלָיו–אֲנִי יְהוָה"
"He shall not go out of the sanctuary, lest he profane the sanctuary of his God, for the consecration of the anointing oil of his God is on him: I am YHVH."
Proverbs 27:9
"שֶׁמֶן וּקְטֹרֶת, יְשַׂמַּח-לֵב"
"Oil and incense bring joy to the heart"
The priest was also preparing and burning the incense at the same time as he was preparing the candles. The oil was drawing the light and the incense deterring the negative side from coming closer to the Holy Temple.
{||}