Daily Zohar # 1804 – Kedoshim – The taste of the Tree of Life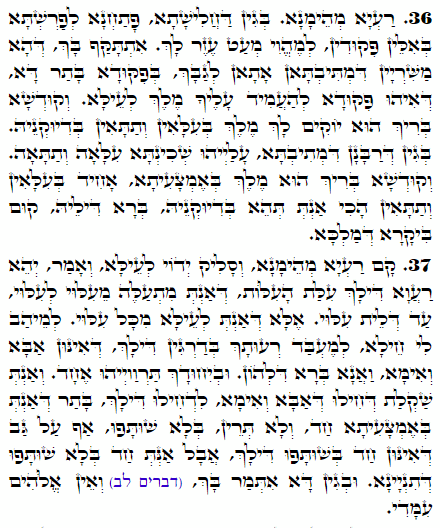 .
Hebrew translation:
36. רוֹעֶה הַנֶּאֱמָן, מִשּׁוּם שֶׁחָלוּשׁ אַתָּה פָּתַחְתִּי אֶת הַפָּרָשָׁה בַּמִּצְווֹת הַלָּלוּ, לִהְיוֹת לְךָ מְעַט לְעֵזֶר. הִתְחַזֵּק בְּךָ, שֶׁהֲרֵי הַמַּחֲנוֹת שֶׁל הַיְשִׁיבוֹת בָּאִים אֵלֶיךָ, בְּמִצְוָה אַחַר זוֹ, שֶׁהִיא מִצְוָה לְהַעֲמִיד עָלֶיךָ מֶלֶךְ לְמַעְלָה. וְהַקָּדוֹשׁ בָּרוּךְ הוּא יַעֲמִיד אוֹתְךָ מֶלֶךְ בָּעֶלְיוֹנִים וּבַתַּחְתּוֹנִים בִּדְיוֹקְנוֹ, מִשּׁוּם שֶׁרַבּוֹתֵינוּ מֵהַיְשִׁיבָה, עֲלֵיהֶם שְׁכִינָה וְתַחְתּוֹנָה. וְהַקָּדוֹשׁ בָּרוּךְ הוּא מֶלֶךְ בָּאֶמְצַע, אוֹחֵז בָּעֶלְיוֹנִים וּבַתַּחְתּוֹנִים. כָּךְ אַתָּה תִּהְיֶה בִדְיוֹקְנוֹ, הַבֵּן שֶׁלּוֹ, עֲמֹד לִכְבוֹד הַמֶּלֶךְ.
37. עָמַד הָרוֹעֶה הַנֶּאֱמָן, וְהֵרִים יָדָיו לְמַעְלָה וְאָמַר: יְהִי רְצוֹנְךָ, עִלַּת הָעִלּוֹת, שֶׁאַתָּה מִתְעַלֶּה מֵעִלּוּי לְעִלּוּי, עַד אֵין עִלּוּי, אֶלָּא שֶׁאַתָּה מֵעַל לְכָל עִלּוּי, (לָתֵת) לִי כֹּחַ לַעֲשׂוֹת אֶת רְצוֹנְךָ בְּדַרְגוֹתֶיךָ, שֶׁהֵן אָב וָאֵם, וַאֲנִי הַבֵּן שֶׁלָּהֶם, וּבַיִּחוּד שֶׁלְּךָ שְׁנֵיהֶם אֶחָד. וְאַתָּה הִשְׁוֵיתָ אֶת יִרְאַת אָב וָאֵם לְיִרְאָתְךָ, אַחַר שֶׁאַתָּה בָּאֶמְצַע, אֶחָד וְלֹא שְׁנַיִם, בְּלִי שֻׁתָּפוּת, אַף עַל גַּב שֶׁהֵם בַּשֻּׁתָּפוּת שֶׁלְּךָ, אֲבָל אַתָּה אֶחָד בְּלִי שֻׁתָּפוּת שֶׁל שֵׁנִי. וּמִשּׁוּם זֶה נֶאֱמַר בְּךָ, וְאֵין אֱלֹהִים עִמָּדִי.
.
Zohar Kedoshim
Continued from previous DZ
Rabbi Shimon speaks to the Faithful Shepherd, who is Moses, telling him that because he (Moses) is weak, he started the study (DZ 1802, DZ 1803) with the precepts of keeping the Shabbat and honoring the father and mother.
The secret revealed here is that Rabbi Shimon with this study made the connection between Chokmah (Father) and Binah (Mother) to activate the Sefirah of Da'at that channels the energy to Moses, who is the aspect of Da'at.
We learn that the study of Torah activates great spiritual forces above. Rabbi Shimon drew power to Moses with a study that connects Chokmah and Binah.
We benefit from every study of the Torah. Every Torah verse that the Zohar quotes and explains is a well of life that should not be missed. The spiritual connections that the Zohar make are that powerful, that is why Elijah told Rabbi Shimon that by the study of the Zohar we will taste the Tree of Life and merit the the Final Redemption with mercy.
{||}