Daily Zohar # 3125 – Vaetchanan – The thunder from Moses's mouth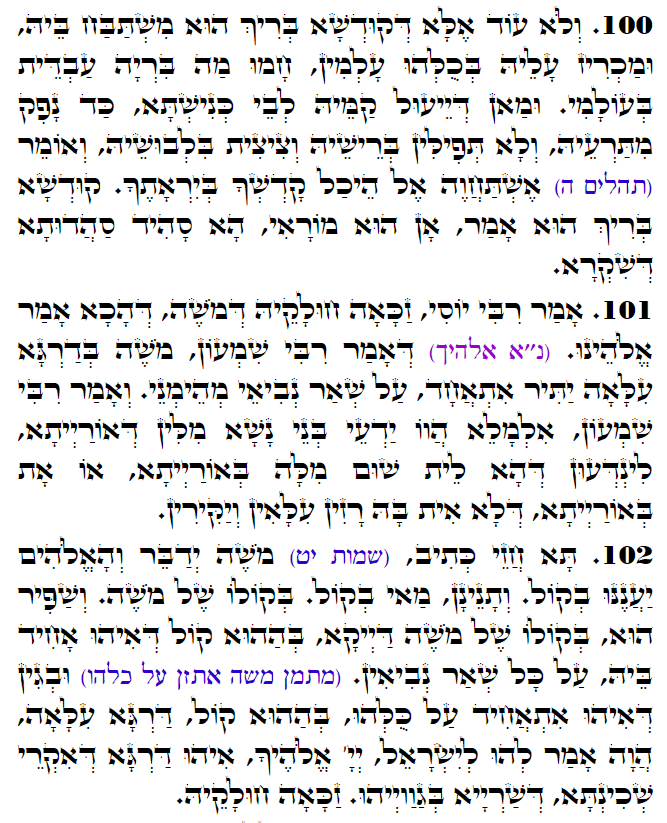 .
Hebrew translation:
100. וְלֹא עוֹד, אֶלָּא שֶׁהַקָּדוֹשׁ בָּרוּךְ הוּא מִשְׁתַּבֵּחַ בּוֹ וּמַכְרִיז עָלָיו בְּכָל הָעוֹלָמוֹת: רְאוּ אֵיזוֹ בְּרִיָּה בָּרָאתִי בְּעוֹלָמִי! וּמִי שֶׁיִּכָּנֵס לְפָנָיו לְבֵית הַכְּנֶסֶת, כְּשֶׁיּוֹצֵא מֵהַשַּׁעַר שֶׁלּוֹ וְאֵין תְּפִלִּין בְּרֹאשׁוֹ וְצִיצִית בִּלְבוּשׁוֹ, וְאוֹמֵר (תהלים ה) אֶשְׁתַּחֲוֶה אֶת הֵיכַל קָדְשְׁךָ בְּיִרְאָתֶךָ – הַקָּדוֹשׁ בָּרוּךְ הוּא אוֹמֵר: אַיֵּה הוּא מוֹרָאִי? הֲרֵי מֵעִיד עֵדוּת שֶׁקֶר!
101. אָמַר רַבִּי יוֹסֵי, אַשְׁרֵי חֶלְקוֹ שֶׁל מֹשֶׁה, שֶׁכָּאן אָמַר אֱלֹהֵינוּ (אֱלֹהֶיךָ). שֶׁאָמַר רַבִּי שִׁמְעוֹן, מֹשֶׁה נֶאֱחַז בְּדַרְגָּה יוֹתֵר עֶלְיוֹנָה עַל שְׁאָר הַנְּבִיאִים הַנֶּאֱמָנִים. וְאָמַר רַבִּי שִׁמְעוֹן, אִלְמָלֵא הָיוּ יוֹדְעִים בְּנֵי אָדָם דִּבְרֵי תוֹרָה, שֶׁיֵּדְעוּ שֶׁהֲרֵי אֵין שׁוּם דָּבָר אוֹ אוֹת בַּתּוֹרָה שֶׁאֵין בָּהּ סוֹדוֹת עֶלְיוֹנִים וְנִכְבָּדִים.
102. בֹּא וּרְאֵה, כָּתוּב (שמות יט) מֹשֶׁה יְדַבֵּר וְהָאֱלֹהִים יַעֲנֶנּוּ בְקוֹל. וְשָׁנִינוּ, מַה זֶּה בְקוֹל? בְּקוֹלוֹ שֶׁל מֹשֶׁה. וְיָפֶה הוּא. דַּוְקָא בְּקוֹלוֹ שֶׁל מֹשֶׁה, בְּאוֹתוֹ קוֹל שֶׁהוּא אָחוּז בּוֹ עַל כָּל שְׁאָר הַנְּבִיאִים. (מִשָּׁם מֹשֶׁה נִזּוֹן עַל כֻּלָּם) וּמִשּׁוּם שֶׁהוּא נֶאֱחָז עַל כֻּלָם בְּאוֹתוֹ קוֹל, דַּרְגָּה עֶלְיוֹנָה, הָיָה אוֹמֵר לְיִשְׂרָאֵל: ה' אֱלֹהֶיךָ. הִיא דַּרְגָּה שֶׁנִּקְרֵאת שְׁכִינָה, שֶׁשּׁוֹרָה בְתוֹכָם. אַשְׁרֵי חֶלְקוֹ.
.
Zohar Vaetchanan
Continued from previous DZ
#100
The Holy One Blessed be He commends the person that merit to come into his palace and announces in all worlds about the work of his servant. Those who come to pray in the synagogue and say the following verse without proper preparation or fear and awe to YHVH, the Holy One Blessed be He considers this person as giving a false testimony.
Psalms 5:8
"וַאֲנִי בְּרֹב חַסְדְּךָ אָבוֹא בֵיתֶךָ אֶשְׁתַּחֲוֶה אֶל הֵיכַל קָדְשְׁךָ בְּיִרְאָתֶךָ."
"But I, through the abundance of your steadfast love, will enter your house. I will bow down toward your holy temple in the fear of you."
#101
Rabbi Shimon says that Moses was on a supernal level that is above all other great prophets. Rabbi Yosei says that for that, Moses was honored to bring the Shema Israel in the Torah. Rabbi Shimon adds that if people knew the Torah, they would know that there is no word of letter that doesn't have in it great and precious supernal secrets.
#102
Exodus 19:19
"וַיְהִי קוֹל הַשּׁוֹפָר הוֹלֵךְ וְחָזֵק מְאֹד מֹשֶׁה יְדַבֵּר וְהָאֱלֹהִים יַעֲנֶנּוּ בְקוֹל."
"And as the sound of the Shofar grew louder and louder, Moses spoke, and God answered him in the thunder."
The Zohar explains that 'and God answered him in the thunder', tells that God used the voice of Moses to deliver his words. Moses was on the level of Zeir Anpin that is above all prophets that are on the level of Malchut.
When Moses was speaking to the Israelites referring to "YHVH, your God" that is the Shechina in Malchut, he spoke from the level of Zeir Anpin that he was connect to.
{||}