Daily Zohar # 3148 – Vaetchanan – Study for prosperity and success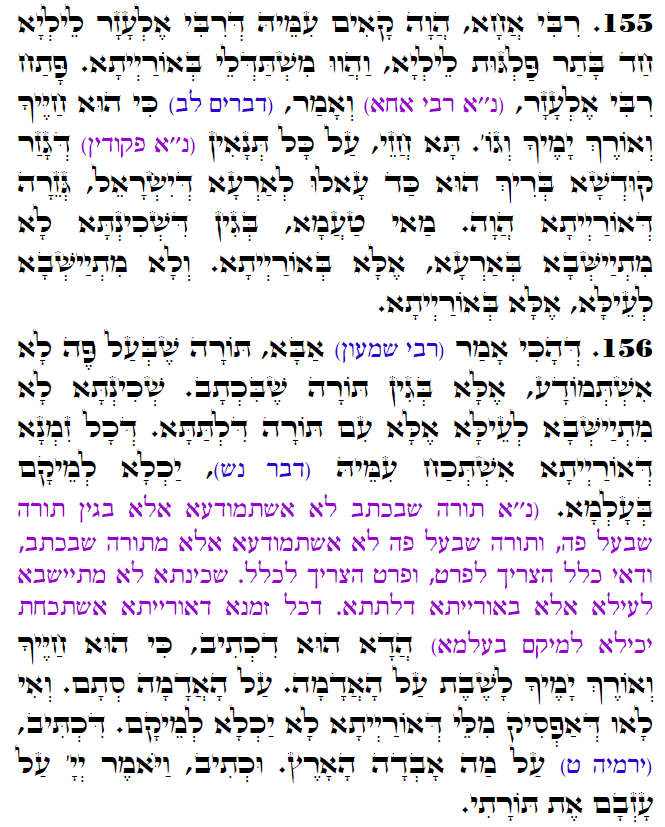 .
Hebrew translation:
155. רַבִּי אָחָא הָיָה עוֹמֵד עִם רַבִּי אֶלְעָזָר לַיְלָה אֶחָד אַחֲרֵי חֲצוֹת הַלַּיְלָה, וְהָיוּ עוֹסְקִים בַּתּוֹרָה. פָּתַח רַבִּי אֶלְעָזָר (רַבִּי אָחָא) וְאָמַר, (דברים ל) כִּי הוּא חַיֶּיךָ וְאֹרֶךְ יָמֶיךָ וְגוֹ'. בֹּא וּרְאֵה, עַל כָּל הַתְּנָאִים (הַמִּצְווֹת) שֶׁגָּזַר הַקָּדוֹשׁ בָּרוּךְ הוּא כְּשֶׁנִּכְנְסוּ לְאֶרֶץ יִשְׂרָאֵל, גְּזֵרַת הַתּוֹרָה הָיְתָה. מָה הַטַּעַם? מִשּׁוּם שֶׁהַשְּׁכִינָה לֹא מִתְיַשֶּׁבֶת בָּאָרֶץ אֶלָּא בַּתּוֹרָה, וְלֹא מִתְיַשֶּׁבֶת לְמַעְלָה אֶלָּא בַּתּוֹרָה.
156. שֶׁכָּךְ אָמַר (רַבִּי שִׁמְעוֹן) אַבָּא, תּוֹרָה שֶׁבְּעַל פֶּה לֹא נוֹדַעַת, אֶלָּא בִּשְׁבִיל תּוֹרָה שֶׁבִּכְתָב. הַשְּׁכִינָה לֹא מִתְיַשֶּׁבֶת לְמַעְלָה וּלְמַטָּה, אֶלָּא עִם הַתּוֹרָה שֶׁלְּמַטָּה. שֶׁכָּל זְמַן שֶׁהַתּוֹרָה נִמְצֵאת עִמּוֹ, יָכוֹל לַעֲמֹד בָּעוֹלָם. (תּוֹרָה שֶׁבִּכְתָב לֹא נוֹדַעַת אֶלָּא מִשּׁוּם תּוֹרָה שֶׁבְּעַל פֶּה, וְתוֹרָה שֶׁבְּעַל פֶּה לֹא נוֹדַעַת אֶלָּא מִתּוֹרָה שֶׁבִּכְתָב. וַדַּאי כְּלָל הַצָּרִיךְ לִפְרָט, וּפְרָט הַצָּרִיךְ לִכְלָל. הַשְּׁכִינָה לֹא מִתְיַשֶּׁבֶת לְמַעְלָה אֶלָּא בַּתּוֹרָה שֶׁלְּמַטָּה. שֶׁכָּל זְמַן שֶׁהַתּוֹרָה נִמְצֵאת, יְכוֹלָה לְהִתְקַיֵּם בָּעוֹלָם) זֶהוּ שֶׁכָּתוּב כִּי הוּא חַיֶּיךָ וְאֹרֶךְ יָמֶיךָ לָשֶׁבֶת עַל הָאֲדָמָה. עַל הָאֲדָמָה סְתָם. וְאִם לֹא שֶׁמַּפְסִיק דִּבְרֵי תוֹרָה, לֹא יָכוֹל לַעֲמֹד, שֶׁכָּתוּב (ירמיה ט) עַל מָה אָבְדָה הָאָרֶץ. וְכָתוּב, וַיֹּאמֶר ה' עַל עָזְבָם אֶת תּוֹרָתִי.
.
Zohar Vaetchanan
#155
Rabbi Echa and rabbi Elazar were studying Torah after midnight.
Deuteronomy 30:20
"לְאַהֲבָה אֶת יְהוָה אֱלֹהֶיךָ לִשְׁמֹעַ בְּקֹלוֹ וּלְדָבְקָה בוֹ כִּי הוּא חַיֶּיךָ וְאֹרֶךְ יָמֶיךָ לָשֶׁבֶת עַל הָאֲדָמָה אֲשֶׁר נִשְׁבַּע יְהוָה לַאֲבֹתֶיךָ לְאַבְרָהָם לְיִצְחָק וּלְיַעֲקֹב לָתֵת לָהֶם."
"loving YHVH your God, obeying his voice and holding fast to him, for he is your life and length of days, that you may dwell in the land that YHVH swore to your fathers, to Abraham, to Isaac, and to Jacob, to give them."
Rabbi Elazar quotes this verse and says that out of all the precepts that the Holy One Blessed be He commanded the Israelites when they entered the land of Israel, the command of studying the Torah is above all. The reason for that is that the Shechina connects to the land is only with the Torah. The connection of the Shechina above to Zeir Anpin is also through the Torah.
#156
Rabbi Elazar shares his father's words, saying that the oral Torah is the aspect of the Shechina and would not be known without the written Torah that is the aspect of Zeir Anpin. The Shechina can connect above only when the Torah is studied below and that is what keeps the Shechinah present in this world.
Jeremiah 9:11, 12
"מִי הָאִישׁ הֶחָכָם וְיָבֵן אֶת זֹאת וַאֲשֶׁר דִּבֶּר פִּי יְהוָה אֵלָיו וְיַגִּדָהּ עַל מָה אָבְדָה הָאָרֶץ נִצְּתָה כַמִּדְבָּר מִבְּלִי עֹבֵר."
Who is the wise man that may understand this? And who is he to whom the mouth of YHVH has spoken, that he may declare it? Why is the land ruined, laid waste like a desert, so that no one passes through?
"וַיֹּאמֶר יְהוָה עַל עָזְבָם אֶת תּוֹרָתִי אֲשֶׁר נָתַתִּי לִפְנֵיהֶם וְלֹא שָׁמְעוּ בְקוֹלִי וְלֹא הָלְכוּ בָהּ."
"YHVH said, "Because they have forsaken My Torah, which I set before them, and have not obeyed My voice nor walked according to it,"
The prophet Jeremiah challenges the people to understand that the 'Land' was ruined because they abandoned the Torah and lost the connection to the Shechina.
Lesson;
The Torah is our connection to Tree of Life where we get all the nourishment we need in this world for sustenance and success.
The first thing God told Joshua after he received the leadership from Moses is;
Joshua 1:8
"לֹא-יָמוּשׁ סֵפֶר הַתּוֹרָה הַזֶּה מִפִּיךָ, וְהָגִיתָ בּוֹ יוֹמָם וָלַיְלָה, לְמַעַן תִּשְׁמֹר לַעֲשׂוֹת, כְּכָל-הַכָּתוּב בּוֹ: כִּי-אָז תַּצְלִיחַ אֶת-דְּרָכֶךָ, וְאָז תַּשְׂכִּיל"
"This Book of the Torah shall not depart from your mouth, but you shall meditate on it day and night, so that you may be careful to do according to all that is written in it. For then you will make your way prosperous, and then you will have good success."
The Daily Zohar should be one resource of your daily routine to study and connect to the Torah and the Shechina. Use the Unity Zohar app to make additional connections to the Torah wherever you are. As God told Joshua, prosperity and success depend on studying and following the Torah.
{||}