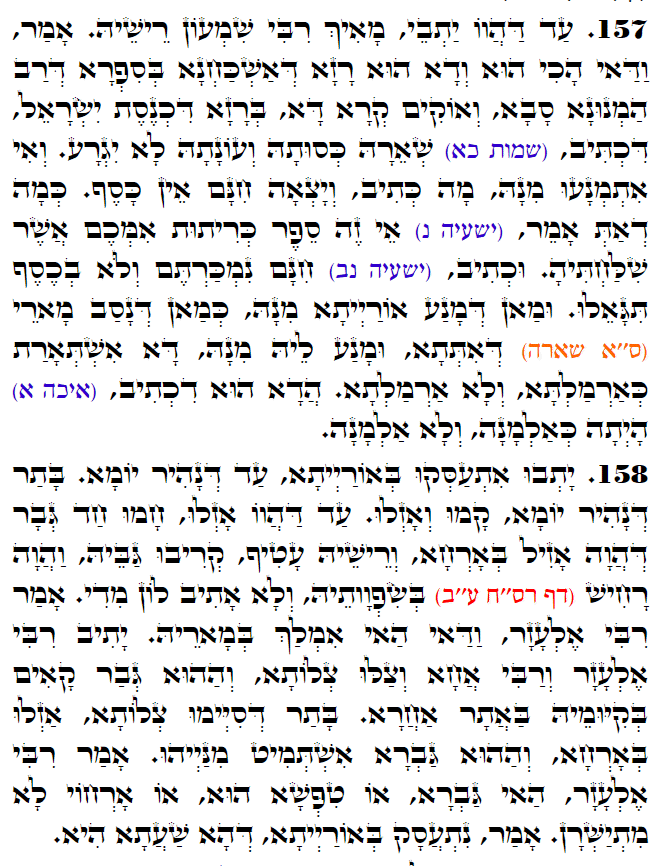 .
Hebrew translation:
157. בְּעוֹדָם יוֹשְׁבִים, הִנְמִיךְ רַבִּי שִׁמְעוֹן אֶת רֹאשׁוֹ וְאָמַר, וַדַּאי כָּךְ הוּא, וְזֶהוּ הַסּוֹד שֶׁמָּצָאנוּ בְּסִפְרוֹ שֶׁל רַב הַמְנוּנָא סָבָא, וּבֵאֵר הַפָּסוּק הַזֶּה בְּסוֹד שֶׁל כְּנֶסֶת יִשְׂרָאֵל, שֶׁכָּתוּב (שמות כא) שְׁאֵרָהּ כְּסוּתָהּ וְעֹנָתָהּ לֹא יִגְרָע. וְאִם מוֹנְעִים מִמֶּנָּה, מַה כָּתוּב? וְיָצְאָה חִנָּם אֵין כָּסֶף, כְּמוֹ שֶׁנֶּאֱמַר (ישעיה נ) אֵי זֶה סֵפֶר כְּרִיתוּת אִמְּכֶם אֲשֶׁר שִׁלַּחְתִּיהָ. וְכָתוּב (שם נב) חִנָּם נִמְכַּרְתֶּם וְלֹא בְכֶסֶף תִּגָּאֵלוּ. וּמִי שֶׁמּוֹנֵעַ מִמֶּנָּה תּוֹרָה, כְּמִי שֶׁלּוֹקֵחַ בַּעַל (שְׁאֵרָהּ) שֶׁל אִשָּׁה וּמוֹנֵעַ אוֹתוֹ מִמֶּנָּה. זוֹ נִשְׁאֶרֶת כְּאַלְמָנָה, וְלֹא אַלְמָנָה. זֶהוּ שֶׁכָּתוּב (איכה א) הָיְתָה כְּאַלְמָנָה, וְלֹא אַלְמָנָה.
158. יָשְׁבוּ וְהִתְעַסְּקוּ בַתּוֹרָה עַד שֶׁהֵאִיר הַיּוֹם. אַחַר שֶׁהֵאִיר הַיּוֹם, קָמוּ וְהָלְכוּ. עַד שֶׁהָיוּ הוֹלְכִים, רָאוּ אִישׁ אֶחָד שֶׁהָיָה הוֹלֵךְ בַּדֶּרֶךְ וְרֹאשׁוֹ עָטוּף. קָרְבוּ אֵלָיו, וְהָיָה מְרַחֵשׁ בְּשִׂפְתוֹתָיו וְלֹא הֵשִׁיב לָהֶם דָּבָר. אָמַר רַבִּי אֶלְעָזָר, וַדַּאי זֶה נִמְלָךְ בְּרִבּוֹנוֹ. יָשְׁבוּ רַבִּי אֶלְעָזָר וְרַבִּי אָחָא וְהִתְפַּלְלוּ תְפִלָּה, וְאוֹתוֹ הָאִישׁ עָמַד בִּמְקוֹמוֹ בְּמָקוֹם אַחֵר. אַחַר שֶׁסִּיְּמוּ הַתְּפִלָּה הָלְכוּ לַדֶּרֶךְ, וְאוֹתוֹ הָאִישׁ נִשְׁמַט מֵהֶם. אָמַר רַבִּי אֶלְעָזָר, הָאִישׁ הַזֶּה, אוֹ שֶׁהוּא טִפֵּשׁ, אוֹ שֶׁדְּרָכָיו לֹא יְשָׁרוֹת. אָמַר, נִתְעַסֵּק בַּתּוֹרָה, שֶׁהֲרֵי הַשָּׁעָה הִיא לָזֶה.
.
Zohar Vaetchanan
DZ 3149
#157
Exodus 21:10,11
"אִם-אַחֶרֶת, יִקַּח-לוֹ–שְׁאֵרָהּ כְּסוּתָהּ וְעֹנָתָהּ, לֹא יִגְרָע"
"If he takes to himself another woman, he may not reduce her food, her clothing, or her conjugal rights."
"וְאִם שְׁלָשׁ אֵלֶּה לֹא יַעֲשֶׂה לָהּ וְיָצְאָה חִנָּם אֵין כָּסֶף."
"If he will not do these three things for her, then she will go out for nothing, without payment of money."
Rabbi Shimon shares that he found in the book of Rav Hamnuna Sava that this verse is also related to the Shechina. With the study of Torah, the Shechina receives the three things required to keep her connected to us.
Without the study of Torah, it's said "she will go out for nothing" and divorce us "without payment of money"
Isaiah 50:1
"כֹּה אָמַר יְהוָה, אֵי זֶה סֵפֶר כְּרִיתוּת אִמְּכֶם אֲשֶׁר שִׁלַּחְתִּיהָ, אוֹ מִי מִנּוֹשַׁי, אֲשֶׁר-מָכַרְתִּי אֶתְכֶם לוֹ; הֵן בַּעֲו‍ֹנֹתֵיכֶם נִמְכַּרְתֶּם, וּבְפִשְׁעֵיכֶם שֻׁלְּחָה אִמְּכֶם"
"Thus says YHVH: "Where is your mother's certificate of divorce, with which I sent her away? Or which of my creditors is it to whom I have sold you? Behold, for your iniquities you were sold, and for your transgressions, your mother was sent away."
Rabbi Shimon explains that whoever prevents the Torah from connection to the Shechina in Malchut is like a person who separates a husband (Torah, Zeir Anpin) from his wife (Malchut, Shechina). Then the Shechina is like a widow as it says in Lamentation 1:1 "She who was once great among the nations now sits alone like a widow."
#158
They continue the study until first daylight, then left. On their way, they saw a man with his head wrapped. They came close to him and saw his lips moving but he ignored them. Rabbi Elazar said that he may be praying. He and Rabbi Echa stopped and made their prayers. That man also stopped nearby. They finished their prayers and continued on their way and that man went away. Rabbi Elazar said that this man is a fool or a dishonest person. Then he said it's time to study Torah.
{||}