Daily Zohar # 4020 – Balak – Other Gods
Daily Zohar 4020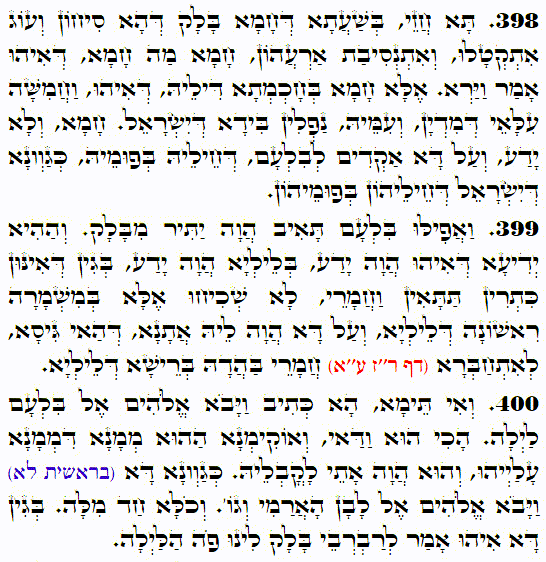 Hebrew translation:
398. בֹּא וּרְאֵה, בְּשָׁעָה שֶׁרָאָה בָלָק שֶׁסִּיחוֹן וְעוֹג נֶהֶרְגוּ וְאַרְצָם נִלְקְחָה, רָאָה מַה שֶּׁרָאָה, שֶׁהוּא אָמַר וַיַּרְא. אֶלָּא רָאָה בְחָכְמָתוֹ שֶׁהוּא, וַחֲמִשָּׁה עֶלְיוֹנֵי מִדְיָן וְעַמּוֹ נוֹפְלִים בִּידֵי יִשְׂרָאֵל. רָאָה וְלֹא יָדַע. וְעַל זֶה הִקְדִּים לְבִלְעָם, שֶׁכֹּחוֹ בְּפִיו, כְּמוֹ שֶׁיִּשְׂרָאֵל כֹּחָם בְּפִיהֶם.
399. וַאֲפִלּוּ בִּלְעָם הָיָה תָּאֵב יוֹתֵר מִבָּלָק, וְאוֹתָהּ יְדִיעָה שֶׁהוּא יָדַע הָיָה יוֹדֵעַ בַּלַּיְלָה, מִשּׁוּם שֶׁאוֹתָם כְּתָרִים תַּחְתּוֹנִים וַחֲמוֹרִים לֹא נִמְצָאִים אֶלָּא בַּמִּשְׁמָרָה הָרִאשׁוֹנָה שֶׁל הַלַּיְלָה, וְלָכֵן הָיְתָה לוֹ אָתוֹן שֶׁל צַד זֶה, לְהִתְחַבֵּר חֲמוֹרִים אִתָּהּ בְּרֵאשִׁית הַלַּיְלָה.
400. וְאִם תֹּאמַר, הֲרֵי כָּתוּב וַיָּבֹא אֱלֹהִים אֶל בִּלְעָם לַיְלָה? כָּךְ זֶה בְּוַדַּאי. וּבֵאַרְנוּ, אוֹתוֹ מְמֻנֶּה שֶׁמְּמֻנֶּה עֲלֵיהֶם, וְהוּא בָּא לְמוּלוֹ. כְּגוֹן זֶה, (בראשית לא) וַיָּבֹא אֱלֹהִים אֶל לָבָן הָאֲרַמִּי וְגוֹ'. וְהַכֹּל דָּבָר אֶחָד. בִּגְלַל זֶה הוּא אָמַר לִגְדוֹלֵי בָלָק לִינוּ פֹה הַלַּיְלָה.
.
Today, August 5th, is my birthday (Gregorian calendar). Hebrew date is 24th of Av. It would be a great gift to share the Daily Zohar, and or any of your favorite study channels with a friend and or post a link to your favorite social network. We need more 'candles' of Light shining in the world. If would add merit me, you, and those who make a connection to the Zohar.
Zohar Balak
Continued from previous DZ
#398
Numbers 22:2
"וַיַּרְא בָּלָק בֶּן צִפּוֹר אֵת כָּל אֲשֶׁר עָשָׂה יִשְׂרָאֵל לָאֱמֹרִי."
"Now Balak, the son of Zippor, saw all that Israel had done to the Amorites."
Balak saw that Sihon and Og were killed by Israel, and their lands were taken. The Zohar asks, what does it mean, "and he saw,"?. He saw in his wisdom (Chokmah) that he, his people, and the five rulers of Midian would fall into the hands of Israel.
He was not certain about this vision. So he called Balaam, which has power in his mouth to bless and curse, just as Israel has power in their mouth.
#399
Even though Balaam was more abominable than Balak, his knowledge would come only at night. Because the lower sefirot and donkeys of the Klipa are not found except in the first part of the night. In the first part of the night the donkeys bray. That is why Balaam had a female donkey (Jenny) so that the donkeys would connect with her at the beginning of the night.
#400
Numbers 22:35
"וַיָּבֹא אֱלֹהִים אֶל בִּלְעָם לַיְלָה וַיֹּאמֶר לוֹ אִם לִקְרֹא לְךָ בָּאוּ הָאֲנָשִׁים קוּם לֵךְ אִתָּם וְאַךְ אֶת הַדָּבָר אֲשֶׁר אֲדַבֵּר אֵלֶיךָ אֹתוֹ תַעֲשֶׂה."
"And God came to Balaam at night and said to him, "If the men come to call you, rise and go with them; but only the word which I speak to you—that you shall do."
It is written, "And God came to Balaam at night." He sure is, but as we learned, it was his appointed minister who then came to him. We also read a similar call;
Genesis 31:24
"וַיָּבֹא אֱלֹהִים אֶל לָבָן הָאֲרַמִּי בַּחֲלֹם הַלָּיְלָה וַיֹּאמֶר לוֹ הִשָּׁמֶר לְךָ פֶּן תְּדַבֵּר עִם יַעֲקֹב מִטּוֹב עַד רָע."
"But God had come to Laban the Aramean in a dream by night and said to him, "Be careful that you speak to Jacob neither good nor bad."
And it is all one thing, here the name 'God' is related to their minister, because 'God' is a common name even for humans. That's why he told Balak to stay here tonight.
Lesson;
The first commandment tells us that YHVH is our God, and we should not follow any other Gods,
Exodus 20:2
"אָנֹכִי יְהוָה אֱלֹהֶיךָ אֲשֶׁר הוֹצֵאתִיךָ מֵאֶרֶץ מִצְרַיִם מִבֵּית עֲבָדִים לֹא יִהְיֶה לְךָ אֱלֹהִים אֲחֵרִים עַל פָּנָי."
"I am the LORD your God, who brought you out of the land of Egypt, out of the house of bondage. You shall have no other gods before Me."
The Zohar explains that 70 ministers were appointed to the other nations. They are in the aspect of God that rules over 'his' nation.
The children of Israel are directly under YHVH, while the other nations have their 'appointed' minister/God. When people put their faith in any other 'God,' they disconnect from YHVH and are at the mercy of other gods rather than the supreme and merciful King.
Unfortunately, many people, especially rich people that call themselves 'elite,' found a connection to their other gods and wished to overthrow the supreme King.
They promote abortion and transgender to stop the continuation of Life and Light in the world. They corrupt the young to follow their false Gods. They push sex on kids to draw their energy. Basically, they want to enslave humanity under their control. That is why they destroy economies around the world to make only two levels, rich and poor, with nothing in between. Their pure evil spreads everywhere, and we should not listen to or follow any of their lies.
Our supreme King allows this situation to happen so we can have the ultimate freedom to choose him, despite the stress and pain that good people all over the world go through.
All challenges push us to grow our vessel and make it ready for the great Light that would appear soon, B"H. Those with the proper vessel would benefit, and the evil would be wiped out from existence. We keep the certainty in Hashem and keep moving with and toward the Light, no matter how difficult it is.
Great nations of the past come and go, but the people of Hashem are still strong in the world.
Zecharia 8:23
"כֹּה אָמַר יְהוָה צְבָאוֹת בַּיָּמִים הָהֵמָּה אֲשֶׁר יַחֲזִיקוּ עֲשָׂרָה אֲנָשִׁים מִכֹּל לְשֹׁנוֹת הַגּוֹיִם וְהֶחֱזִיקוּ בִּכְנַף אִישׁ יְהוּדִי לֵאמֹר נֵלְכָה עִמָּכֶם כִּי שָׁמַעְנוּ אֱלֹהִים עִמָּכֶם."
"This is what YHVH of Hosts says: "In those days, ten men from the nations of every tongue will tightly grasp the robe of a Jew, saying, 'Let us go with you, for we have heard that God is with you.' "
---
Friday would be a good day to make a ** Donation, especially if you didn't donate in the past week. Giving on Friday, which is an aspect of Yessod, expands the vessel for the Light and honor of Shabbat.
Venmo: @Zion-Nefesh, Zelle (917) 575-7563
** Your donation doesn't have to be given to the same place weekly. You can alternate or split your donation among those who benefit you spiritually.