Daily Zohar – Tikunim – #614 – Cleanup your mirror
Click here to listen to the Daily Zohar [audio:https://dailyzohar.com/wp-content/uploads/audio/dz614.mp3|titles=Daily Zohar 614]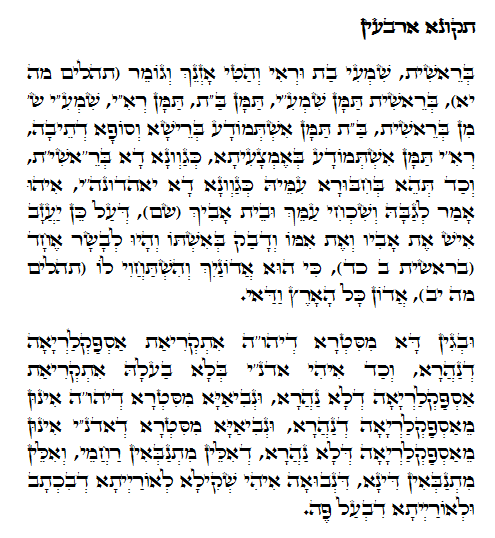 Hebrew translation:
תִּקּוּן אַרְבָּעִים
בְּרֵאשִׁית, שִׁמְעִי בַת וּרְאִי וְהַטִּי אָזְנֵךְ וְגוֹמֵר, בְּרֵאשִׁית שָׁם שִׁמְעִ"י, שָׁם בַּ"ת, שָׁם רְאִ"י, שִׁמְעִ"י ש' מִן בְּרֵאשִׁית, בַּ"ת שָׁם נוֹדָע בְּרֹאשׁ וְסוֹף הַתֵּבָה, רְאִ"י שָׁם נוֹדָע בָּאֶמְצַע, כְּמוֹ זֶה בְּרֵאשִׁי"ת, וּכְשֶׁתִּהְיֶה עִמּוֹ בְּחִבּוּר כְּמוֹ זֶה: יאהדונה"י, הוּא אוֹמֵר לָהּ וְשִׁכְחִי עַמֵּךְ וּבֵית אָבִיךְ, שֶׁעַל כֵּן יַעֲזָב אִישׁ אֶת אָבִיו וְאֶת אִמּוֹ וְדָבַק בְּאִשְׁתּוֹ וְהָיוּ לְבָשָׂר אֶחָד, כִּי הוּא אֲדוֹנַיִךְ וְהִשְׁתַּחֲוִי לוֹ, אֲדוֹן כָּל הָאָרֶץ וַדַּאי.
וּמִשּׁוּם זֶה מִצַּד שֶׁל יהו"ה נִקְרֵאת הָאַסְפַּקְלַרְיָה הַמְּאִירָה, וּכְשֶׁאדנ"י הִיא, בְּלִי בַעְלָהּ, נִקְרֵאת אַסְפַּקְלַרְיָה שֶׁאֵינָהּ מְאִירָה, וְהַנְּבִיאִים מִצַּד שֶׁל יהו"ה הֵם אַסְפַּקְלַרְיָה שֶׁמְּאִירָה, וּנְבִיאִים מִצַּד שֶׁל אדנ"י הֵם מִן הָאַסְפַּקְלַרְיָה שֶׁאֵינָהּ מְאִירָה, שֶׁאֵלּוּ מִתְנַבְּאִים רַחֲמִים, וְאֵלּוּ מִתְנַבְּאִים דִּין, שֶׁהַנְּבוּאָה שְׁקוּלָה לַתּוֹרָה שֶׁבִּכְתָב וְלַתּוֹרָה שֶׁבְּעַל פֶּה.
Tikkun 40 – 1
בְּרֵאשִׁית, "In The Beginning", has the letter ש, Shin, and two words, ראי, "mirror" and בת, "Daughter". Mirror is the aspect of the light reflected in Malchut, which is the 'daughter'.
No light can be revealed in Malchut unless it is reflected. The same is true in the spiritual and the physical level. This is the aspect of 'Mirror' and the name ADNY that represents the light in Malchut, the 'daughter'.
There were prophets that could see the light reflected from the mirror. Their prophecies were of mercy and compassion. The prophets who did not see the Light reflect in the mirror told prophecies of judgment.
The Zohar teaches us that prophecy is the written Torah and the oral Torah. When we study the oral Torah, which is the secrets of the Zohar, we reveal light in our life and it brings Chassadim and compassion into our lives.
{||}