Daily Zohar – Tikunim – # 693 – Two 'rights' can make wrong
Click here to listen to the Daily Zohar [audio:https://dailyzohar.com/wp-content/uploads/audio/dz693.mp3|titles=Daily Zohar 693]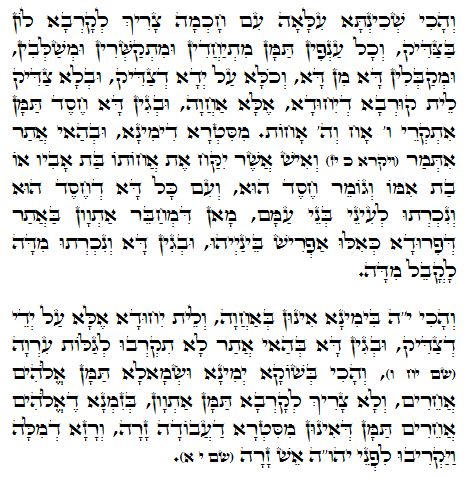 Hebrew translation:
וְכָךְ הַשְּׁכִינָה הָעֶלְיוֹנָה עִם חָכְמָה, צָרִיךְ לְקָרְבָם לַצַּדִּיק וְכָל הָעֲנָפִים שָׁם מִתְיַחֲדִים וְנִקְשָׁרִים וּמְשֻׁלָּבִים, וּמְקַבְּלִים זֶה מִזֶּה, וְהַכֹּל עַל יְדֵי הַצַּדִּיק, וּבְלִי צַדִּיק אֵין קִרְבַת הַיִּחוּד אֶלָּא אַחֲוָה, וּמִשּׁוּם זֶה חֶסֶד שָׁם נִקְרָא ו' אָח וְה' אָחוֹת, מִצַּד הַיָּמִין, וּבַמָּקוֹם הַזֶּה נֶאֱמַר וְאִישׁ אֲשֶׁר יִקַּח אֶת אֲחוֹתוֹ בַּת אָבִיו אוֹ בַת אִמּוֹ וְגוֹמֵר, חֶסֶד הוּא, וְעִם כָּל זֶה שֶׁחֶסֶד הוּא, וְנִכְרְתוּ לְעֵינֵי בְּנֵי עַמָּם. מִי שֶׁמְּחַבֵּר אוֹתִיּוֹת בְּמָקוֹם שֶׁל פֵּרוּד, כְּאִלּוּ הִפְרִיד בֵּינֵיהֶן, וּמִשּׁוּם כָּךְ וְנִכְרְתוּ, מִדָּה כְּנֶגֶד מִדָּה.
וְכָךְ י"ה בְּיָמִין הֵם בְּאַחֲוָה, וְאֵין יִחוּד אֶלָּא עַל יְדֵי צַדִּיק, וּמִשּׁוּם זֶה בַּמָּקוֹם הַזֶּה לֹא תִקְרְבוּ לְגַלּוֹת עֶרְוָה, וְכָךְ בְּשׁוֹק יָמִין וּשְׂמֹאל שָׁם אֱלֹהִים אֲחֵרִים, וְלֹא צָרִיךְ לְקָרֵב שָׁם אוֹתִיּוֹת בִּזְמַן שֶׁאֱלֹהִים אֲחֵרִים שָׁם, שֶׁהֵם מִצַּד שֶׁל עֲבוֹדָה זָרָה, וְסוֹד הַדָּבָר – וַיַּקְרִיבוּ לִפְנֵי יהו"ה אֵשׁ זָרָה.
Tikkun 56 – 6
Leviticus 20:17
"וְאִישׁ אֲשֶׁר-יִקַּח אֶת-אֲחֹתוֹ בַּת-אָבִיו אוֹ בַת-אִמּוֹ וְרָאָה אֶת-עֶרְוָתָהּ וְהִיא-תִרְאֶה אֶת-עֶרְוָתוֹ, חֶסֶד הוּא–וְנִכְרְתוּ, לְעֵינֵי בְּנֵי עַמָּם; עֶרְוַת אֲחֹתוֹ גִּלָּה, עֲו‍ֹנוֹ יִשָּׂא."
"And if a man shall take his sister, his father's daughter, or his mother's daughter, and see her nakedness, and she see his nakedness: it is a shameful thing; and they shall be cut off in the sight of the children of their people: he hath uncovered his sister's nakedness; he shall bear his iniquity."
This verse could confuse us a little bit. It says that if a man takes his sister from father or mother it is right column of Chessed and it is punishable by complete disconnection from the light. 'they shall be cut off …'.
The Zohar teaches us that because they are both from the same line, there is no revelation of light and it is forbidden. We know from experience that marrying a close relative results in corruption of the DNA that affects the physical and mental manifestation of the relationship.
{||}