Daily Zohar – Tikunim – # 849 – The elixir of life
Click here to listen to the Daily Zohar [audio:https://dailyzohar.com/wp-content/uploads/audio/dz849.mp3|titles=Daily Zohar 849]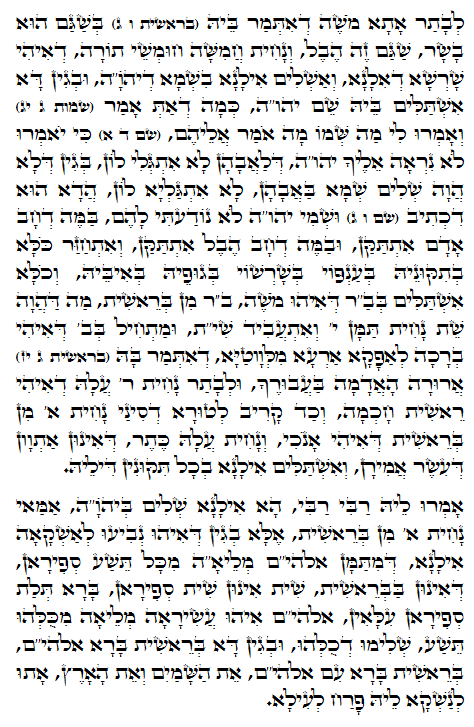 Hebrew translation:
אַחַר כָּךְ בָּא מֹשֶׁה שֶׁנֶּאֱמַר בּוֹ בְּשַׁגַּם הוּא בָשָׂר, שַׁגַּם זֶה הֶבֶל, וְהוֹרִיד חֲמִשָּׁה חֻמְשֵׁי תוֹרָה, שֶׁהִיא שֹׁרֶשׁ הָאִילָן, וְהִשְׁלִים אֶת הָאִילָן בַּשֵּׁם שֶׁל יהו"ה, וּמִשּׁוּם זֶה הִשְׁתַּלֵּם בּוֹ שֵׁם יהו"ה, כְּמוֹ שֶׁנֶּאֱמַר וְאָמְרוּ לִי מַה שְּׁמוֹ מָה אֹמַר אֲלֵיהֶם, כִּי יֹאמְרוּ לֹא נִרְאָה אֵלֶיךָ יהו"ה, שֶׁלָּאָבוֹת לֹא הִתְגַּלָּה לָהֶם, מִשּׁוּם שֶׁהַשֵּׁם לֹא הָיָה שָׁלֵם, בָּאָבוֹת לֹא הִתְגַּלָּה לָהֶם, זֶהוּ שֶׁכָּתוּב וּשְׁמִי יהו"ה לֹא נוֹדַעְתִּי לָהֶם, בְּמַה שֶּׁחָטָא אָדָם הִתְתַּקֵּן, וּבְמַה שֶּׁחָטָא הֶבֶל הִתְתַּקֵּן, וְחָזַר הַכֹּל בְּתִקּוּנוֹ בַּעֲנָפָיו, בְּשָׁרָשָׁיו, בְּגוּפוֹ, בְּפִרְיוֹ, וְהַכֹּל הִשְׁתַּלֵּם בְּבַ"ר שֶׁהוּא מֹשֶׁה, ב"ר מִן בְּרֵאשִׁית, מַה שֶּׁהָיָה שֵׁת יָרְדָה לְשָׁם י' וְנַעֲשֶׂה שִׁי"ת, וּמַתְחִיל בְּב' שֶׁהִיא בְרָכָה לְהוֹצִיא אֶת הָאָרֶץ מִקִּלְלָתָהּ, שֶׁנֶּאֱמַר בָּהּ אֲרוּרָה הָאֲדָמָה בַּעֲבוּרֶךָ, וְאַחַר יָרְדָה ר' עָלֶיהָ, שֶׁהִיא רֵאשִׁית חָכְמָה, וּכְשֶׁקָּרַב לְהַר סִינַי, יָרְדָה א' מִן בְּרֵאשִׁית, שֶׁהִיא אָנֹכִי, וְיָרַד עָלֶיהָ הַכֶּתֶר, שֶׁהֵן הָאוֹתִיּוֹת שֶׁל עֶשֶׂר אֲמִירוֹת, וְהִשְׁתַּלֵּם הָאִילָן בְּכָל הַתִּקּוּנִים שֶׁלּוֹ.
אָמְרוּ לוֹ: רַבִּי רַבִּי, הֲרֵי הָאִילָן שָׁלֵם בְּיהו"ה, לָמָּה יָרְדָה א' מִן בְּרֵאשִׁית? אֶלָּא מִשּׁוּם שֶׁהוּא מַעְיָן לְהַשְׁקוֹת אֶת הָאִילָן, שֶׁמִּשָּׁם אֱלֹהִי"ם מְלֵיאָ"ה מִכָּל תֵּשַׁע הַסְּפִירוֹת, שֶׁהֵם בִּבְרֵאשִׁית, שֵׁשׁ הֵן שֵׁשׁ הַסְּפִירוֹת, בָּרָא, שָׁלֹשׁ סְפִירוֹת הָעֶלְיוֹנוֹת, אֱלֹהִי"ם הִיא הָעֲשִׂירִית מְלֵיאָה מִכָּל הַתֵּשַׁע, הַשְּׁלֵמוּת שֶׁל כֻּלָּם, וּמִשּׁוּם זֶה בְּרֵאשִׁית בָּרָא אֱלֹהִי"ם, בְּרֵאשִׁית בָּרָא עִם אֱלֹהִי"ם, אֵת הַשָּׁמַיִם וְאֵת הָאָרֶץ. בָּאוּ לְנַשֵּׁק אוֹתוֹ וּפָרַח לְמַעְלָה.

Tikkun 69 – 89
Exodus 6:2
" וַיְדַבֵּר אֱלֹהִים, אֶל-מֹשֶׁה; וַיֹּאמֶר אֵלָיו, אֲנִי יְהוָה. "
"And God spoke unto Moses, and said unto him: 'I am YHVH"
Exodus 6:3
" וָאֵרָא, אֶל-אַבְרָהָם אֶל-יִצְחָק וְאֶל-יַעֲקֹב–בְּאֵל שַׁדָּי; וּשְׁמִי יְהוָה, לֹא נוֹדַעְתִּי לָהֶם"
"and I appeared unto Abraham, unto Isaac, and unto Jacob, as God Almighty, but by My name YHVH I made Me not known to them."
The three patriarchs corrected the sin of Adam and made connection to the YHV of the name but the complete revelation of the light was not possible until Moses came to take the people out of Egypt and bring down the Torah.
Before the process of the Ten Plagues began, God, YHVH, presented himself to Moses. It is kind of funny to think that God needed to present himself to a human being, no matter how high his soul was. Besides, God spoke to Moses for the first time through the 'Burning Bush'.
The first time God connected with Moses was with the aspect of Keter "I AM THAT I AM", "אהיה אשר אהיה". The name of Keter is AHYH and now God is revealed as Zeir Anpin with the YHVH name.
When Moses came to the world, it was ready for the complete revelation of YHVH.
Abraham, Isaac and Jacob established the channels to the Tree of Life but couldn't see the entire Tree in 'action'. God was revealed to them at the level of Chessed that is called 'אל שדי', 'God Almighty'.
Moses was incarnation of Abel and as we explained in previous commentary, he is the thread of Life from beginning to end. In his incarnation as Moses, he connected us to the spring of Life, which is the Torah that feeds the roots of the Tree, which is the H ה of Malchut.
The Zohar reveals us the secrets of the Torah and with that it draws the elixir of life to nourish us on the highest level.
{||}