Daily Zohar – Tikunim – # 873 – Do you know the name?
Click here to listen to the Daily Zohar [audio:https://dailyzohar.com/wp-content/uploads/audio/dz873.mp3|titles=Daily Zohar 873]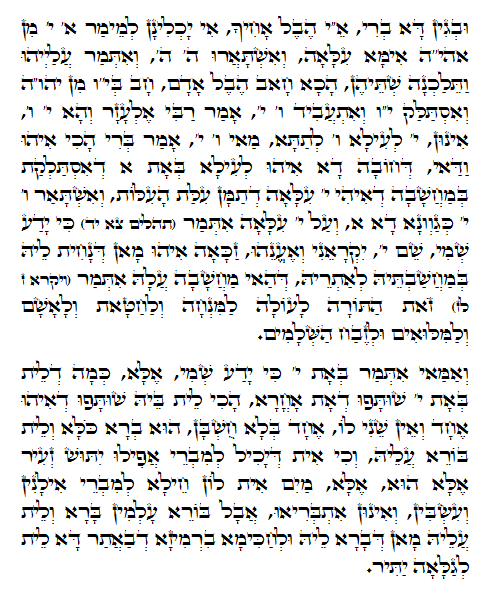 Hebrew translation:
וּמִשּׁוּם זֶה, בְּנִי, אֵ"י הֶבֶל אָחִיךָ, אִם יָכֹלְנוּ לוֹמַר א' י' מִן אהי"ה הָאֵם הָעֶלְיוֹנָה, וְנִשְׁאֲרוּ ה' ה', וְנֶאֱמַר עֲלֵיהֶן וַתֵּלַכְנָה שְׁתֵּיהֶן, כָּאן חָטָא הֶבֶל, אָדָם חָטָא בְּי"ו מִן יהו"ה וְהִסְתַּלֵּק י"ו וְנַעֲשָׂה ו' י'. אָמַר רַבִּי אֶלְעָזָר: וַהֲרֵי י' ו' הֵם י' לְמַעְלָה ו' לְמַטָּה, מַה זֶּה ו' י'? אָמַר: בְּנִי, כָּךְ זֶה וַדַּאי, שֶׁחֵטְא הַזֶּה הוּא לְמַעְלָה בָּאוֹת א שֶׁהִתְעַלְּתָה בַמַּחֲשָׁבָה, שֶׁהִיא י' הָעֶלְיוֹנָה, שֶׁשָּׁם עִלַּת הָעִלּוֹת, וְנִשְׁאֲרָה ו' י' כְּמוֹ זֶה: , וְעַל הַי' הָעֶלְיוֹנָה נֶאֱמַר כִּי יָדַע שְׁמִי, שֵׁם י', יִקְרָאֵנִי וְאֶעֱנֵהוּ. אַשְׁרֵי הוּא מִי שֶׁמּוֹרִיד אוֹתוֹ בְּמַחֲשַׁבְתּוֹ לִמְקוֹמוֹ, שֶׁעַל הַמַּחֲשָׁבָה הַזּוֹ נֶאֱמַר זֹאת הַתּוֹרָה לָעֹלָה לַמִּנְחָה וְלַחַטָּאת וְלָאָשָׁם וְלַמִּלּוּאִים וּלְזֶבַח הַשְּׁלָמִים.וְלָמָּה נֶאֱמַר בָּאוֹת י' כִּי יָדַע שְׁמִי? אֶלָּא, כְּמוֹ שֶׁאֵין בָּאוֹת י' שֻׁתָּפוּת שֶׁל אוֹת אַחֶרֶת, כָּךְ אֵין בּוֹ שֻׁתָּפוּת, שֶׁהוּא אֶחָד וְאֵין שֵׁנִי לוֹ, אֶחָד בְּלִי חֶשְׁבּוֹן, הוּא בָרָא אֶת הַכֹּל וְאֵין בּוֹרֵא עָלָיו, וְכִי יֵשׁ מִי שֶׁיָּכוֹל לִבְרֹא אֲפִלּוּ יַתּוּשׁ קָטָן, אֶלָּא הוּא? אֶלָּא לַמַּיִם יֵשׁ כֹּחַ לִבְרֹא אִילָנוֹת וַעֲשָׂבִים, וְהֵם נִבְרְאוּ, אֲבָל בּוֹרֵא הָעוֹלָמִים בָּרָא, וְאֵין עָלָיו מִי שֶׁבָּרָא אוֹתוֹ וְדַי לְחָכָם בְּרֶמֶז, שֶׁבַּמָּקוֹם הַזֶּה אֵין לְגַלּוֹת יוֹתֵר.
Tikkun 69 – 113
Psalms 91:14
"אֲשַׂגְּבֵהוּ, כִּי-יָדַע שְׁמִי."
"I will set him on high, because he hath known My name"
"My Name" is "שְׁמִי" and the Zohar tells us to read it as שמ- י, "Name Yod י" and explains that the letter Yod is above all the other letters. It stands by itself without any 'partners'.
The Hebrew letters are constructed from letter components. All of them begin with a dot that represents the letter Yod. It connects the letter to the source of the life force that is expressed inside the letter in Malchut level. The letter shape defines the vessel and the specific energy that it can express.
The letter Alef for example is constructed from Yod, Vav, Vav and Yod (or Dalet). This gives the Alef revealed value of 1 and concealed value of 32 or 26. The letter Shin ש is three Vavs and similarly with the other Hebrew letters.
The Yod is a single point that represents the force of the Creator in this world. He created everything and no one can create even a small fly, but him.
To know the name is not just to read or recognize the Hebrew letters but 'to know' in the aspect of 'to connect'. Every letter of the name represents different worlds and aspect of Creation.

י –(the dot that starts the letter Yod) Keter – Adam Kadmon- Endless Light אהיה אשר אהיה
י – Chokmah – Atzilut, – Father – יוד הי ויו הי
ה – Binah – Beriah – Mother – יוד הי ואו הי
ו – Zeir Anpin – Yetzirah – Son – יוד הא ואו הא
ה – Malchut – Asiah – Daughter – יוד הה וו הה
httpv://www.youtube.com/watch?v=y6aXQo-78W4
Making connection through study of the creative forces in the world would merit us the fulfillment of the promise in the verse of Psalms that follows the one above "יִקְרָאֵנִי, וְאֶעֱנֵהוּ–עִמּוֹ-אָנֹכִי בְצָרָה; אֲחַלְּצֵהוּ, וַאֲכַבְּדֵהוּ. "
15 "He shall call upon Me, and I will answer him; I will be with him in trouble; I will rescue him, and bring him to honour."
{||}