Click here to listen to the Daily Zohar [audio:https://dailyzohar.com/wp-content/uploads/audio/dz940.mp3|titles=Daily Zohar 940]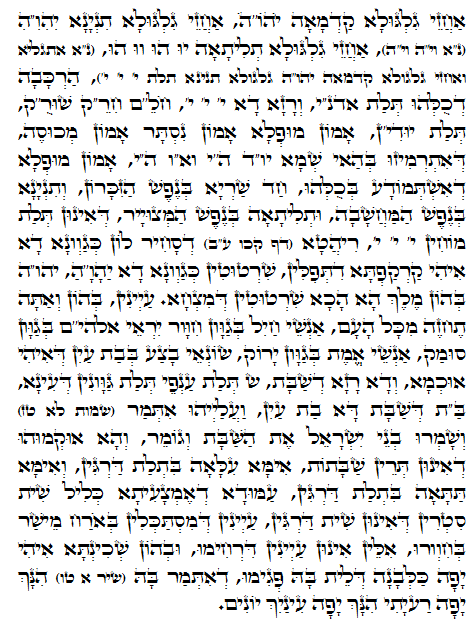 Hebrew translation:
Sorry Hebrew translation is missing from my original files.
Tikkun 70-45
Da Ohr Hachamà – Rabbi Avraham Azulai
Se ci sono 3 rughe vicino ad un occhio e tre vicine all'altro occhio ,esse indicano una persona buona che è molto meglio di quanto sembri. Piange quando è arrabbiato e non rimane attaccato a ,o si preoccupa riguardo alle cose materiali. Egli è buono nei suoi studi della Toràh, ma non sempre li segue.Una persona può fare profitti trattando con questa persona, perché questa persona non penserà troppo al suo guadagno.
Se la fronte è grande e non rotonda quindi la persona ha la mente instabile (pazzo). A volte esso si può vedere all'esterno e talvolta no. Se una persona simile cammina o stà in piedi con la testa inchinata verso il basso allora ha scarsa intelligenza.Quattro grandi rughe nella fronte di una persona che sono visibili quando parla e diventano a volte liscie e nascoste, mentre altre rughe diventano visibili sul lato dei suoi occhi indicano una persona che ride sempre senza motivo, ha una bocca grande e non porta alcun valore agli altri. C'è una 'follia' nascosta in questa persona. La maggior parte delle persone non si occuperà di lui o lo guarderà. Egli può mostrarsi come una persona giusta, ma ha un grande ego e farà di tutto per attirare verso di sé l'attenzione degli altri.Una fronte grande e rotonda indica una persona intelligente con una buona memoria. Impara velocemente, anche senza un insegnante. Ha successo dove mette lo sforzo. Finanziariamente può avere o non può avere successo. Lui è umile e con buon cuore.
{| |}