Click here to listen to the Daily Zohar [audio:https://dailyzohar.com/wp-content/uploads/audio/dz926.mp3|titles=Daily Zohar 926]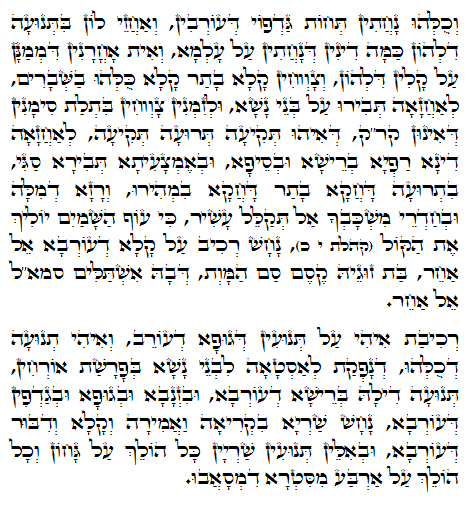 Hebrew translation:
Sorry Hebrew translation is missing from my original files.
Tikkun 70-31
Le sentenze e i decreti che furono dati all'altro lato sono rivelati dalle ali dei corvi. I polli rivelano decreti dal lato puro. Le urla dei corvi suonano come il soffio dello Shofar della Tekiàh (squillo lungo) Teruàh (sequenza continua di squilli corti) e di nuovo Tekiàh. La Tekiàh è l'aspetto di Chèssed. Se il suono di mezzo è Teruàh allora esso è un segno che il tempo apporta elementi di stress e di disagio. Se il suono di mezzo è Shevarìm (sequenza di squilli corti e rotti), allora esso è un segno del caos in arrivo.
Il corvo porta anche il suono delle maledizioni nel il mondo.
Ecclesiaste 10:20
"גַּם בְּמַדָּעֲךָ, מֶלֶךְ אַל – תְּקַלֵּל, וּבְחַדְרֵי מִשְׁכָּבְךָ, אַל – תְּקַלֵּל עָשִׁיר:. כִּי עוֹף הַשָּׁמַיִם יוֹלִיךְ אֶת – הַקּוֹל, וּבַעַל הכנפים (כְּנָפַיִם) יַגֵּיד דָּבָר"
"Non dir male del re neppure con il pensiero e nella tua stanza da letto non dir male del potente, perché un uccello del cielo trasporta la voce e un alato riferisce la parola."
La femmina della Klipàh cavalca le ali del corvo,le anima e riflette i peccati degli esseri umani con il suo movimento.Il corvo può essere trovato sui crocevia delle strade.
Le parole delle maledizioni non sono cancellabili. Una volta che è detta, la Klipàh ne assume il controllo come una grande fonte di energia e la manifesta per creare negatività ancora e ancora. Gli effetti delle maledizioni sono molto forti e non dobbiamo mai dire una maledizione anche se nessuno ci sente.
{| |}