Click here to listen to the Daily Zohar [audio:https://dailyzohar.com/wp-content/uploads/audio/dz987.mp3|titles=Daily Zohar 987]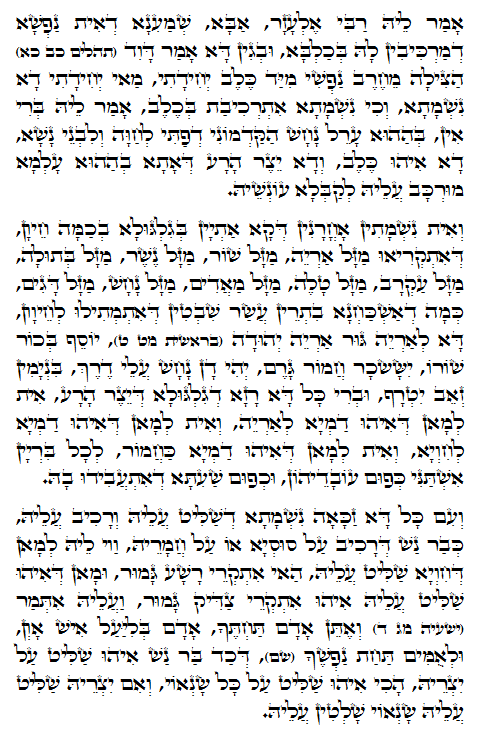 Hebrew translation:
Tikkun 70 – 93.
Salmi-Tehillìm 22:21.
"הַצִּילָה מֵחֶרֶב נַפְשִׁי; מִיַּד – כֶּלֶב, יְחִידָתִי. ""hatzìla mecherev nafshì miiàd-kelev iechidati"
"libera la mia anima dalla spada, la mia anima dal potere del cane. "
Il Re Davide ha chiesto ad HaShèm di salvarlo dai peccati e dal cadere nella reincarnarzione in un corpo dall'altro lato.
Il cane è il serpente che ci "tira" con menzogne e falsità per fare i peccati. Dopo la morte, le nostre azioni determinano la forma del nostro corpo.Le anime possono venire dalle 12 radici buone e pure dello Zodiaco che sono i 12 figli di Yaàkòv che è Israele o venire dal lato negativo dello Zodiaco.
Ogni incarnazione è prevista per sfidare l'anima a superare i suoi "difetti" precedenti.
Quando le sfide della vita sono grandi e difficili, le grandi ricompense attendono per superare queste sfide.
La data di nascita di una persona determina le energie e le sfide che avrà nella sua vita. La sua anima sarà espressa sulla sua faccia in combinazione con il processo di Tikkùn previsto per lui.
Molti volti umani assomigliano a forme di animali o riflettono un'energia degli animali che sono nello Zodiaco o dalle benedizioni che Yaàkòv ha dato ai suoi figli. Vedi Genesi-Bereshìt capitolo 49.
{| |}