Daily Zohar – Tikunim – # 944 – The colors of light and time
Click here to listen to the Daily Zohar [audio:https://dailyzohar.com/wp-content/uploads/audio/dz944.mp3|titles=Daily Zohar 944]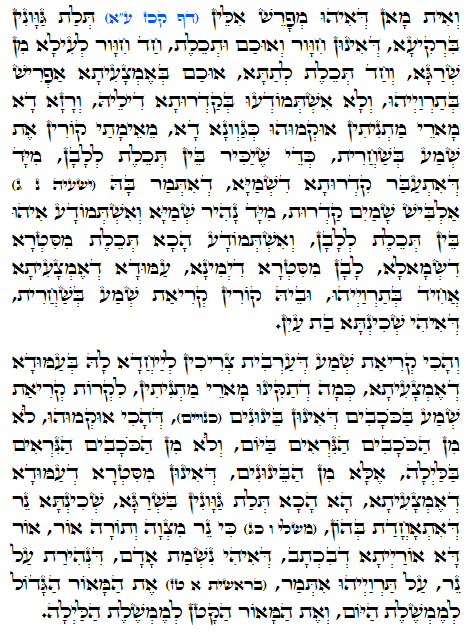 Hebrew translation:
Sorry Hebrew translation is missing from my original files.
Tikkun 70 – 49
The three colors of Chessed, white, Gevurah, red and Tiferet, blue, are at the level of Malchut and Zeir Anpin. Understanding the shift of energies on different levels helps us see it also in people.
The beginning of the Morning Prayer should be when the color of the sky changes from black to blue. This indicates the beginning of the energy of Chessed in Malchut. The reciting of the Shema prayer is best done when the blue sky turns to white and that tells us the Chessed energy is at its full revelation. The time for reciting the Shema prayer should be within the first 72 minutes of the day time. For accurate time you can use Halachic time calendar called Zmanim. (MyZmanim.com). Many places start the Shabbat prayer later than usual. In such cases I suggest you do the 18 morning blessings and the Shema at home before going to the synagogue. Don't forget Patach Eliyahu https://dailyzohar.com/?page_id=660 and reading Zohar of the parasha. This is how we 'load' ourselves with the light of Chessed.
The Shema Prayer at night is done after sun down and the visibility of stars in the sky. This time is the beginning of the central column energy.
The Zohar discusses colors and prayer time in the middle of the PFR study of the eyes in order to teach us to look at the color differences in the eyes of a person. It will reveal to us the type of energy a person is connected to.
{||}