Click here to listen to the Daily Zohar [audio:https://dailyzohar.com/wp-content/uploads/audio/dz964.mp3|titles=Daily Zohar 964]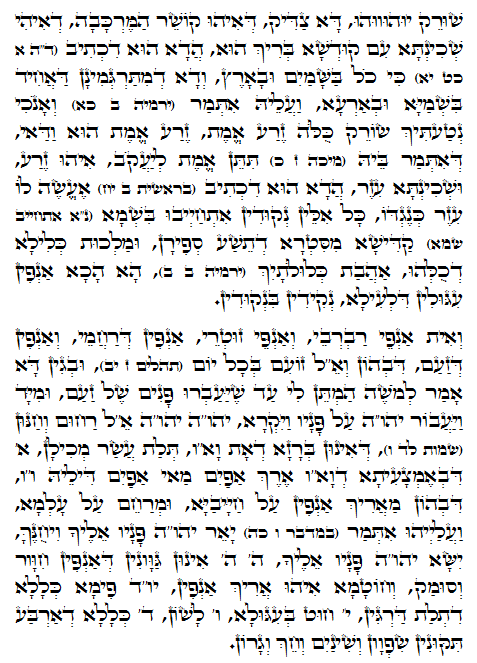 Hebrew translation:
Traduccion Sebastian Palen
Tikun 70-69
Suruk Yesod-יוּהוּווּהוּ – Para Yesod que se conecta a la luz de Zeir Anpin con la Shejiná en Maljut.
En el cuerpo: los órganos reproductivos.
Carroza: José
1 Crónicas 29:11
"לְךָ יְהוָה הַגְּדֻלָּה וְהַגְּבוּרָה וְהַתִּפְאֶרֶת, וְהַנֵּצַח וְהַהוֹד, כִּי – כֹל, בַּשָּׁמַיִם וּבָאָרֶץ: לְךָ יְהוָה הַמַּמְלָכָה, וְהַמִּתְנַשֵּׂא לְכֹל לְרֹאשׁ"
"Tuya es, oh Eterno, la grandeza, el poder, la gloria, la victoria y la majestad porque todo cuanto hay en el cielo y en la tierra es Tuyo. Tuyo es el reino, oh Eterno y Tu eres exaltado como cabeza sobre todas las cosas"
Este versículo cita las palabras del Rey David en lo dicho en frente de la gente después de haber preparado todo lo que se necesita para construir el Templo Sagrado. Este es el único lugar en la Biblia que mencionan el nombre de las Sefirot. En tal caso, el rey David, como aspecto de Maljut hizo una conexión especial con las Sefirot superiores para extraer la luz para su trabajo y bendecir a la gente por su contribución al reunir todos los materiales necesarios para la construcción del Templo Sagrado. Para Yesod, el rey David emplea la palabra TODO y con el valor numérico de 50, que conecta con las 5 Sefirot por encima de Yesod.
Nota: Cuando nos conectamos con algo en todos sus niveles, se convierte en parte de nosotros. Por esa razón Yesod puede ser 'todo' y tener control sobre todos los niveles superiores. Le da la capacidad de 'alimentar' Maljut.
Grandes cabalistas justos podrían crear milagros por el poder que adquieren a través de su pureza y la conexión con la Luz en todos los niveles. Rabí Shimón podría ordenar el cielo y la tierra y se lo seguiría.
Mija 7:20
"תִּתֵּן אֱמֶת לְיַעֲקֹב, חֶסֶד לְאַבְרָהָם, אֲשֶׁר נִשְׁבַּעְתָּ לַאֲבֹתֵינוּ, מִימֵי קֶדֶם"
"Tu serás fiel a Iaacov y misericordioso con Abraham, como juraste a nuestros padres desde los dias antiguos"
Jeremías 2:21
"וְאָנֹכִי נְטַעְתִּיךְ שׂוֹרֵק, כֻּלֹּה זֶרַע אֱמֶת"
Y yo le había plantado (Shurek), completamente la semilla (זֶרַע) de la Verdad
La Columna Central, Jacob, es la verdad, אמת y Yesod es el canal que trae las semillas (זֶרַע) de la verdad a Maljut.
La mujer es el aspecto de la Shejiná en Maljut es el "ayudante", עֵזֶר, (ver Génesis 2:18) que acepta las semillas y crea nuevas almas y la vida en el mundo.
La palabra para la novia en hebreo es כלה (pronunciado Kalah). Vemos las letras כל para "todo" es Yesod y la ה que es el aspecto de la vasija, la mujer y Shejiná.
El estudio de la palabra כל "Todos", en referencia a Yesod que contiene los niveles por encima de él es una importante lección.
Cuando hacemos un esfuerzo por conectar y estudiar todo lo que nosotros queremos, puede convertirse en parte de nosotros. Si vivimos y respiramos esto, se convierte en parte de nosotros. Debemos poner nuestro corazón y alma y convertirnos en apasionados de lo que hacemos, para poder canalizar verdaderas semillas del éxito. Esto es cierto para los asuntos espirituales y físicos. Hay muchas personas que son apasionados de su negocio y ocupación, pero no siempre tienen el éxito que ellos quieren porque carecen de las semillas de verdad que sólo puede venir del sistema espiritual de YHVH.
Se dijo en proverbios 3:6 "בְּכָל – דְּרָכֶיךָ דָעֵהוּ;. וְהוּא, יְיַשֵּׁר אֹרְחֹתֶיךָ" en todos tus caminos reconoce El, y El enderezará tus caminos
{||}