Daily Zohar – Tikunim – # 966 – Poner en forma su cuerpo para la próxima vida.
Click here to listen to the Daily Zohar [audio:https://dailyzohar.com/wp-content/uploads/audio/dz966.mp3|titles=Daily Zohar 966]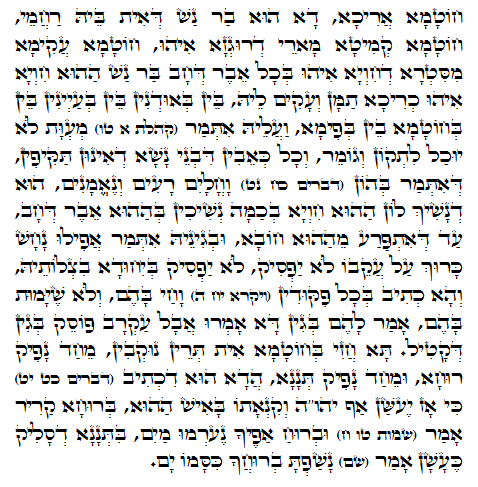 Hebrew translation:
Traduccion Sebastian Palen
Tikun 70-71
El término "blanco" a continuación se relaciona con un estado espiritual y no está relacionado con el color de piel. Leer Zohar diario previo para entender los colores de las personas
Blanco, las personas con la nariz larga y recta tiene buen corazón y compasivo. Ellos rara vez se enoja. Nariz más corta y torcida indica genio corto y rápido para enojarse.
Si la punta de la nariz se curva hacia la derecha o la izquierda, significa que la persona tenía pecados en vidas anteriores que lo conectaban a otra lado.
Tenga en cuenta que hay muchas personas que sufrieron accidentes de la nariz por lo que debe comprobar este hecho antes de saltar a juzgar a una persona.
Los pecados de vidas anteriores son visibles en las partes de la cara o del cuerpo que estuvieron involucrados en el pecado. Una persona puede venir a esta vida como sordo, cruzados los ojos, con la nariz torcida, boca torcida, etc
Eclesiastés 1:15
"מְעֻוָּת, לֹא – יוּכַל לִתְקֹן; וְחֶסְרוֹן, לֹא – יוּכַל לְהִמָּנוֹת"
"Lo que está torcido no puede enderezarse y lo que falta no puede contarse"
El Zóhar nos dice que con la 'deformación' de la parte del cuerpo que traemos de nacimiento no se puede cambiar en esta vida, incluso si la persona se purifica. Sólo después de la muerte y la reencarnación puede ser restaurado.
Si uno tiene alguna parte del cuerpo torcido, entonces él probablemente tenía graves pecados en la vida anterior y se debe poner atención extra a sus conexiones espirituales y acciones para evitar que vuelva a aparecer en la próxima vida con un cuerpo similar o incluso peor.
{||}