Click here to listen to the Daily Zohar [audio:https://dailyzohar.com/wp-content/uploads/audio/dz981.mp3|titles=Daily Zohar 981]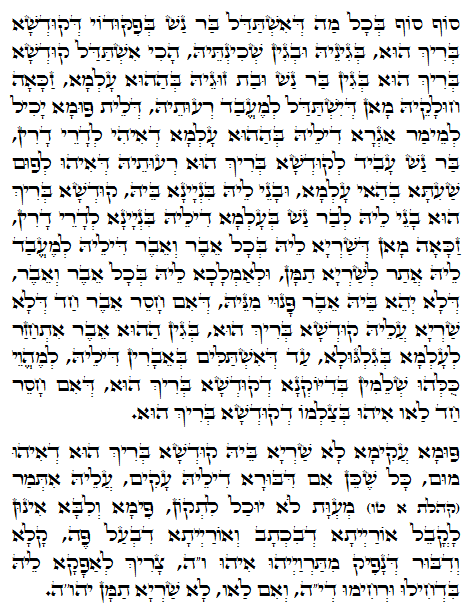 Hebrew translation:
Traduccion Sebastian Palen
Tikun 70-86
(continua de DZ # 980)
Hay 248 preceptos en el marco de "harás …" y 365 "No harás …".
248 es el número de partes del cuerpo y el valor numérico de רחם, útero, que es también amor en arameo. Nacimos con el acto de amor y unificación de hombres y mujeres que extraen la luz y se inicia un proceso de creación en la matriz que es una vasija de amor.
Cada precepto crea una conexión de luz en una parte diferente del cuerpo. Es imposible que una persona complete 248 preceptos en el tiempo de vida y tenemos el proceso de la reencarnación que nos ayuda a lograr la unificación de todas las partes del cuerpo / alma con la luz.
Cuando seguimos la meditación que se describe en el Zohar Diario # 980, nos aseguramos de que la luz lleva la pureza a esa parte. El precepto que cubre todos los preceptos es el estudio de la Torá que es posible para nosotros a través del estudio del Zohar. La luz de la Torá brilla desde el estudio del Zohar, y nos une a todos los preceptos. Cuando leemos acerca de la labor de los sacerdotes, los diez enunciados y todos los preceptos, nosotros traemos a esa luz especial a nuestras almas.
Los sabios nos enseñan;
אֵלּוּ דְבָרִים שֶׁאָדָם אוֹכֵל פֵּרוֹתֵיהֶם בָּעוֹלָם הַזֶּה, וְהַקֶּרֶן קַיֶּמֶת לוֹ לָעוֹלָם הַבָּא: כִּבּוּד אָב וָאֵם, וּגְמִילוּת חֲסָדִים, וַהֲבָאַת שָׁלוֹם בֵּין אָדָם לַחֲבֵרוֹ; וְתַלְמוּד תּוֹרָה כְּנֶגֶד כֻּלָּם.
תלמוד בבלי, שבת קכז ע"א."
Traduccion:
Estas son las cosas que una persona come de su fruto en este mundo y el principal mantuvo para el próximo mundo, en honor a los padres de familia, el acto de bondad hacia los demás, realizando la paz entre las personas y estudio de la Torá está en contra de todos ellos.
La razón de esta afirmación es que nuestras acciones son limitadas en tiempo y lugar, pero el estudio es una conexión a la luz que purifica el alma y se lleva con nosotros para el otro mundo.
Las acciones que hacemos afectan directamente a nuestro Tikun, el estudio afecta a esta vida y vidas anteriores.
Si morimos antes de corregir todas las partes del alma, regresamos en la reencarnación, con una parte del cuerpo defectuoso que nos enseña acerca de nuestra corrección.
{||}