Click here to listen to the Daily Zohar [audio:https://dailyzohar.com/wp-content/uploads/audio/dz980.mp3|titles=Daily Zohar 980]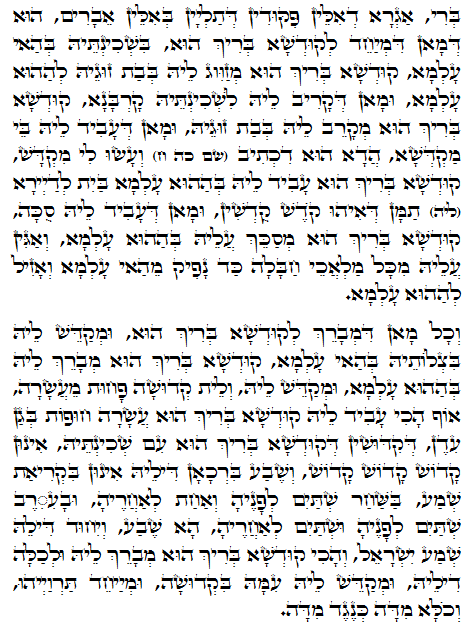 Hebrew translation:
Tikkun 70 – 85.
Le ricompense per seguire i Precetti (le Mitzvòt) discussi in precedenza,arrivano a coloro che meditano sull'unificazione del Santo Benedetto Egli Sia e la Shechinà mentre stanno adempiendo al Precetto,alla Mitzvàh.
Unificare superiore e inferiore, vale a dire gli aspetti maschili e femminili della Luce, ci premia con avere l'unificazione a livello inferiore. Questo potrebbe essere in connessione con l'anima gemella e / o qualsiasi cosa con l'aspetto di attirare Luce al recipiente/vaso. In parole semplici, il risultato è l'adempimento dei nostri desideri puri alla Luce manifesta.
Esodo-Shemòt 25:8.
"וְעָשׂוּ לִי, מִקְדָּשׁ; וְשָׁכַנְתִּי, בְּתוֹכָם""ve'asù lì mikdàsh veshachanti betochàm"
"e che mi faranno un Santuario, che io possa dimorare in mezzo a loro".
Seguendo le leggi spirituali della Toràh con l'unificazione della Luce portiamo l'aspetto del Santo Tempio e la Luce nelle nostre vite.
Ogni azione positiva che facciamo per rivelare la Luce deve essere collegata con la coscienza di unificare superiore e inferiore, l'YH (Yòd-Hey) e VH (Vàv-Hey).Prima di ogni connessione spirituale, o di fare un Precetto,una Mitzvàh, inclusa la Preghiera e lo studio dello Zohar, usiamo una meditazione speciale che orienta il nostro agire come uno strumento per unificare superiore e inferiore.
Traduzione del paragrafo ebraico sottostante:
Per l'unificazione del Santo Benedetto Egli Sia e la Shechinà (יאהדונהי), con Timore e Amore (יאההויהה), Amore e Timore (איההיוהה), in completa unificazione (יהוה) per conto di tutto Israele. Qui arriviamo a stabilire una connessione con questa azione alla sua radice celeste e spirituale, per dare gratificazione al nostro Creatore e fare la volontà del nostro Creatore. E la beneficenza del nostro Dio sia su di noi. E l'opera delle nostre mani stabilisca la nostra connessione al di sotto e la nostra azione ci connetta a Lui (YHVH).
Testo ebraico con traslitterazione:
Quanto sopra è una versione minimale. I Kabbalisti dovranno aggiungere il riferimento dell'azione alla fonte della Toràh per portare la connessione ad un livello superiore.
La cosa più importante da ricordare è che, oltre a Proverbi 3:6. "בְּכָל – דְּרָכֶיךָ דָעֵהוּ; וְהוּא, יְיַשֵּׁר אֹרְחֹתֶיךָ." "conosciLo in TUTTE le tue vie ed Egli dirigerà i tuoi sentieri" abbiamo bisogno di aggiungere la corretta meditazione per unificare la Luce ed il vaso/recipiente.
{| |}