Click here to listen to the Daily Zohar [audio:https://dailyzohar.com/wp-content/uploads/audio/dz980.mp3|titles=Daily Zohar 980]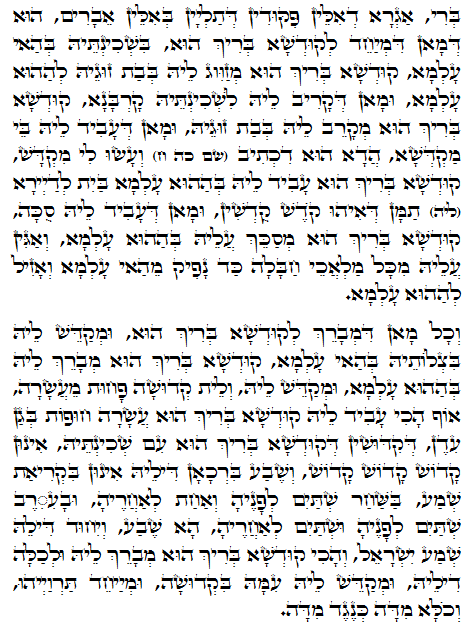 Hebrew translation:
Traduccion Sebastian Palen
Tikun 70-85
Las recompensas por cumplir con los preceptos como analizamos anteriormente, llegan a los que piensan en unificar el Santo Bendito Sea Él y a la Shejiná al hacer la mitzvá, precepto.
La unificación de superior e inferior, es decir, los aspectos masculinos y femeninos de la Luz, nos recompensa en tener la unificación en el nivel inferior. Eso podría ser en relación con el alma gemela y / o cualquier cosa con el aspecto de la llegada de la luz al recipiente. En palabras simples, el resultado es el cumplimiento de nuestros deseos puros para manifiestar la luz.
Éxodo 25:8
"וְעָשׂוּ לִי, מִקְדָּשׁ; וְשָׁכַנְתִּי, בְּתוֹכָם"
"Y me harán un santuario, y yo moraré en medio de ellos."
Siguiendo las leyes espirituales de la Torá con la unificación de la luz trae el aspecto del Sagrado Templo y la luz en nuestras vidas.
Cada acción positiva que hacemos para revelar la luz debe estar conectado con la conciencia de la unificación de superior e inferior, el YH y VH
Antes de realizar cualquier conexión espiritual o hacer un precepto incluyendo la oración y el estudio de Zohar, usamos una meditación especial que orienta nuestra actividad, como una herramienta para unificar la parte superior e inferior.
Traducción del párrafo hebreo a continuación

La anterior es una versión mínima. Los cabalistas agregarían la referencia de la acción a la fuente de la Torá para llevar la conexión a un nivel superior.
Lo más importante es recordar, y en adicion el proverbio 3:06 "בְּכָל – דְּרָכֶיךָ דָעֵהוּ; וְהוּא, יְיַשֵּׁר אֹרְחֹתֶיךָ." "En todos tus caminosten presente a Dios, y El dirigira tus sendas" tenemos que añadir la meditación adecuada de la unificación de la luz y el recipiente.
{||}