Click here to listen to the Daily Zohar [audio:https://dailyzohar.com/wp-content/uploads/audio/dz1000.mp3|titles=Daily Zohar 1000]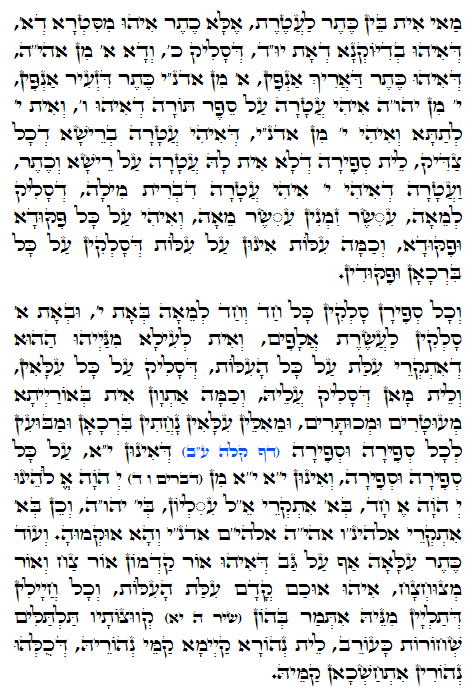 :
Tikkun 70 – 105.
Lo Zohar qui, ci rivela i segreti del maschile e del femminile di Keter. Lo Zohar pone la domanda di quale è la differenza tra Keter (Corona) e 'Ateret' (Tiara).
כתר, Keter è dal lato della lettera א Alef che è costruita da י, ו, ד Yod, Vav e Dalet. Il valore numerico è 20 ( י, ו, ד Yod, Vav e Dalet 10+6+4=20) lo stesso valore numerico come la prima lettera della parola Keter כ (Kàf). Alef è la prima lettera del Nome Santo אהיה, AHYH che è associato con Keter.
Keter è maschio e Atara è femmina. La lettera Yod del nome si trasforma in Atara per la Vav che è Zeir Anpin e l'aspetto della Toràh.
La lettera Yod di אדני ADONAY è Atara per la testa di Tzadik, che si collega a Zeir Anpin, che è la Vàv del Nome.
Lo Zohar ci insegna anche che ogni Sefirà ha sia Keter che Atara che portano gli aspetti di Maschio e Femmina. La Yòd è anche la Atara di Yessòd, che è nell'aspetto del pene nel corpo. La circoncisione rivela la 'Atara' che è la Yod del Nome e permette al bambino di avere una migliore connessione con la Luce. Il pene è l'aspetto sia della Vàv (lunghezza) che della Yòd (la punta rivelata). Con esso, la Vàv rompe la tenda (Imene) e penetra il vaso/recipiente per incanalare la Luce dalla Vàv,Zeir Anpin a Malchùt. In questo processo la Atara serve da connessione con Keter di Yessòd. C'è un parallelo tra il processo di Creazione all' atto della Vav (aspetto il nome di 45) che si estende una linea di luce che viene dal Senza Fine (Ein Sof) (Endless) nello spazio che è stato lasciato dopo il primo Tzìmtzùm . Con questa Luce è iniziato un processo di vita nel mondo.
La parola ebraica per pene è זין (Zìn) che è il nome della settima lettera ז (Zaìn)
che è costruita da una Vàv e da una Yòd come Atara (Tiara) sopra di essa.
Proverbi 12:4.
"אֵשֶׁת – חַיִל, עֲטֶרֶת בַּעְלָהּ; וּכְרָקָב בְּעַצְמוֹתָיו מְבִישָׁה"
"Una donna di valore è la corona del marito, ma quella che fa vergognosamente gli è un tarlo nell'ossa"
Una donna può costruire o distruggere il suo uomo. Se lei ha la coscienza superiore allora diventa un 'corona' per suo marito, ma se lei è lontana dalla Luce, il suo uomo può cadere nelle tenebre e nel decadimento spirituale.Venerdì sera, la donna della casa accende le candele per la connessione alla Luce dello Shabbàt. Allora noi diamo il benvenuto allo Shabbàt (il settimo giorno) e cantiamo la canzone 'Una Donna di Valore' אשת חיל, (Eshèt Haìl) un termine che deriva dal versetto di cui sopra. L'uomo è l'aspetto di Zeir Anpìn e quando la donna aggiunge la sua Luce essi possono trarre grandi benefici nella loro vita. Per molte ragioni Venerdì sera è il momento migliore per una coppia per unirsi con Amore, Unità e Coscienza Superiore.
[colorbox title="Celebrating 1000″ color="#9A658F"]Oggi celebriamo lo Zohar Quotidiano#1000.Ringrazio HaShèm e Rabbi Shimòn per avermi dato l'opera di "incanalare" questa Luce. Vi ringrazio tutti per essere una parte della Luce e del vaso dello studio del Tikunei Zohar. Si prega di condividere la Luce dello Zohar con tutti i vostri amici.[/colorbox]
{||}